The key to any great piece of art lies in the perfect canvas. Whether you be opting for a make up free day or a full on, heavy duty make up day, a flawless complexion is essential. Regardless of your age one should always follow a regular and consistent skincare routine whether it be simple or complex, take a few minutes to a few hours. 
If I had the time or patience, without a doubt, I would be using the Eve Lom cleanser. This cult beauty product requires a bit of effort but is well worth it. The solid balm quickly emulsifies into a creamy oil which can be massaged all over the face, and removed using the 100% cotton muslin cloth. A cleanser and exfoliator all in one. All traces of make up are gone, yet skin feels as soft as Cashmere. Retailing at £55 for 100 ml, its pricey but lasts a lifetime. 
Yet truth be told, after a long hard day at work, can I be bothered? No I can't. So I will sit on the sofa, with my 99p cotton wool double face pads and begin my evening skin routine.
Step 1
Eye Makeup Removal



Whilst at work I opt for a simple fine black eyeliner on the upper and lower lids. In the evenings, it tends to be a smoky eye often involving black eyeshadow. Removal -simple, Charlotte Tilbury's TAKE IT ALL OFF, eye make up remover, £24, 150 ml. Simply follow the instructions, shake the bottle, soak two cotton wool pads, cover and soak the eyelids for about 10 seconds, then simply swipe away the make up. It is important to use an oil based remover, this ensures even waterproof makeup is efficiently removed and is sensitive enough to use on this delicate area. 
Step 2
Makeup Removal – Cleanse 
Again with the cotton wool pads, I use Lancôme's GALATEIS DOUCEUR cleansing milk, £36, 400 ml. Soak the pads, wipe off the makeup. It's really that simple. No washing of your face, no water, no cloths, just some cotton wool pads. 
Point to remember – don't forget your neck, you would always blend your foundation onto your neck, so all traces of make up need to be removed from there also. 
Step 3
Tone 
Back to my trusty cotton wool pads, soak Lancôme's TONIQUE DOUCEUR toner, £36, 400 ml, and wipe across the entire face and neck. This alcohol free formulation, will remove all final traces of makeup, shrinks pores, restore the skins natural pH, moisturise and refresh the skin.
PS There are always sales, offers and gift sets available throughout the year, where both cleanser and toner are sold together for £45, so it's definitely worth waiting for these events and stocking up.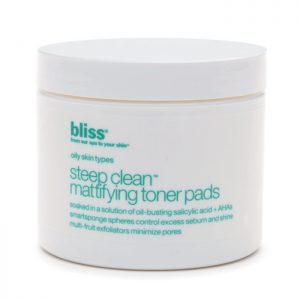 After this, I will often use Bliss's STEEP CLEAN MATTIFYING TONER PADS, £29 for 50. These pads come presoaked in a combination of salicylic acid and AHAs. Rub both sides of the pad on the entire face. You can immediately sense the exfoliating action and it also helps to reduce the size of pores. 
Step 4
Face Mask (every 3 days give or take) 
Which mask I use depends upon what I feel my skin needs. My skin is on the oily side and I feel that blackheads and enlarged pores are my biggest problems, so I tend to use clay masks which help draw out excess oil, unclog and shrink pores. I will rotate between REN's INVISIBLE PORES DETOX MASK, £19, 30ml and the multi award winning Glamglow's YOUTHMUD, £50, 50 ml. With Glamglow, only a thin layer is required – thank God given the price tag. As soon as applied, both masks have a moderate tingling sensation, and once dried, they are both rubbed off gently to encourage an exfoliating action, rinsing any remaining product with water, I pat the skin dry with a soft face towel. 
Step 5
Face Oil 
It is all to easy to assume hat because I have oily skin, face oils must be a big no no. They are in fact a big yes please. The human body is an amazing organisation, when it is deficient of something, it overproduced it to compensate for its lack of. This also applies to oils. Pixie ROSE OIL BLEND, £26, 30 ml, rejuvenates, restores and renews the skins luminosity. A blend of everything from sweet almond oil to rose geranium oil, it smells divine and feels amazing. I apply it all over my face and necklace, really massaging the product in. I will allow this product to really start knitting in to my skin, leaving it for at least 10 minutes before moving forward with the rest of my regime. 
Step 6
Eye Cream 
I am yet to discover the perfect I cream, so in the meantime I am using NIP+FAB BEE STING FIX EYE, £14.95, 10 ml. I take a small amount onto the tip of my ring finger, and gently dab it around the orbit of the eye not forgetting the under eye dark circles I have and am forever trying to banish. 
Step 7
Moisturiser 
In the evening I like using a thick, intense moisturiser. Something that will rehydrate the skin, especially where I have been using so many products to remove and strip oils. Nothing I have found does this better than NIP+FAB BEE STING FIX DELUXE, £19.95, 50 ml . Slather on a moderately thin layer, this is a thick formulation so not much is required, let it sink into your skin, and just lie back and fall asleep. In the morning you wake up with the most incredible softest skin. 
End note – nobody said it would be easy!