News Desk |
Noor Jahan can be credited to have single-handedly kick-started the music industry in Pakistan, inspiring an entire generation of singers across the subcontinent including the Indian singer Lata Mangeshkar. Born to a simple family in Kasur in 1926 in British India, her talent was recognized at an early age and she began her singing career before the age of 10.
Over time, she grew to become one of the most prolific singers of all time, having recorded over 1000 songs. She was the first person in the subcontinent to have recorded a play-back song and was a pioneer of play-back singing as we know it, having sung memorable songs such as "Chandni ratein" and "Hamari sanson mein".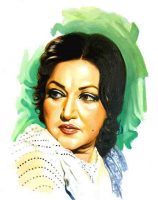 She came to Pakistan after independence and then devoted her life to what she loved doing most: music. She sang in Urdu, Punjabi, Pashto, Sindhi and Persian as well. In the Indo-Pak war of 1965, she shored up the morale of Pakistani soldiers fighting for their country by singing inspirational songs. She was given the Pakistan's Pride of Performance award by General Ayub Khan.
Her song "Aye Rah e Haq k shaheedo" still riles up the passion of patriotic Pakistani soldiers, more than 50 years after it was released. She has been given a litany of awards, such as the Lifetime Achievement Award, the Sitara-e-Imtaz and Tamgha-e-Imtiaz. Over 400,000 people attended her funeral. Noor Jahan was an "actress and a singer whose appeal bridged the Indo-Pakistan divide."