Prime Minister Imran Khan, started a nationwide movement on 8th October 2018, with the aim of making Pakistan greener and cleaner for our future generations, by planting ten billion trees in the next five years #10BillionTreeTsunami. This came to life after the globally recognized project of #BillionTreeTsunami in Khyber Pakhtunkhwa province proved too be successful under the PTI government, in 5 years (2013-18) the province planted over 1 billion trees.
Nestle Pakistan followed suit and committed to the cleaner greener Pakistan initiative this year, in order to address the climate change challenge. Advancing the initiative, Nestlé Pakistan in partnership with Metropolitan Corporation of Islamabad (MCI) and Ministry of Climate Change kicked-off the second wave of tree plantation drive to be held across the country.
Samer Chedid, Chief Executive Officer, Nestlé Pakistan said, "We appreciate Prime Minister's efforts towards a Clean Green Pakistan and are fully committed towards this initiative. Since March, we have planted 25,000 trees across the country and are dedicated to achieving our target of 50,000 trees by Spring 2020 in partnership with Clean Green Pakistan." He added further, "As part of our Nestlé Cares initiative, our employees have been engaged in cleanup activities of public spaces in both Karachi and Lahore. We are working with the industry to form an Alliance to tackle Packaging Waste later this year. Nestlé has committed to making 100% of its packaging recyclable or reusable by 2025 and all our efforts are completely aligned with Sustainable Development Goals (SDGs) including Clean Water and Sanitation, and Life on Land."
As part of Nestlé Cares, we continued our commitment to plant 50,000 trees across the country in collaboration with Clean Green Pakistan. Watch here: https://t.co/Nr3k3iBZRs @ClimateChangePK #10BillionTreeTsunami pic.twitter.com/ZFJ7EtqRSe

— Nestlé Pakistan (@nestlepakistan) October 4, 2019
Clean Green Pakistan is working on different avenues to promote environmental nurturing in the country. They are working on planting trees, promoting waste management and even basic hygiene education for people that don't have it available.
Read more: Nestlé's sea cleaning drive: A step for clean Pakistan
More than 20 million people in Pakistan do not wash their hands with soap and clean water at recommended critical times. That leads to a number of health issues and diseases. It is imperative that Pakistan's population take responsibility to help educate their fellow citizens in order to promote hygiene and save the spread of deadly diseases like pneumonia etc.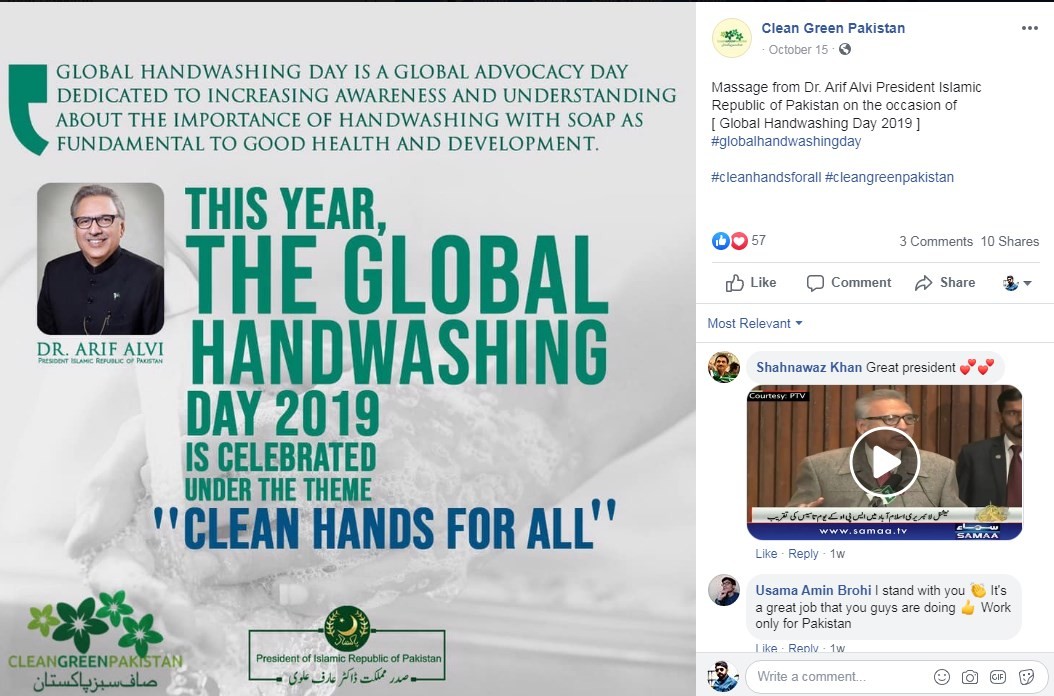 When corporate giants like Nestle take responsibility and join hands with the government to spread awareness like so, it gives us a sense of safety – like someone has our back to take care of our children to come in providing them a healthy environment to grow in.