Qatar's role in engaging with the Taliban is crucial since the start of the Afghan Peace Process. However, as the Afghan situation becomes more complicated, Qatar's continued role as a regional go-mediator becomes more necessary than ever.
Qatar, since the initiation of the Afghan Peace process, has played a crucial role as a mediator. Its decision to act as a mediator between former Afghan officials and Taliban political leaders has fortified the role of the Gulf State as a regional power broker.
#Qatar 🇶🇦 has acted as a convenor of talks rather than an active stakeholder in #Afghanistan 🇦🇫 in recent weeks.

Qatar's call for a ceasefire and engagement with the Taliban this weekend signifies a more active role.

— Samuel Ramani (@SamRamani2) August 15, 2021
"Qatar has positioned itself as the go-to mediator with the Taliban. It was a risky bet, especially considering the optics with the wider public, but it paid off," said Cinzia Bianco, Gulf research fellow at the European Council on Foreign Relations.
"Now, Qatar is well-positioned to be the first contact point for regional and international players who want to explore the possibility of engaging with the Taliban … without compromising themselves," she added.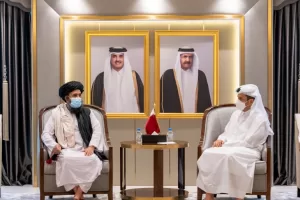 Read more: COAS Bajwa meets Qatar civil-military leadership to strengthen ties
Qatar's key role in Afghan Peace Process
Since the Afghan Peace Process commenced, Qatar has played a pivotal role in facilitating peace talks between the US military and senior officials and the Taliban. In 2018, the Trump administration began formal, direct talks with the group. Baradar, the head of the Taliban political office in Doha, signed an agreement with the United States on February 29, 2020, that paved way for the withdrawal of the US and other foreign forces.
At the request of Trump admin, the Pakastani gov't released Taliban co-founder Mullah Abdul Ghani Baradar in 2018 in attempt to expedite peace talks.

He then headed Taliban's political office in Qatar and oversaw signing of withdrawal agreement with US.https://t.co/zi7XBHrtae

— Michael Collier (@MikeACollier) August 15, 2021
Over the past year, Qatar strengthened its efforts to pave the way for the intra-Afghan dialogue to expedite the prospects of an inclusive Afghan government as Washington hashed out the terms of its withdrawal from Afghanistan to end its 20-year war.
Read More: How has Qatar emerged as region's most powerful state after US-Taliban deal?
Regional mediator's critical role amid US muddled exit
During this week, a senior US military commander met face-to-face with the Taliban in Doha to discuss the safe passage of thousands of people wanting to leave Afghanistan. He underscored the critical role Qatar is playing amid the disarrayed US exit.
Senior Middle East adviser at Crisis Group, Dina Esfandiary underlined that Qatar's key role as a "regional mediator" seems to have paid off. However, a lot depends on how it will continue to play its role in the future as the situation in Afghanistan amid evacuations become grim and unpredictable.
Baradar reaches Kabul from Qatar for talks
Taliban co-founder and political leader Mullah Abdul Ghani Baradar had returned to Afghanistan this week from his residence in Qatar. He arrived at Kabul today to hammer out a new government framework and work towards an inclusive Afghan representation. This time the Taliban strategy is to bring all the ethnic groups in the country on the same page.
Read more: Baradar to carry talks for an inclusive government at Kabul
A senior Taliban official told AFP that Baradar would meet "jihadi leaders and politicians for an inclusive government set-up". Within hours of his return, the group announced its rule would be "different" this time.
Read more: Taliban pledge accountability, strive to present a moderate face 
The Afghan Taliban said they wanted peaceful relations with other countries and would respect women's rights within the framework of Islamic law, as they held their first official news briefing since their swift seizure of Kabul https://t.co/nWgIaySQwy pic.twitter.com/hflKDZcTtQ

— Reuters (@Reuters) August 17, 2021