Although the UN welcomes the evacuation of Afghan nationals, it emphasizes on the need for an "urgent and wider international humanitarian response".
According to a White House Official, the United States has evacuated around 3,000 people from Afghanistan's Kabul airport. The Kabul airport had witnessed grim and brutal incidents of open firing in an attempt to control crowds to the airport. The UN has urged for an urgent humanitarian response over the Afghan evacuations.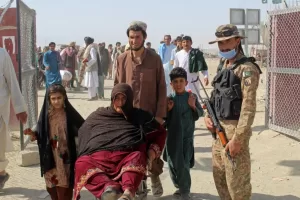 Since 14th August, the United States have evacuated 9,000 people from Kabul. The United Nations High Commissioner for Refugees (UNHCR) has welcomed the evacuation of Afghan nationals, through separate bilateral programmes. However, the UNHCR spokesperson, Shabia Mantoo, on Friday commented that these programmes should not substitute for an "urgent and wider international humanitarian response"
Read more: "Stop blame game & lets build Afghanistan" – Dr. Atia
Afghanistan's neighbouring countries to keep their border open
She told a Geneva news briefing that "The vast majority of Afghans are not able to leave the country through regular channels and those who may be in danger have no clear way out". Thus, the UN urged the neighbouring countries of Afghanistan to keep their borders open. She reiterated the same UN call to these countries so to allow people to seek asylum in the lieu of "evolving crisis"
A United Nations threat assessment report says Taliban fighters are conducting "targeted door-to-door visits" of people who worked with the US and NATO forces, increasing the fear of revenge.
Read more: Taliban digging door to door for US helpers, UN Documents
Troops fire in air to control crowds at Kabul airport
Afghan soldiers fired in the air to control the crowd gathered at the entrance of Kabul airport as frantic Afghans tried to leave the country in the wake of last week's unprecedented Taliban takeover.
Social media images and videos showed Afghan soldiers firing over people's heads as American troops lined up in front of a gate.
On Friday, the United States' pace to evacuate American and Afghan nationals from the airport was halted by various hindrances created by the Taliban. They ranged from armed Taliban checkpoints to paperwork problems.
US President Biden statement on Afghanistan evacuations
Amid the rising criticism from the refugee advocates and the members of his own political party, United States President Joe Biden is set to make an address on the US evacuation effort in Afghanistan. He accused the Afghan forces for their slow start to getting out more allies ahead of Taliban's swift and unprecedented offensive.
Embarrassing and unacceptable. Massive failure.
RT Biden blames Kabul chaos on deposed Afghan leaders and security forces https://t.co/bY57R6fsei

— Euan Rellie (@euanrellie) August 17, 2021
However, US officials told The Associated Press news agency that American diplomats had formally counselled weeks ago that the Biden administration should speed up on evacuation efforts. At present, tens of thousands of people are waiting to be evacuated ahead of the US's August 31 deadline to withdraw from the country.
Read more: WSJ: Sec Blinken was warned about Kabul's Fall
Pakistan and China's stance on "Dialogue and Communication" for Afghan evacuations
China believes the "fundamental way" to deal with evacuation crisis in Afghanistan is to stress upon "dialogue and communication" between factions concerned. At a daily news briefing, Foreign Ministry spokesperson Hua Chunying called for concerted international efforts to promote talks and to prevent further war and casualties in Afghanistan. Although the foreign ministry gave no clear road map for this crisis, it stressed on the need to help Afghanistan and not to pressurize it.
Read more: China vital for development in Afghanistan, says Taliban spokesperson
The role of Pakistan as reiterated by FM Shah Mehmood Quershi stands committed to ensuring a peaceful Afghanistan through strategic dialogues. Also, he tweeted, "the protection, safety, security and rights of the Afghan people is paramount & an inclusive political settlement is essential."
He added that it is "important for the international community to remain engaged in support of the Afghan people and to sustain economic engagement"
➖The protection, safety, security and rights of the Afghan people is paramount & an inclusive political settlement essential.
 
➖Important for the international community to remain engaged in support of the Afghan people and to sustain economic engagement. https://t.co/hTVPEakagr

— Shah Mahmood Qureshi (@SMQureshiPTI) August 18, 2021