IMAGE SOURCE: https://unsplash.com/photos/0QcSnCM0aMc
Each one of us has their own travel checklist that possibly includes flight tickets, car rentals, hotels, and local expenses. Not to mention fun activities like skiing in Idaho. But when was the last time you heard someone talking about their travel insurance? Once upon a time, travel insurance was mainly acquired by the select few who recognized its benefits, but for the majority of travelers, there weren't any indications that it would be joining their checklists at all. On the other hand, almost everyone nowadays is considering getting travel insurance. That doesn't come as a surprise though; with all of the canceled flights, delayed plans, and medical evacuations the whole world is facing thanks to the new coronavirus pandemic, it makes so much sense to get travel insurance today. 
Why Travel Insurance Is Getting So Popular
To put it simply, travel insurance is the one thing that can have your back if, or when, things go south on your travels. Legal experts at Preszler Law of Halifax say that travel insurance can help you pay for any accidents or incidents that you have while on vacation, but you'll need to do your research before settling on a particular policy. With the number of policies available and the jargon used regularly, you can get confused or start assuming that a certain policy provides complete coverage. However, most often than not, most policies will only give certain coverage, and this will be highlighted in the terms and conditions – so make sure you review those closely before signing up for a policy. 
Many people decide to get travel insurance to get coverage on the following aspects:
Trip Cancellation
Many people assume that travel insurance will cover the costs of their cancellation if they suddenly changed their minds about traveling. This is perhaps the main reason that travel insurance has gained this sudden popularity today. In light of the recent events, most people are afraid to travel and want to have a backup plan if they decide against traveling. 
However, what most people don't realize is that trip cancellation isn't covered by the standard travel insurance policy. While the insurance can cover many emergency situations, canceling a flight due to fear of flight isn't one of them – even if it's because of a widely-spread epidemic or pandemic. In the aforementioned case, only a "cancel for any reason (CAFR)" policy would work, but that's almost 50% more expensive than a standard one. Using this policy, you'll be able to get a 75% refund of your travel ticket expenses, instead of the alternatives (like future points or future travel reimbursement). However, make sure you purchase the CAFR policy within 10 to 21 days after the initial deposit; otherwise, it won't work. 
Emergency Medical Coverage
In addition to canceling trips, people are storming the gates of travel insurance companies to benefit from their provided medical coverage. After all, travel insurance provides global coverage on urgent medical care while traveling. If you pop an ear, break a leg, or fall sick on any of your travels, the travel insurance will kick in and provide medical coverage. However, there are a few cases that are excluded from this coverage. Usually, this kind of insurance doesn't cover any pre-existing conditions. As for today's situation, there are different scenarios. 
Many people think that getting this insurance will get them covered if they fall sick from the new coronavirus, but that isn't always the case; it all depends on their travel details. As the virus keeps spreading in different countries, the WHO keeps us updated with the level of danger it's reached, giving us a few scenarios when it comes to the medical coverage of related sickness.
For countries announced to have reached a Level 3 Travel Health Notices, contracting the COVID-19 disease or acquiring hospitalization, as a result, isn't covered in the following scenarios:
The person failed to depart a Level 3 country within 10 days of issuing the warning.

The person traveled to a Level 3 country on the day of issuing the warning or afterward. 
Otherwise, contracting the sickness on the course of travels is covered by the travel insurance, regardless of whether it was a Level 3, 2, or 1 country. However, complications that arise due to pre-existing conditions, like those which get exacerbated by the COVID-19, won't be covered by the insurance either. 
Other Reasons To Get Travel Insurance
Since it's becoming more relevant than ever, many people are starting to realize that getting travel insurance might actually be the best decision they can make to protect their travel plans. Here are some of the reasons why travelers are becoming so interested in travel insurance.
It's

affordable

! Usually somewhere between 4% to 10% of your trip costs for a standard policy. However, once you weigh the benefit to risk ratio, you'll definitely be winning.

You need

emergency medical evacuation

in a country for any sudden and unexpected reason (such as the COVID-19 pandemic), in which case, your travel insurance will kick in to help. 

You

miss your flight connection

, whether it's due to unexpected flight delay or sudden changes, in which case, your travel insurance will also cover your changed flight plans and reimburse you with an alternative. 

Your baggage is lost or delayed beyond your arrival date, in which case, you'll get help looking for your baggage, and be reimbursed for the essential items you need (in the case of delay) or for all your lost items. If you happen to lose your wallet while traveling it's always handy to invest in a wallet tracker.

Your

flight gets canceled

, in which case, you can get reimbursement for another flight ticket or suitable hotel accommodation. 

You need

emergency assistance

overboard as a result of delayed flights or missed connections. 

You

lose your passport

. 

You face other emergency scenarios like

a natural disaster

hitting your destination or a terrorist attack occurring there.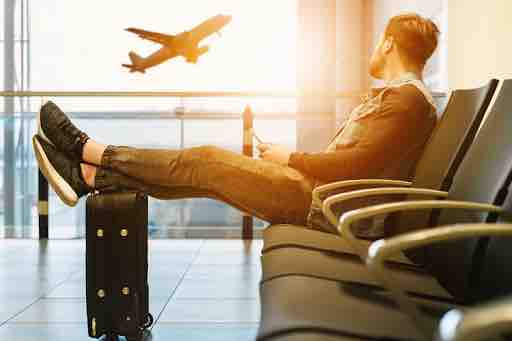 IMAGE SOURCE: https://unsplash.com/photos/mSESwdMZr-A
This new coronavirus pandemic has affected the whole world, but travelers were the first to take the hit. In addition to the fear and anxiety of the possibility of contracting the virus, people's travel affairs needed a lot of additional protection. Our global situation has since created a need for travel insurance unlike any other time, where travelers get the option of getting a refund for their canceled flights and getting global medical coverage, as well as enjoy the other perks of travel insurance.