Prime Minister Imran Khan and Foreign Minister Shah Mehmood Qureshi made crucial foreign visits mainly to draw support of friends for the ailing economy and against India on the Kashmir issue and in that process, pumped fresh air into Pakistan's bland and drab foreign ministry.
The list below gives a timeline of Pakistan's important foreign engagements in 2019.
PM Khan's trip to Turkey

Imran Khan visited Turkey in January upon the invitation of Turkish President Recep Tayyip Erdogan. A high-level delegation accompanied PM Khan. The two heads of states pledged to continue cooperation in the defense sector and expand cooperation in the health and agricultural sectors.
Visit of Dubai's ruler

Abu Dhabi's Crown Prince, Sheikh Mohammad Bin Zayed Al Nahyan visited Pakistan in January. The Abu Dhabi ruler made a one-day visit in which both sides agreed to formulate a task force to enhance bilateral trade. Meanwhile, it is important to mention that, in August 2018, PM Khan had made crucial visits to UAE to seek financial assistance.
Crown Prince Muhammad bin Salman's visit

The Saudi Crown Prince Muhammad Bin Salman came to Pakistan on a two-day visit in February. The long-awaited arrival became the highlight of the year with warm speeches, beneficial deals, and incredible historic gestures from both sides. Saudi Crown Prince Mohammed bin Salman led a delegation to Islamabad that saw deals worth more than $20bn that proved vital for domestic growth besides resuscitating the economy.
Captured Indian pilot was released

In February, Pakistan's Foreign Office handed over captured Indian Air Force pilot Abhinandan Varthaman to Indian authorities through Wagah Border. Abhinandan was captured during aerial combat between Pakistan and India after his jet was shot down by Pakistan.
Mahathir Mohammad's visit to Pakistan

Malaysian Prime Minister Mahathir Muhammad reached Pakistan on a two-day visit to Pakistan in March. He attended the Pakistan Day Parade as the Guest of Honor.
PM Khan's visit to Iran

Pakistan strived to strengthen relations with Iran this year and even offered to mediate peace negotiations between Iran and Saudi Arabia.
In April, PM Khan made his two-day visit to Iran immediately after an attack on security personnel in Ormara.
Read more: Greatest Speeches Throughout History & Imran Khan's UNGA Address
PM Khan while speaking at the joint press conference with Iranian President Hassan Rouhani asserted that "we support Iran's Islamic Revolution and that the new Pakistan is also looking for such a revolution."
IK's visit to China

PM Khan visited China on the invitation of the Chinese President Xi Jinping to attend the Second Belt and Road Forum and the opening ceremony of Beijing International Horticulture Exhibition 2019.
During the visit, PM Khan hailed the CPEC and expressed "unflinching commitment" to promote the CPEC.
Qatari Emir's visit

In June Qatar's Emir, Sheikh Tamim bin Hamad Al-Thani embarked on a two-day visit to Pakistan. Three memorandums on trade, financial intelligence and tourism were signed during the visit.
Afghan President Ashraf Ghani visited Islamabad

The Afghan President, Ashraf Ghani landed in Islamabad on June 28th. The top leadership of both sides resolved to renew the strained relations with a forward-looking approach. PM Khan and President Ghani discussed the peace progress and regional situation in a one-on-one meeting.
PM Khan visited the USA

In July, PM Khan embarked on his first visit to the USA and met President Donald Trump. The two leaders interacted well and the meeting began a new phase in Pak-USA relations. President Trump even appreciated Pakistan's role in the war against terrorism.
Khan's UNGA Speech

PM Khan's maiden impassioned speech at the 74th UNGA session took the global social media by storm. Imran Khan shook Pakistan and the world with his maiden UN speech, shedding light on the rise of Islamophobia, money laundering, climate change, and Kashmir's cause – all of which are affecting Pakistan adversely.
#ImranKhanVoiceofKashmir was a worldwide top trend and Google revealed that Imran Khan was the second most searched leader on the search engine ahead of Narendra Modi.
Mesmerized with his speech, the social media felicitated Prime Minister Khan and his delegation including Foreign Minister Shah Mehmood Qureshi, and Pakistan's permanent ambassador to UN Maleeha Lodhi for leading a vigorous campaign for Pakistan at the international forum.
Royal visits to Pakistan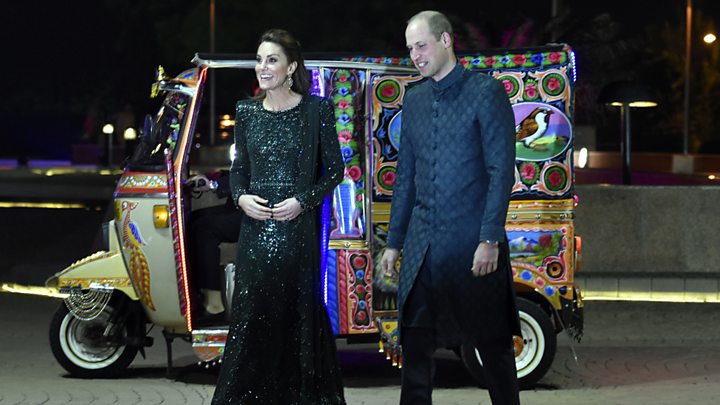 In October, Britain's royal couple Dutch and Duchess of Cambridge, Prince William, and Kate Middleton reached Islamabad on their maiden trip to Pakistan.
The royal couple stayed in Pakistan for five days. The visit had been organized on the request of the United Kingdom's (UK) Foreign and Commonwealth Office. As Pakistan flaunted improved security in the country, the royal couple's successful trip also supported tourism in Pakistan.
Read more: British Ex General Urges World To Respect Pakistan
After Britain's royal, in November Pakistan hosted Queen Maxima of Netherlands who will support and review Pakistan's performance for the Inclusive financial development in the capacity of the special advocate of the UN.
Kartarpur Corridor

On November 9th, Pakistan inaugurated Kartarpur Corridor for Sikh pilgrims. The Gurdwara Darbar Sahib Kartarpur, close to the Pakistan-India border, is one of the holiest sites in Sikhism. The Gurdwara is 4km (2.5 miles) from the border with India. Kartarpur Corridor provides a visa-free passage between Darbar Sahib in Kartarpur, Narowal and Dera Baba Nanak shrine, Gurdaspur India.
PM Imran Khan had promised the Sikh community to complete the project before the 550th birth anniversary of Baba Guru Nanak. Khan had declared the Sikh community would be able to enter Pakistan through the Kartarpur Corridor this year, which incidentally is also the shortest route to their holy sites. Following the inauguration of the Kartarpur Corridor, the elated Sikh Community from across the world called for a Nobel Prize for PM IK.
PM Khan's visit to Bahrain

Prime Minister Imran Khan was conferred with Bahrain's highest civil award during his maiden trip to the gulf country.
Special Assistant to Prime Minister for overseas Pakistanis, Sayed Zulfi Bukhari, informed the media that Imran Khan will be honored with King Hamad Order of the Renaissance in a special ceremony. PM Khan met his counterpart Khalifa bin Salman Al Khalifa and King Hamad bin Isa Al Khalifa during the ceremony on his trip to Bahrain.
Global Refugee Summit

In December, PM Khan addressed the Global Refugee Summit in Geneva and raised the plight that seizes Kashmiris in IOK and obnoxious India's CAA that would target Muslim immigrants in India. PM Khan apprised the world that India's CAA will spur the refugee crisis in the world as millions of Muslims are feared to lose their settlements under the bill.