In light of the recent economic uncertainty and its entailing trend of low sales, automobile manufacturers raised vehicle prices reciprocally. Al-Haj Faw manufacturers followed suit and raised prices for the second time this year.
The company released the following list to its dealers with a steep rise in all the costs: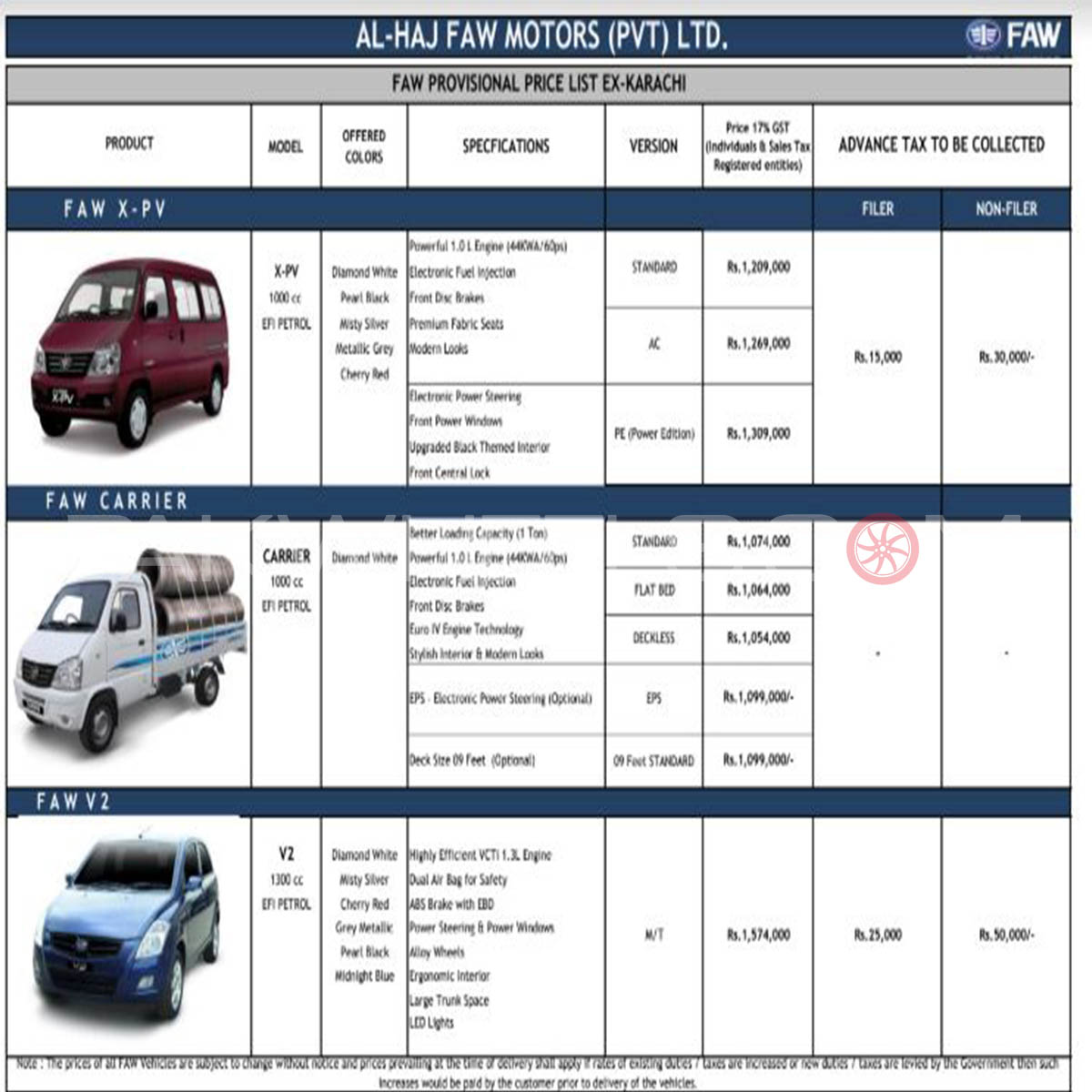 A notification in this regard was issued on Monday, which showed the increment ranging from Rs. 70,000 to Rs. 95,000 on different vehicles. The new rates will be applicable with immediate effect. The company did not provide any justification for the revision of prices. In fact, FAW explicitly mentioned under their price list, 'The prices of all FAW Vehicles are subject to change without notice and prices prevailing at the time of delivery shall apply if rates of existing duties/taxes are increased or new duties/taxes are livied by the Government then such increases would be paid by the customer prior to delivery of the vehicles.'
The previous prices of FAW vehicles are as follow:
FAW V2: PKR 1,499,000 
X-PV Standard: PKR 1,189,000 
X-PV Dual AC: PKR 1,249,000 
X-PV Power Edition: PKR 1,289,000 
Carrier deckless: PKR 1,034,000 
Carrier flatbed: PKR 1,044,000 
Carrier standard: PKR 1,054,000 
Read more: Kia Picanto is coming to Pakistan: Best mid-range vehicle?
Similarly, Yamaha Pakistan increased the prices of its complete lineup last week. According to the circular issued to the dealership, Retail Prices adding 17% sales tax, Yamaha YBR125G reaches Rs 160,000/-, YBR125 Rs 153,500/- and YB125Z for 136,500/-
New Prices of Yamaha Motorbikes effective from 1st November 2019:
| | | |
| --- | --- | --- |
| Model | Old Price | New Price |
| YBR 125 G | 156,500 | 160,000 |
| YB125 Z | 133,500 | 136,500 |
| YBR 125 | 150,500 | 153,500 |
This is the fourth time in a year when the company has increased the prices of the motorbikes. Earlier this year, Yahama Motorbikes Prices were revised in February, July and September respectively.
Even United Motors has already jacked up the price for Bravo from PKR 895,000 to 925,000; moreover, Pak Suzuki also announced a second price jump in two variants of Alto660cc by Rs70,000-85,000 from Oct 1 followed by price hike of Rs2,000-6,000 in two-wheelers. This simultaneous inflation in prices will inevitably cause a further reduction in demand given the economic instability.

On the other hand, companies like Honda and Toyota are reacting to the heat of the market saturation and have thus reduced production due to low demand. It seems like Honda and Toyota are working a step ahead, however, it remains to be seen whether these companies will revise their vehicle prices as well to balance their books.