Due to dollar price rising rapidly against Rupee, Pakistani markets have been struck by inflation and it has also impacted the smartphone market. Smartphones' prices are rising steadily and going out of common man's reach. An expensive smartphone is considered a status symbol but not everybody can afford that luxury to meet which smartphone producing companies release the lite versions of their flagships.
Here is a list of best 4G mid-range smartphones you could buy under PKR 40,000 in Pakistan. A complete list of the best choices in terms of budget for you to choose the right smartphone to buy.
Vivo Y15

The Y15 Series brings the first model beyond the NEX to incorporate the industry's having upgraded AI technology that combines a stunning full-screen smartphone with an intelligent personal assistant that understands and anticipates consumer needs. It is one of the hottest devices under Rs.30,000 these days which makes it among the best budget mid-range smartphones in Pakistan.
Read more: Best Smartphones Under 45,000 in Pakistan: Features, Reviews & Prices
Vivo Y15 houses Android v 9.0 Pie. It is a large screen mobile having a 6.35-inch bezel-less display with a waterproof notch. Being a Mid-range device, the Y15 a has Mediatek octa-core processor with 4GB of RAM and 64 GB internal storage which is expandable up to 256 GB. It is a camera device and is the best suited for those people who love to take a selfie. The front camera is 16mp whereas the device is packed with three rear cameras with configuration 13 + 8 + 2 MP. It has a giant 5000 mAh battery, and it supports 3G and 4G. It also has face unlock, and rear fingerprint sensor available.
Oppo A5S 4GB

Oppo has launched the A5s 4GB handset. Being a mid-range device, the handset has Media Tek Helio P22 processor. A5s will be equipped with 4GB and 4 gigabytes of RAM due to which users will be able to do multitasking. Oppo is producing some great devices these days, and A5s is one of them. No one can deny the camera quality of devices launched by Oppo.
A5s 4GB by Oppo has a dual rear camera setup. The rear camera is 13 megapixels along with a 2 megapixels secondary lens. The Selfie shooter of the Oppo 4GB is 8 megapixels that are enough for an entry-level smartphone. The device has a reasonable screen, i.e., a 6.2-inch waterdrop notch that provides full HD+ resolution. The device is available in four different colors Red, Black, Gold, and Green. The A5s 4GB's is packed with a powerful battery of 4230 mAh capacity that will ensure long last battery timing and due to its amazing specs, it was able to make into the list of the best budget
Infinix S3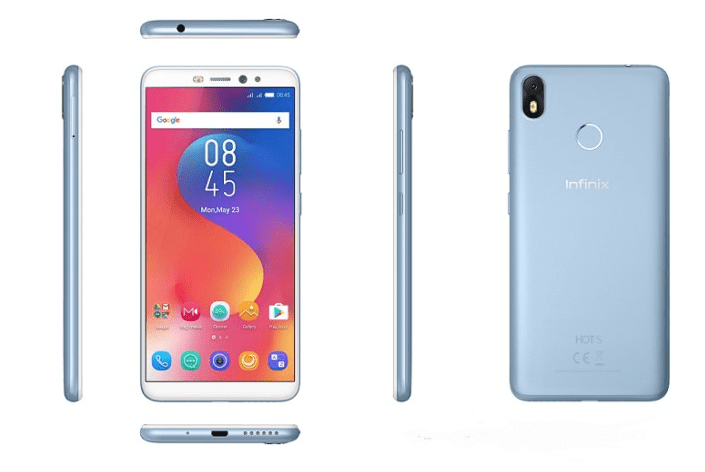 Infinix, a popular brand in the Middle East, has been making its way in the Pakistan Mobile arena for quite some time now. With their Hot S3 budget mid-range smartphones, it looks like they are here to stay. Hot S3 offers its users a good 13MP front camera a powerful 4,000mAh battery with more lucrative features. The front-facing camera is amazingly 20MP with Dual flashlight.
Read more: Best Smartphones Under 25,000 in Pakistan: Features, Reviews & Prices
The device comes with the now trending 18:9 display ratio, with thinner bezels; the phone looks modern and gives tough competition to all the others in this range especially because of its Face ID and fingerprint scanning. If you are looking for something trendy and with competitive features, while staying in a budget, then this one is for you just in Rs.20,000. You can get this smartphone in Pakistan easily at this price.
QMobile Fire

With 5.45″ screen, you get Android 8 (Go) right out of the box. The camera specs include 5MP front and 8MP rear camera. The phone e itself is powered by a 1.3GHz Quad-core processor and 3000 mAH battery. Another marvelous feature is that the device has 2GB RAM and 16GB storage; giving you the speed. This could be an ideal smartphone choice for someone who needs a simple yet serving the purpose decently a sort of device. It has a fingerprint scanner unlocking feature as well so what else you want at such a low price?
Galaxy J4 Core Samsung's Mid-range smartphone
The Samsung Galaxy J4 Core has 1GB of RAM and runs on the quad-core processor. When it comes to battery life, with its 3,000 mAh battery, this phone provides decent results. The device comes with Android 8.1 and 16GB of internal storage. You can increase the storage with a MicroSD card. The camera is decent enough to take pictures with its 13MP rear-facing lens and 5MP front-facing. No sensor but this device is all yours for less than Rs.20,000. It comes under the Samsung mobile range from 6000 to 8000
Huawei Y7 Prime 2019 special edition

Huawei Y7 Prime 2019 – Special Edition has won our hearts once again with its fabulous features. The reintroduction of Huawei Y7 Prime 2019 is the best thing the Chinese tech giant could ever do. The Y7 prime 2019, special edition will come with a classic Faux Leatherback in the Amber Brown color. The device will also witness an upgraded 64GB of storage that will help users to store more data than before. HUAWEI Y7 Prime 2019 was a big hit due to its power-packed features and smart design and I am sure this device will be the show stopper in the mid-range handset line. In no time the device has become one of Huawei's bests the sellers in Pakistan. This is the best mid-range smartphone under Rs 30,000.
Moreover, the device delivers excellent camera performance and is powered by AI, boasting a giant battery of 4,000 mAh lasting up to two. These are the two most important things due to which people are going mad after these devices. The faux leather design will make the device look even more premium and luxurious in the hands of users. Its unobtrusive elegance lies in its design and its large screen of 6.2 inches has won multiple hearts.
Read more: Samsung Note 10 Lite, S10 Lite, A51 & A71 launched in Pakistan: Full Specs
If you are hoping to get the best photography experience, this is the most suitable device. It features a 13MP+2MP dual camera with a wide aperture of f/1.8, Master AI functionality and improved lowlight performance. On the front, it features a 16MP shooter that takes dazzling selfies. By launching this device, Huawei has made sure that it remains the top priority of youth with its astonishing feature and cost-effective price.
All of the above phones are among Budget mid-range Smartphones in Pakistan and one should opt for them if they are low on budget. But so far the Vivo V15 is the best buy for a mid-range smartphone in Pakistan