The standoff between Indian and Chinese armies along the Line of Actual Control (LAC) in Eastern Ladakh/ Aksai Chin region continues. Both countries have deployed thousands of troops in this disputed region (Indian sources estimate 5000 x Chinese troops and an almost equal number of Indian troops), especially in Pangong Tso Lake and Galwan Valley (See Fig-1, 2 & 3 below). Besides Eastern Ladakh, Chinese troops also made brief incursion at Sikkim's Naku La pass on 5 May but later withdrew on 9 May. The multiple standoff points in Eastern Ladakh include:
a. Pangong Tso Lake where the standoff began on 5 May 20, when skirmishes between Indian and Chinese troops were reported. As per unconfirmed reports, the PLA has secured the entire area between Finger 5 and Finger 8 along the north bank of Pangong Tso, a distance of nearly 8-10 km.1 (Fig – 2)
b. Galwan valley, where Chinese troops have moved near Shyok-Galwan River Junction to block ingress route towards LAC. As per Indian sources, PLA has secured 3-4 km of Indian territory along Galwan River. (Fig 1 & 3)
c. Minor skirmishes have been reported near Gogra Post ivo Hot spring(80 km SE of Galwan Valley), located between the valley and Pangong Lake, provide access to Aksai Chin through Chang Chinmin river. (Fig-1 & 2)
d. Face off near Demchok bordering southern areas of Aksai chin in proximity to Tibet Xingiang NH 219 Highway. (Fig 1 & 5)
e. Daulat Beg Oldie, a revamped advance landing ground (ALG). (Fig 1)

Why LAC Flares Up
India-China border is divided into three sectors (Fig-4), where the LAC in the western sector falls in the Indian occupied Ladakh region and is 1597 km long, the middle sector of 545 km length falls in Uttarakhand and Himachal Pradesh, and 1346 km long eastern sector falls in the states of Sikkim and Arunachal Pradesh.
The middle sector is the least disputed sector, while the western sector witnesses the highest transgressions between the two sides due to the fact that the border in western sector is not fully demarcated and the LAC is neither clarified nor confirmed by the two countries.
Read more: India's strategic blunders escalate tensions
Except for the middle sector, even the mutual exchange of maps about respective perceptions of the border has not taken place between India and China. This has led to different perceptions of the LAC for the two sides, and soldiers from either side try to patrol the area up to their perception of the LAC which results in transgressions.
Strategic Importance of 'Face–Off' Areas for China and India
Ladakh Sub Sector North where face-off is taking place lies just to the East of Siachen glacier and is India's vulnerability due to the tenuous lines of communications, including the recently re-commissioned Daulat Beg Oldi airfield strip (Fig-5). From India's standpoint, this sector is the only area where physical military collusion can take place between Pakistan and China. Besides this sector provides direct access to Aksai
China which India consider part of Ladakh. Meanwhile, Aksai Chin is vital for China as it connects Xingiang with Tibet through strategic road link i.e NH 219 Highway (Fig-5). Following points/ areas are of strategic importance within Ladakh Sub Sector North:
a. Galwan Valley
The junction of Shyok and Galwan rivers is only 5 km from the LAC. China does not want India to create defences in the Galwan River valley (India was constructing a link road towards LAC along Galwan River (Fig- 5) to improve its access towards Aksai Chin. PLA forces have now ingressed upto Shyok River Eastern Branch, blocking Indian forces access towards Aksai-Chin.
b. Hot Spring Area (Gogra Post)
Besides Galwan River, another approach to Aksai Chin is from the south via the Chang Chenmo River valley, at the end of which is located Indian post of Hot Springs. India has developed a road to this area along the Chang Chenmo River leading towards LAC. Adjacent dominant height are now under PLA forces's control.
c. Demochok Area and NH 219 Highway
NH 219 passes through Ngari which is an important Chinese base with an airfield in the Indus Valley. It is only 50 km from Demchok and here India possess the terrain advantage in this area. (Fig-5).
Read more: BJP generates stories for anti-Muslim sentiments
Immediate Triggers for Chinese Move
Following events seems to have triggered Chinese pre-emptive actions in disputed Eastern Ladakh (over areas which Beijing lays claim to):
a. Indian development of border roads and related infrastructure/links to improve its accessibility to the Aksai Chin region (and Siachin glacier) since 2007 has been seen with suspicion by China as a possible threat to Aksai Chin in future. The most important feature of defence road network built by India's Border Roads Organization is Darbuk via Shyok to Daulat Beg Oldie (DSDBO) 255 Km long road (completed last year) that ends at Daulat Beg Oldie (Fig-6). This road is at least 10 km inside Indian side from LAC at several points, and runs perpendicular to the Galwan river. To connect this road to the LAC, India is constructing feeder roads which included a bridge over a nullah near the confluence of the Shyok and Galwan rivers (5 KM from LAC – Fig 5). India recently commenced construction of a branch road to the LAC which triggered the ongoing face-off in the Galwan River valley. China, therefore, decided for a preemptive move to secure important defence locations whilst staying within its claimed territorial limits before India could place impregnable defences2 and threaten Aksai Chin subsequently.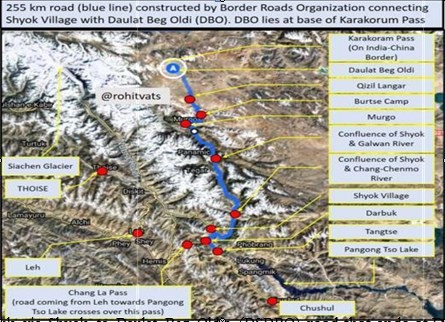 b. Indian unilateral move to annex Ladakh by revoking article 370; wherein Chinese lays claim on certain portion bordering Aksai-Chin; perhaps has acted as a catalyst to precipitate current crises. Additionally, Indian aggressive posturing 2Daulat Beg Oldie (DBO) which is now a revamped advance landing ground (ALG), the highest airstrip in the world where India can land C-130 J aircraft giving a huge boost to its strategic airlift capability and political rhetoric to absorb Azad Kashmir and Gilgit-Baltistan &overt criticism of CPEC unsettled China has further compounded Chinese fear.
Official/Unofficial Stances on Current Standoff in Eastern Ladakh
China is abstaining from making an official statement on the Ladakh stand-off, for it doesn't probably want to legitimize India's control over the area. In fact, Chinese Foreign Minister Wang Yi in his annual press conference on May 24 chose not to touch the LAC  stand-off with  India. However, China's official  Global  Times newspaper accused Indian troops of crossing over into the Chinese territory and of   "illegally" constructing defence facilities in its territory in the Galwan Valley region. New Delhi dismissed the allegation and insisted that its soldiers had never transgressed into Chinese territory. Indian officials alleged that PLA had first deployed additional troops, who had set up as many as 80 tents near the disputed boundary and that the Indian Army too had to send additional troops to beef up the defence.
Possible Chinese Objectives in Ladakh Standoff
As stated earlier, China is extremely suspicious of India's intention to squeeze China in collusion with the US. It believes that in the long term, India's strategic aim is to restore the status quo ante  1950 by recovering   Aksai   Chin and other areas captured/secured by  China.  India's alignment with the US,  the presence of  Tibetan government-in-exile in India, and the aggressive claims on  Pakistan-occupied Kashmir (PoK)  and Gilgit Baltistan — through which the prestigious China Pakistan Economic Corridor  (CPEC) passes  —  only strengthen China's suspicion.  Envisaged  Chinese Objective at the military level is perhaps "to  maintain the "status quo" along the LAC on  its own terms and to  forestall any threat howsoever remote to  Aksai Chin and NH 219."
Distinctiveness of Ladakh Standoff
As per  most  analysts,  Ladakh  standoff  is  different  from  earlier  standoff  i.e Depsang in 2013,  Chumur in 2014,  and Doklam in 2017  since there are some major changes from the earlier patterns as follow:
a. One, Chinese troops have reportedly come in large numbers into a new area (Galwan river valley) which had not been contentious in terms of the alignment of the LAC.
b. Two, these troops are staying put, dug down and in tents and not just as a short- term patrol.
c. Three, these incursions are happening in multiple locations.
d. Four, Chinese troops have become more assertive and aggressive in their behaviour as evidenced by the intensity of scuffles and refusal to withdraw.
Read more: Will the Chinese Dragon and the Indian Tiger go to War?
Strategic Surprise to India – Ladakh Standoff
According to Lt Gen H S  Panag (Ex-Indian  Army), just like in 1962, 1965, and 1999, India has once again been surprised both at the strategic and tactical levels. The manner in which India had to rush reinforcements from other sectors gives a clear indication that it was surprised. At the strategic level, it was the failure of the Research and Analysis Wing (R&AW) to detect the build-up of the PLA formations from the rear bases to replace the border defence units. According to him, India's tactical surveillance with UAVs and patrols has been inadequate to detect this large-scale movement close to the LAC. The failure at the strategic level and total surprise has forced New Delhi to adopt a reactionary approach by simply following every Chinese move rather than formulating its own preemptive response, hence, giving China the tactical and strategic edge, in Ladakh. Moreover, India cannot afford military actions in this area due to capability mismatch and geographical location which is advantageous to China. Modi Govt's silence is also a realization of the same fact as diplomacy is the only way out for India to redeem lost pride. Moreover, the absence of an official statement from Beijing on the cause or objectives of current standoff has prevented New Delhi from devising a cohesive response to Chinese moves in Ladakh.
Implications- Ladakh Standoff
a. Political. China and India have built an elaborate framework of confidence-building measures for border management. In 2019, they unveiled a new program to attempt "coordinated patrolling" for the first time in a relatively peaceful portion of the  LAC in eastern  Arunachal   Pradesh. The overall framework has succeeded for several decades in preventing any mass casualties or deadly confrontations at the LAC. However, it has not prevented an increase in the number of intrusions and confrontations in recent years.4   Observers point out that the current stand-off, if not resolved soon, has the potential of negating all the political gains made in the past couple of years that were achieved at two informal summits between Prime Minister Narendra Modi and Chinese President Xi Jinping in Wuhan in 2018  in China and in October last year at Mamallapuram near Chennai.
b. Military. The current standoff in Ladakh may force the Indian military command to reset priorities and divert attention from the current Pakistan centric military strategy based on 'surgical strike' doctrine towards China. This is due to the severity of strategic consequences for India if it does not checkmate Chinese moves. The stand-off is happening in some strategic areas that are important for India.  If Pangong  Lake is taken, Ladakh can't be defended.  If India is unable to take back area off Galwan valley & Pangong lake, China in future may further advance and settle in the strategic valley of Shyok, then the Nubra valley and may threaten only link available with India for around the year access to Siachen area. The other road for Srinagar-Kargil- Leh is not available during winter (See Fig-7). Moreover, China world's second-largest military power is technologically superior with much-advanced infrastructure on her side. Financially, China can divert its resources to achieve its military goals, whereas the Indian economy has been struggling in recent years, and the coronavirus crisis has worsened the situation. China has gained superiority in the current standoff which has exacerbated the military planning and deployment issues for the Indian military.
c. Strategic. The current standoff has exposed limits of Indian aggressive posturing and hollowness of its military prowess. If India failed to reclaim lost ground (which seem very likely as China is unlikely to withdraw from areas it grabbed due to their military significance for defence of Aksai  Chin) through diplomacy and military means, it's standing as an emerging Asian major power would be severely tarnished. President Donald Trump's offer of mediation to end the current standoff is unlikely to yield any positive outcome in India's favour. Should  India accept this offer  (so far India has refused this offer,  however, it might have to accept the offer if stalemate on the ground continues), it's posturing as a major power will be shattered since it would imply its inability to handle China on its own  (an image it has sort to build over the decades). The episode may force India to rethink its growing cosiness with the US  as to its futility to force Chinese to back off from aggressive posturing. However, as per some analysts, hawks and ultra-nationalists in India may pursue an Indo-US strategic partnership with more vigour.
Read more: Wuhan spirit breaks down: Will India learn that it cannot have Chinese cake and eat it too?
Options for India
Strategic analysts inside India are recommending two diametrically opposite approaches to end the current standoff. The first, advocated by traditionalists and by hawks, is that India should hold the line along the Himalayas and escalate the conflict if it has to. They point out that Indian troops enjoy favourable positions in many places, and their strength has been bolstered over the past 10 years with more mountain forces and better infrastructure and equipment.  The objective of this approach, they contend, is to make the Chinese realize that they can't 'win' this game. However, as per most military experts, India due to peculiar geography (China operating on the interior line can strengthen military posture/ force build up more expeditiously than India all along the border) and capability mismatch is not in a position to open fronts elsewhere along Middle and Eastern sector to release pressure on the Ladakh Sector  (with raising of mountain corpse in future, India Army may be in a position to challenge Chinese military to some extent in the Himalayas).  Moreover, Chinese can exploit ongoing India-Nepal rift to further strengthen their military position. The second approach, generally favoured by diplomats, economists and many politicians, is that India should defuse the situation through talks and negotiations, because India cannot afford tensions and adversarial relations with China 'at this time'. Even before the ongoing coronavirus pandemic crisis, India's development agenda required that it do not get distracted by military conflicts, not least with a more powerful neighbour, which is also an important economic partner.
Independent analysts opine that the only course of action for India is to use diplomacy to defuse the tensions since China enjoys tactical and operational superiority in the stand-off areas.
Read more: Indo-Sino crisis: Modi between rock & a hard place
Opportunities for Pakistan
Pakistan may use the Ladakh standoff to revive the Kashmir dispute on the international level by more vigorously linking it with India's quest for regional hegemony amidst border disputes with all of its neighbours. Interoperability and strategic cooperation with the Chinese may be further enhanced. In parallel, flexible and dynamic foreign policy options need to be pursued to strengthen ties with Nepal and Bangladesh  (Bangladeshi's apprehension about NRC and Nepal's ongoing border dispute with India). Further, aggressive posturing in Kashmir and Siachin areas may be considered.
Assessment
Tensions at LAC this time are unlikely to move pass like previous standoff which momentarily impacted  Sino-Indian ties. The current standoff is different from previous ones due to the intensity of confrontations, the number of troops involved and the kind of logistics/  equipment being deployed.  Also, Beijing is controlling military initiative by keeping the element of surprise and diplomatic narrative which in turn facilitates a protracted standoff. It, therefore, seems plausible that Chinese may not withdraw from the advanced areas being vital defence locations. India at the same cannot afford military actions due to capability mismatch and Chinese geographical advantage. Chinese plan to stay permanently in these areas will exacerbate political and military pressure on India. New Delhi has been totally surprised by Chinese actions and lacks a comprehensive strategy to counter Beijing's moves. Aforesaid notwithstanding, the current standoff has potential to escalate into limited war albeit localized if India display assertiveness under Hawks's pressure to regain lost spaces (40-60  Sq km;  15-20  Sq Km in Galwan valley & 35-40  Sq  Km in Pangong Tso area as per Indian analysts). However, as the current Chinese political cum military posture suggests, the possibility of China forgoing military gains seem less likely unless India explicitly agrees to stop augmenting communication infrastructure towards Aksai Chin.
Ahsan Hamid Durrani is an Islamabad based analyst with interest in socio-political issues. He can be reached at ahsanhamid09@gmail.com. The views expressed in this article are the author's own and do not necessarily reflect Global Village Space's editorial policy.