Financial Times (FT, 18 July) coined the term, "Dirtiest Elections" to describe Pakistan's July polls that brought Imran Khan's PTI to power in center, Khyber Pakhtunkhwa and Punjab. The party also emerged as the largest political force in Karachi, winning 14 out of 21 seats in country's largest metropolis.
FT launched its salvo a week before the actual elections on 25th July, but it was not the first western publication to frame Pakistani elections. A researcher in Dunya News, while working to make sense of this crusade, printed a list of more than 100 articles, Op-Eds, reports and editorials that were published in the few weeks before the Pakistani elections.
These stories and Op-Eds carried repeatedly by some of the biggest media brands – that included New York Times, Washington Post, Foreign Affairs, Foreign Policy, CNN, Economist, Bloomberg, Guardian, Telegraph and dozens of other publications – were remarkably similar to each other: all cried that Pakistani elections will be bogus, were being rigged by the military in favor of Imran Khan.
These pieces in western media, scant on evidence – often woefully superficial – relied upon statements by Imran's political opponents and known anti-PTI or anti-military commentators. Most of these pieces were Op-Eds from Pakistanis considered rabid enemies of the PTI leader, some were from Indian commentators, and then few from lesser-known western writers or correspondents.
It was amazing that none of these western publications ever considered inviting or engaging the alternative opinion – or the "other opinion" as Al Jazeera calls it – on an issue that was apparently important to them.
Lobbyists or West's Liberal Media Establishment?
It was known that Nawaz Sharif, the ousted Prime Minister, had hired lobbyist firms in the US after his disqualification (Roberti Global; as claimed by Pakistani papers in September 2017), and perhaps also in the UK. This single-minded, black & white content that was published repeatedly ad-nauseam – in which Nawaz is always mentioned not as a corrupt billionaire public office holder but rather as an innocent political victim – had the hands of an influential lobbyist-written large on it.
But then it's a fact that no lobbyist – even of the prestige of Roberti Global – would have succeeded in producing such continuous stream of insane propaganda against a country, its institutions and political process if the editors had not been unusually sympathetic to the idea.
One could still have blamed the demonization of a country on the inherent religious, racial and cultural biases of liberal media establishment – after all they are still trying to decapitate Trump – but then came the US State Department with its cynical judgment on Pakistani Elections.
And what was that based on? Commentaries by HRCP, a private NGO – that operates more like a Family & Friends Club – funded primarily by western sources and known for taking positions that align it with the western governments' worldview. That was not enough, because soon, Mike Pompeo, US Secretary of State, appearing on CNBC warned IMF that it should not be bailing out a Pakistan burdened with Chinese debt.
Pompeo conveniently forgot that the US owes the biggest debt to the Chinese Dragon! But pompous Pompeo did a huge favour to Pakistanis because he finally convinced any remaining sceptics that an unprecedented media campaign, on both sides of the Atlantic, was not an intellectual commentary by those who care for democracy in Pakistan but was an expression of displeasure on the imminent political and social change in Pakistan.
Media campaigns are orchestrated to shape narratives; post-colonial societies like Pakistan suffer from a "reverse racism" in which pathetically superficial or ill-informed opinions, even coming from the most ignorant of people anywhere in the Western hemisphere, can be taken seriously.
Don't forget that Nawaz's opponents could capitalize on "Panama Leaks" only because the facts originated from ICIJ, a consortium of German and American journalists, otherwise, there was nothing new or extraordinary in those pitiably inadequate 1.5 facts disclosed by ICIJ. Nawaz loyalists initially claimed that this represented a western (read American) conspiracy to defeat CPEC; many in the Army and Foreign Office also suspected that.
However, Imran Khan, along many in the media and legal community had finally discovered the "magical dagger" of "A Thousand and One Nights" or the "silver bullet" (Argent used to kill the Beast of Gevaudan) in ICIJ that could help demolish Nawaz's deep penetration and systematic control on Punjabi bureaucracy, (DMG, Police & Revenue officers called "Patwaris") system of electorates and the carefully manufactured public perception of his invincibility.
Read more: Elections 2018: Who is winning & how much?
Pakistan: On a Road to Genuine Modern Democracy & the Resurgence of a Nation State?
The irony for the western world is: most people in Pakistan – especially the educated intelligentsia in cities – consider these elections as the fairest and most just in the nation's long-troubled electoral history. To them this was an election that might have its own set of irregularities, lapses, failures, tricks here and there, but it was a remarkably transparent process on the whole after a long time and has broken the inertia of the past three decades.
These elections have opened up Pakistan for a middle class led democracy, meaningful political change, economic stability, cultural modernity and genuine woman empowerment. Despite the hostility expressed by Washington, a political dispensation in Pakistan that will provide for much better and realistic relations with the United States – and even with India.
Election results are best understood and absorbed by carefully reflecting on tables and charts – and comparing historical data over years. This is a kind of luxury most international commentators don't have and most Pakistani columnists don't indulge in. I am providing some charts and tables to explain what I am saying in these lines; but an overview is important between elections 2013 and 2018.
In 2013, PMLN of Nawaz Sharif took around 129 directly elected seats, in a house of 272, (National Assembly) from all the four provinces of Pakistan and FATA – but a full 120 out of these seats it won from Punjab alone out of 148 seats then (81% of the total) and only 9 seats from the rest of Pakistan (7%). Interestingly, PTI, that had won 5 million vote from Punjab in 2013, only got 6 National Assembly seats.
PTI in 2018 won 115 seats out of 270 directly contested seats but these come from all over Pakistan; it got 60 out of a total of 141 from from Punjab (42%) 30 from 39 (77%) seats of Khyber Pakhtunkhwa, 15 from 61 seats of Sindh (25%), 6 from 12 seats of FATA (50%), 2 from 16 seats of Baluchistan (13%) and 03 seats out of 03 seats from federal territory (ICT, Islamabad).
The figures need to be understood in the context that PMLN of Nawaz in 2013 was deeply penetrated into the administrative machinery (DMG, Police & Revenue Dept. Patwaris) that actually holds election on ground – ECP is a sort of regulator that sets rules and regulations, from Islamabad, but is totally dependent on the machinery it contracts from provinces.
Read more: Elections 2018: A massive political exercise
The broad-based nature of PTI support oozing out from every nook and corner of a nation state of 200 million, plus spread over around 800,000 square kilometers of territory, corresponds well with the overall narrative – of dreams and aspirations of "Naya Pakistan" – party has shaped since its Lahore Jalsa of 30th Oct 2011.
This would have never been possible without the rise of twenty plus 24/7 Television channels, hundreds of radio stations, hundreds of online publications like 'Global Village Space', 140 million handheld phone devices, 55 million WhatsApp handles, 30 million Facebook users, 15 million-plus twitter users and countless YouTube channels being run by Pakistanis and so on.
This election, driven by the sentiments of young men and women under 37– if correctly understood by academics – is a kiss of death for all those pundits across the world who have seen Pakistan as a state riven by regional centrifugal forces. Whether Imran Khan and PTI leaders had imagined this or not does not matter; a strong belief in the Pakistani nation state, from Khyber to Karachi, is on vivid display through support for PTI. The outpouring support from Pakistan's largest metropolis, Karachi, where PTI won 14 seats out of 21 (67%), speaks of a gigantic change.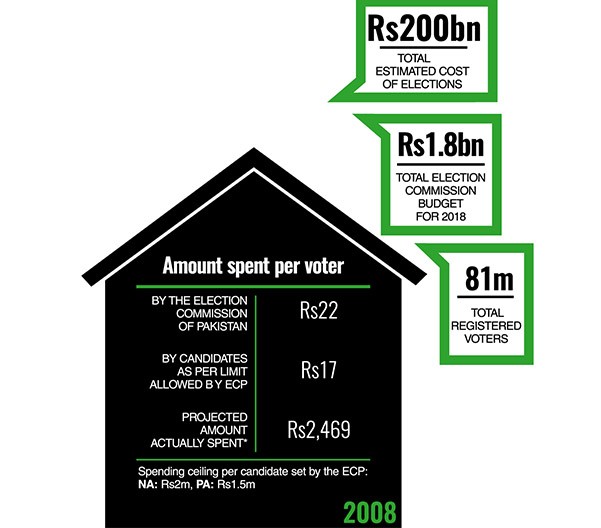 But MQM insiders, after 2013, confessed to media sources that PTI had won 8 seats on 11th May 2013, (in official results PTI was runner up in 80% of NA seats) however, MQM with a stranglehold on the city's administrative machinery was able to overturn results overnight.
PTI, in the end, got only one seat – NA 250 of Dr. Alvi – where elections got cancelled on 11th May, due to violence (Presiding Officers of 40 plus polling stations never arrived; apparently abducted and restrained by MQM gangs) and because affluent, upper middle class educated voters, in Defense & Clifton, resisted dictation from the goons of a London based Altaf Hussain.
The irony for the western world is: most people in Pakistan – especially the educated intelligentsia in cities – consider these elections as the fairest and most just in the nation's long-troubled electoral history.
Imran Khan blamed Altaf Hussain for murder, prompting PTI supporters in London to lodge protests to Metropolitan Police in thousands, jamming its phone lines in the process – this was literally the beginning of the end of Altaf Hussain's "reign of terror" over Karachi.
Propagandists against the elections 2018 talk of "media suppression"; it's a ridiculous claim that takes the English word, "hypocrisy" to new heights, because none of them – and us – could even muster the courage to speak a word against the murderers, rapists and abductors of Karachi – or the misogynists of Punjab.
Political change in Karachi, in 2018, also allowed PPP to win three seats despite its crucial loss in Liyari (where Bilawal Bhutto stood at 3rd slot) is clearly connected with two factors: one, the eradication of MQM's militant gangs that controlled the city of 20 million with instruments of fear from 1999 onwards and second; the "delimitation exercise" that rearranged voter concentrations.
One liberal commentator recently, while trashing July elections, lamented that Karachi's dominant party, MQM, is now running "helter-skelter for relevance". One gets the impression that eradicating MQM's militant gangs – that controlled Karachi's politics through orgies of blood and fire – was not fair? One wonders what kind of moral consciousness is this?
One also wonders: who are those supported by the State Department, British Foreign Office, New York Times, Washington Post and dozens of American think tanks in Pakistani politics; those who criminally violate every principle held sacred by Western values, but uphold "Washington Consensus" or those who identify with "values of the West" but disagree on Washington's geostrategic goals in the region?
Read more: ECP to use "highest quality" ballot papers in elections 2018
Defeat of the Misogynists & the Defective Lens of the New York Times?
What about the misogynists of Punjab? Nida Luqman, a mother of two, a graduate of Kinnaird college Lahore, was demonstrating against Maryam Nawaz on Thursday, 7th Sept 2017, on Mall Road Lahore – during a by-election. A PMLN gangster, Abid Mushtaq, a certain Gen.
Secretary of the Trader's Association, dragged her from her car and beat her with kicks in front of her two daughters – ages 7 and 8 – in full view of public and cameras of the safe city. Dr. Yasmin Rashid held a press conference for her, she hired a lawyer, filed a FIR, medical reports of external and internal injuries provided to the police and the Lahore Police promised to take action to thwart political protests.
Months passed, nothing happened against the politically connected misogynist and the case first disappeared inside the labyrinthine system of police, lower judiciary and sections of the law – and then was disposed of, when she and her lawyer were exhausted. Nida is the daughter of Dr. Rehana, ex-Superintendent of Services Hospital and married to a telecom executive; if this could happen to her for protests against the political elite in Punjab, on a place like Mall Road, in full visibility of public and cameras, then one can imagine the brutal system of control – instituted through police and lower judiciary – that ultimately ensures political loyalty of the subjects and the so-called "Electables".
Pakistan's media endlessly discussed Meesha Shafi's trivial allegations against singer Ali Zafar; so-called liberals have done to death Ayesha Gulalai's ambiguous accusations against Imran Khan; writer, Mohammad Hanif could pen an Op-Ed about that in New York Times; HRCP could blow hot and cold on issues that sync with an international theme on Pakistan, but no one could even squeak when it means annoying those who actually controlled the reins of political power.
The same silence of death prevailed when Maulana Fazal-ur-Rehman, Rana Sana Ullah and other Punjabi leaders used demeaning language to condemn women participating in PTI rallies, referring to them as whores or women who are "not from respectable homes". Police investigations into the mysterious gangs that suddenly appeared in PTI rallies in Lahore, groping young girls, to this day remained inconclusive – just like the police investigations into the beating of Nida Luqman.
But to any political analyst, it was obvious that misogynists that dominate Punjab's politics were targeting young women, scaring their husbands, fathers and families to prevent their impact in shaping the politics of Pakistan. If the editors of New York Times would have been genuinely alive to the political dynamics of Pakistan – instead of seeing everything from their rusty lens of "Civil-Military" – they would have vomited on the primitive mindsets aligned with the "Washington Consensus" across Pakistan.
Read more: Elections 2018
From Faiz Ahmed Faiz to Strings: Romance against Injustice & "Status Quo"
Faiz Ahmed Faiz, Pakistan's revolutionary poet of the left, had written the iconic, "Hum Dekhenge" (One day we will also see) somewhere in 1979. It promised a new paradigm in Pakistan of a day when the poor, the dispossessed, the weak, the subjugated would witness the end of tyranny, a revolution which would blow away the rich and powerful. Faiz – though a Marxist and an avowed secularist – uses intense religious references towards the end of these lyrics, almost Quranic in sentiment.
These lyrics became legendary with the famous rendering of Iqbal Bano, who was waxing against Zia's Marshal Law in 1985. Yet, none of the modern rehashes can come close to the twist Pakistani rock band, Strings, gave to Faiz's words when it produced "Mein Tou Dekhoonga" (I will see) in April 2011.
British Foreign Office, New York Times, Washington Post and dozens of American think tanks in Pakistani politics; those who criminally violate every principle held sacred by Western values, but uphold "Washington Consensus".
This song, written and produced by the band founder, lead guitarist and vocalist Bilal Maqsood, has powerful imagery of the singers talking to poor children of Pakistan and telling them that there will soon be a new Pakistan (Aisa Hoga Pakistan), in which children or the young will rule the country, while powerful politicians will be put in the schools, it will be a Pakistan where bread will be cheap and human lives will matter, and those who have been stealing from the country will be destroyed by these new forces of change.
Couched in subtle leftist tones, the lyrics promise that in this new Pakistan different colors of ethnicities will merge and unite under the national flag, and those who have left the lands (expats) will come back home – as if they had lost their way.
Its not clear, if rock band String's original video was inspired by the politics of Imran Khan, but it set the stage for the historic jalsa of October 2011 around Minar-e-Pakistan, where Bilal Maqsood and Faisal Kapadia, from Karachi, were immortalized as they sang, "Mein Tou Dekhoonga" and "Aisa Hoga Pakistan", to hundreds and thousands of roaring young men and women from Punjab and KP, mixing the colors of ethnicities into one flag of Pakistan.

A young Lahori woman, now 27, had just turned 20, and she amongst many others had described her feelings to me; that electric spark running down her spine, in Urdu words similar to what Wordsworth had once said, about the French revolution, "Bliss it was in that dawn to be alive, but to be young was very heaven".
Literature, poetry and arts have always inspired vivid imaginations laying the ground for something big. In the afternoon of the 25th of July, thousands of Karachites, now unbounded, rushed to the polling stations in the strongholds of ethnic MQM making PTI, with its roots in KP and Punjab, largest party in Pakistan's biggest metropolis – the dream composed by Bilal Maqsood was being realized.
Read more: Elections 2018 in Pakistan and Afghanistan: Critical juncture ahead?
Of Demography, Technology & Tragedy after 9/11
Political change in Pakistan did not just magically happen on the morning of 25th July; it has been evolving every day, for the past several years. The Minar-e-Pakistan Jalsa on October 30, 2011, may have been an important milestone. Many certainly think it was, but perhaps this change was in the air much before that.
Perhaps it has been shaped by the demography, in a land where almost 65% of the population is less than 37 years of age; and by technology, in a nation of 200 million, where around 140 million use handheld devices, around 55 million use WhatsApp, and above all by income inequality, where few dozen families control most of the resources, making the worst possible use of neoliberal economics.
Financial experts, in different security firms in Karachi looking at the overall data flow, pointed out that almost 70% of banking loans are owed by a mere 34 families, and top politicians became billionaires without anything to show in terms of a spreadsheet or a money trail. This makes middle-class Pakistanis wonder whether Nawaz Sharif and Zardari created Microsoft, Apple, Facebook or Amazon after coming to power?
If the editors of New York Times would have been genuinely alive to the political dynamics of Pakistan – instead of seeing everything from their rusty lens of "Civil-Military" – they would have vomited on the primitive mindsets aligned with the "Washington Consensus" across Pakistan.
None of the Al Qaeda attackers in New York on the eve of 9/11 was a Pakistani, Afghan or a Pashtun. But since then, Pakistan has seen almost 80-100,000 violent deaths, including more than 10,000 of security personnel. Pakistani cantonments, cities, courts, colleges, streets, parks, hospitals, mosques, churches, literally every place came under attack – the Army Public School, where more than 150 school children and teachers were massacred, represented the climax of this madness.
While Western media and Pakistani intellectuals that act in sync have continuously defined this as an implosion within the sects of Islam, but gradually most educated Pakistanis have come to realize this mayhem as less ideological and more a kind of strategic warfare between regional interests from Afghanistan to India.
This has slowly shaped a new political consciousness that considers corrupt, super rich leaders acting in self-interest responsible for the pain of the common people – be it Zardari or Nawaz – and desires a more responsive, accountable sensitive leadership. Turkey's Erdogan and Malaysia's Mahatir Mohammad are perhaps the most cherished leaders amongst the new generation of Pakistanis.
This is a Pakistan which Western media, think tanks and universities don't understand and perhaps don't want to understand. The only and the only lens they have to make sense of Pakistan is the "Pakistan Army" – everything, good or bad, is judged in that context.
Read more: Elections 1977 and 2018: A comparison
The singularity of this political lens would have been limiting any way, but this "single lens" is also defective; most Americans see Pakistani military through their experiences of Latin America, where Washington for a greater part of 20th century had relied upon ruthless military institutions to contain popular left-leaning political forces.
US media wants the world and the Pakistanis to see the Pakistani Army as an enemy of the public and of democracy. Anyone disagreeing with this black and white world view risks being considered a stooge of the soldiers. The reality is the opposite: Latin American militaries acted against people in the US interest; Pakistani military is perceived to be standing by the public against elites – like Nawaz and Zardari – supported from the outside. 
Imran: A Multifaceted Villain, a Joker or a Dangerous Reality for the Liberals?
I moved back to Pakistan from London in 2007; Imran Khan was still a relatively lesser known, insignificant player, a kind of junior. Most of my close friends were in PPP or PMLN, and they often described Imran Khan as a stupid man, a confused idiot, a dreamer, impractical buffoon, an idealist; a man of no consequence.
I could see their point that Imran did not have that street smartness, that cautious political tone, that grasp of political principles enshrined in Machiavelli's "The Prince". But, I, being a TV anchor found myself being invited to schools, colleges and universities to speak and was stopped on streets by vendors, shopkeepers, labourers and so on.
 As Imran's political prowess became more and more obvious, after 2011, his frightened political opponents – still not prepared to accept him as a genuine historical phenomenon – went berserk with whatever they could lay their hands on.
I could sense something totally different shaping up from the ground upwards, by the young who will be joining the ranks of voters. I could hear the young seeing Imran as the only hope for them, their identity, their survival. As Imran's political prowess became more and more obvious, after 2011, his frightened political opponents – still not prepared to accept him as a genuine historical phenomenon – went berserk with whatever they could lay their hands on.
Imran has since then been described as "Gen. Pasha's creation", a terrorist who attacked police, a Jewish agent of Goldsmith family, West's agent against CPEC, Taliban supporter, a womanizer, a misogynist, cocaine peddler, homosexual, beater of wives, elitist of Banigala, tax evader and what not.
Articles, in Western press, targeting Elections 2018 abundantly mention the PTI case against Nawaz Sharif as pre-election rigging, but they have forgotten PMLN's own case against Imran Khan, that dragged endlessly in the Supreme Court, questioning even his modest Banigala residence (built for less than $1 million, before 2005) and forcing him to show his incomes from County Cricket from 1970's onwards and the sale of a modest London apartment.
Read more: Why is Qadri boycotting 2018 elections – Ideology or ground reality?
Who failed RTS and What Happened to Form-45s?
Imran and PTI's success was inevitable in 2018 and was palpable for the past two to three years – all internal surveys by independent TV channels, in the few weeks running up to the elections, predicted that PTI will win above 100 directly elected seats. PTI leaders had predicted 120-125 directly elected seats, but Dunya News TV Network had meticulously carried out a constituency-wise survey of 272 constituencies across Pakistan.
Habib Akram, Head Election Cell, Dunya News (and a known critic of PTI politics over the past few years) had repeatedly predicted, in scores of TV programs, that PTI will win from 103 to 112 seats. In the morning of 25th July, I tweeted that PTI will win from 100-110 seats, PMLN will win from 55 to 65 seats and PPP from 30 – 40 seats.
Losers in Pakistan and their supporters abroad, in Western media, are still trying to find lame excuses like the crash of RTS and denials of Form-45 etc. to justify demonization of what was otherwise a very transparent and predictable outcome. But now we know for sure that RTS (Result Transmission System) was conceived, created and operated by NADRA on turnkey basis.
It totally relied upon NADRA's infrastructure (Intermediate Server and Data-Based Servers inside NADRA), receiving input from 85,000 polling stations through a dedicated pipeline of 400 MBPS hired from Nayatel and then relaying the data to the ECP and Returning Officers (ROs) for creating Form-47 (result of the whole constituency) that was to be fed through RMS (Result Management System) operated by ECP, but supported financially by UNDP through 840 Hewlett Packard Laptops.
RMS delivered 100%, facilitating the transmission of all 840 Forms-47 to the ECP by midday July 26th – evidence of excellent cooperation between the Election Commission of Pakistan and UNDP.
Read more: "Sympathy Vote", Sharif's best bet in 2018 elections
RTS, on the other hand, was not legally mandated, it was merely to speed up the delivery of polling station results to Returning Officers so that a fuller picture could emerge by 2am; it had started to slow down after 10pm and then collapsed after 11pm on the night of July 25th, but its control lay entirely with the top NADRA team and these were all appointees of the PMLN government.
The significance of its collapse did not and could not affect election results (since physical records exist at multiple levels, along with CCTV footage from all polling stations), but it fueled a public controversy and a narrative of possible rigging – and thus its actual victim was the new government, whose legitimacy has been thrown into doubt.
The incoming PTI government must conduct a detailed "forensic investigation" to determine if it was the incompetency of NADRA (in creation and management of the Android App of RTS) or foul play inside (as being accused by many) to tarnish the Elections 2018. PMLN, PPP, MQM, PSP and others losing in different constituencies had alleged on the night of 25th July, that their polling agents had been expelled and votes counted in their absence.
By now it is becoming clear that as per convention, only one polling agent of each party was allowed during the vote count and additional polling agents had been asked to leave – just like in 2013. Fortunately, CCTV footage exists of all polling stations, Form-45 are being put up on ECP website (Form-14 in 2013 were never put up, not even till today) and any accusations – if formally submitted – can be cross checked and verified.
Pakistan: Failure of Neoliberalism, What Lies Ahead?
So, all those who are thinking of the return of the Sharif's or Zardaris after a hiatus of two or five years are living in a mistaken world. The rise of PTI lies in the failure of Pakistan's neoliberal moment – or perhaps its gross exploitation.
The Pakistan of 1960s and 1970s was rich in ideas; politics was shaped around debates of left and right, it was in that climate that Zulfiqar Ali Bhutto could sell his slogans of "Roti, Kapra aur Makan", but with the collapse of the Soviet Union and Fukuyama's "End of History" Pakistan experienced its "end of political ideas". Gen. Zia's brutal martial law (1977-1988) supported by Jammat-e-Islami and Washington gave way to the political era of "brain death" in the 1990s.
A seriously corrupt Benazir Bhutto – and politically compromised – looked smart or intelligent only because she was pitched against a class of buffoons headed by Nawaz Sharif, whose sole purpose in politics was to make money and further his family's business interests.
This is not to suggest that Nawaz was not street smart, he is perhaps the most intelligent living politician in this category, of "street smarts" instead I am simply asserting that he, Mr. Street Smart– who never read a book in his entire life – was never capable of meeting the challenges thrown up by failure of neoliberalism in Pakistan.
Nawaz himself – along with almost all elite Pakistani families – was the biggest beneficiary of this "Neoliberal mumbo jumbo" which in Pakistani context only meant: lets privatize and make money. Concepts of regulation never existed, no one in the political class thought of developing regulatory institutions and whatever functional strength was left in the British era institutions of civil services and judiciary was drained when political elite politicized these through appointments against merit.
The total institutional collapse of the state apparatus brings political elite face to face with Pakistan army – the only British era institution that has maintained its own control on recruitment, training, placement, promotion and accountability. US lead Western political establishment's geostrategic conflict with Pakistan army – on issues related to Afghanistan, India and China – thus provides a valuable fault line to the political elite, like Nawaz, for empowering itself.
However, slogans of civilian supremacy do not mean that Pakistani political elite ever seriously believed in the separation between the civil and military spheres; what their mantras meant was control over the military to be used against other political opponents; model exists in GCC countries of Middle East. Nawaz had welcomed the formation of JIT, with military officers; he genuinely believed that he will be able to influence them from the top of GHQ and will use their credibility to rescue himself from the Panama scandal, which was being pushed by his political opposition – PTI and media.
 A politically compromised – looked smart or intelligent only because she was pitched against a class of buffoons headed by Nawaz Sharif, whose sole purpose in politics was to make money and further his family's business interests.
The political class since 2002 elections – while making money for themselves – has attempted pacifying teeming millions through either the political rhetoric of democracy, autonomy and democratic rights (PPP & its 8th Amendment) or through building impressive mega projects (Metros; pocketing huge commissions in the process) celebrated as "progress and development" through a bought and penetrated media (PMLN).
This large scale fraud had to collapse at some stage; it has given rise to a new phase of "neoliberalism" that demands "honest leadership", "good governance", "strong institutions" (the kind of rhetoric used by World Bank & other donor agencies) with moderate doses of nationalism and patriotism.
This is the space in which Imran Khan and PTI are selling their political slogans. Watch any speech of Imran Khan or his TV interview, he talks against corruption, abuse of political office and the compromise of national interests for personal gains – and the dire need for a welfare state through strong institutions.
There are no guarantees that PTI will succeed. Like the flawed US lens on Pakistan, PTI too has a limited world view. It has failed to understand that the US and EU are Pakistan's largest trade partners – and Pakistani institutions, even Pakistan Army and courts, are made in Britain.
Read more: What are Tehreek-e-Labbaik's chances in 2018 elections?
The relation with the US was never merely a security relationship; US is the contemporary leader of Western civilization, no nation in the last one hundred years has contributed more to the understanding of sciences, arts and natural phenomenon. Our world as it exists around us is to a huge extent a creation of American ideas.
PTI must find ways to engage the US government, US Congress, media and the think tanks. If the New York Times has a rusty lens to look at Pakistan, then it is the responsibility of Pakistani media and politicians to provide a lens cleaner.
The tsunami of anger, desires and expectations which has unleashed Imran and PTI, and the change which they have unleashed in turn may end up destroying them the way founders, leaders and rebels of French revolution were consumed by the forces they had unleashed. But while monarchists did return for several decades after Napoleon made himself emperor, no one in right mind today will deny that it was the storming of the Bastille in 1789 that transformed France and Europe – Gen. Zia's citadel built in 1979 has finally collapsed.
Moeed Pirzada is a prominent TV Anchor and Editor Strategic Affairs with Dunya News Network and a known columnist. He previously served with the Central Superior Services in Pakistan. He studied international relations at Columbia University, New York and Law at London School of Economics, UK as a Britannia Chevening Scholar. He has been a participant in Chaophraya Dialogue, has lectured and given talks at universities and think tanks including Harvard, Georgetown, Urbana Champaign, National Defense University, FCCU, LUMS, USIP, Middle East Institute and many others.