News Desk |
Climate change has emerged as the most drastic challenge faced by every country and community across the world. The hazards of climate change are fast-paced and multi-faceted, and Pakistan is one of the countries in the region that is most harshly impacted by the hazards of climate change over the past few years, causing grave damages to the communities across Pakistan's urban and rural centers. Indeed, tree plantation is one of the easiest and prompt solutions to curb the challenges posed by climate change.
PTI during the 2013-18 period had undertaken an ambitious agenda of planting 1 billion trees, known as the "Billion Tree Tsunami" to overcome the challenges of climate change and rapid deforestation in the KP province.
https://www.facebook.com/ImranKhanOfficial/videos/1248816855160732/
After successfully achieving the billion tree target last year, Prime Minister Khan when taking goverment, undertook a larger nationwide challenge, the Ten Billion Tree Tsunami, a campaign that is ongoing in Khyber Pakhtunkhwa and other provinces. Provincial Parks and Horticulture Authorities have been directed to ensure tree plantation drives across all urban and rural centers to effectively curb the hazards of climatic changes and deforestation.
After successfully achieving the targets of Billion Tree Tsunami project in KP, PTI Government has launched the #TenBillionTreeTsunami project in Pakistan 🌳🇵🇰

PTI's 100 Days Agenda been implemented across the country by launching the biggest-ever Plantation campaign ! pic.twitter.com/LgmCctJVxh

— PTI (@PTIofficial) September 4, 2018
The private sector has joined hands with the government to initiate environmental campaigns aimed at curbing deforestation and the hazards of climate change. Hamdard Pakistan has a pro-active Corporate Social Responsibility agenda, and after their impressive Rooh Afza Heatwave Campaign, they are back again, with yet another remarkable initiative: Rooh Afza Tree plantation drive.
Hamdard has taken the initiative to launch a tree plantation drive in a bid to raise awareness of the hazards of deforestation for the environment and urban centers, and to raise support for combating the escalating challenges of climate change. In this initiative, Hamdard has partnered up with esteemed academic institutions and establishments, such as the Institute of Business Administration (IBA), Karachi.
Hamdard's campaign for tree plantation is still ongoing, and the brand continues to join hands with other organizations and bodies that are focused on the mission to transform Pakistan into a "Greener Country." 
Hamdard's Tree Plantation Drive
Hamdard's Rooh Afza Tree Plantation has emerged as the most comprehensive private sector engagement to curb the hazards of climate change and raise awareness of the environmental challenges posed by deforestation. In order to address the challenges of climate horror, tree plantation is undoubtedly the most fast-paced solution, and in this regard, Hamdard Pakistan has taken up the challenge to address deforestation in the megapolis city of Karachi.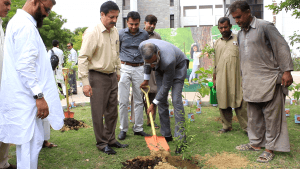 Hamdard Pakistan team participated with the students of IBA during their orientation week, and took over their plantation drive Hamdard planted seeds to raise awareness, and educate the youth about the significance of nurturing nature, preserving trees and planting trees to overcome the challenges of climate change.
Alongside scores of IBA students, teachers and management staff, the team of Hamdard Pakistan planted hundreds of trees and plants. The Hamdard team also shot a DVC of the activity, which was shared across social media platforms to raise awareness and encourage other students and individuals to plant trees across their communities.
Read more: Hamdard Pakistan's "Heat Wave Initiative"
Hamdard Pakistan stated in its official statement, "For future, our intention is not only to plant trees but to also encourage our youth for plantation as they will be the one who will reap this sown fruit."
Hamdard Aims for Greener Pakistan
Throughout the summer season, Hamdard Pakistan has been involved in raising awareness on the issues of deforestation and advocating the advantages of tree plantation. The team behind Hamdard is accredited for initiating multiple tree plantation drivers across the country. They have stated that "the campaign for tree plantation is continued by joining hands with other bodies who majorly aim to transform not only Karachi but Pakistan to a "Greener Country."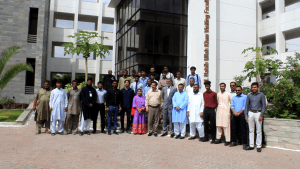 This year, Hamdard's globally-sought out product, Rooh Afza, initiated a dynamic campaign on tree plantation, and the brand employed multiple mediums to communicate the message of environmental responsibility, including print advertisements, TV commercials, and digital media platforms. Aside from collaborating with the students at IBA Karachi, Hamdard also initiated a tree plantation drive at Bait al-Hikmah, Hamdard University main campus, and the Hamdard University Islamabad Campus as well.
Hamdard Pakistan has also undertaken a plantation drive at Hakim Said Park, located at Karachi's Nazimabad area, where the Hamdard team has created a beautiful spectacle of flower beds and trees. The Hakim Said Park is open to the general public, who are encouraged to enjoy the healthy environment and beautiful visual appeal of the recently-conducted plantation drive.
Read more: Making Pakistan greener: Hamdard joins in!
Hamdard's campaign for tree plantation is still ongoing, and the brand continues to join hands with other organizations and bodies that are focused on the mission to transform Pakistan into a "Greener Country."