Former Prime Minister Nawaz Sharif and Chief Minister, Punjab, Shahbaz Sharif held a 1.5hr long meeting with the HRH crown prince Muhammad Bin Salman on Tuesday, according to Sharif family's spokesperson. Punjab government's spokesperson, claimed that Shahbaz Sharif met the Crown Prince and discussed matters related to mutual interest. He stated that the Chief Minister also asked him about the absence of Saudi Arabia from the summit on Al-Quds in Turkey. Some PML-N leaders also threw hints that the meeting was to do with Iran and regional issues. However Saudi officials have not confirmed the meeting. 
Initial information given out by PML-N leaders had stated that the Crown Prince would meet the CM Shahbaz Sharif on Monday and he would meet ex-PM Nawaz Sharif on Tuesday.
However, on Tuesday morning Pakistani newspapers started reporting that no meeting was held with Nawaz Sharif and he would be coming back to Pakistan. Then a series of PML-N leaders stated that the meeting with the Crown Prince was actually with both brothers at the same time. Creating a confusion for those following the issue whether the meeting happened? Who did this meeting happen with? What was the subject of the meeting? 
Punjab government's spokesperson, Shahbaz Sharif met the crown prince and discussed matters related to mutual interest.
Maryam Nawaz shared the news about the 'meeting' (of her father and uncle with Crown Prince Salman) and also shared the pictures of her father attending Umrah after the meeting – however she did not share any photos of the meeting. Saudi media has also not reported any news regarding formal meetings between the Sharifs and the Crown Prince.
read more: Nawaz Sharif's departure to Saudi Arabia fuels speculation
MNS in Madina Munawara for haazri after his meeting with HRH CP Prince Mohammad bin Salman. He would return to Pak tonight after Umrah IA. pic.twitter.com/mO09TvDQtr

— Maryam Nawaz Sharif (@MaryamNSharif) January 2, 2018
MNS offering salam at Jannat-ul-Baqee, the resting place of the Prophet's (PBUH) family, before flying back to Jeddah. pic.twitter.com/BLU9l1G3oh

— Maryam Nawaz Sharif (@MaryamNSharif) January 2, 2018
Is there any reality to this meeting of both brothers with the Crown Prince?
While the news of the supposed meeting is being shared all across the Pakistani media, there has been no confirmation of it by any independent sources. Even though Maryam Nawaz uploaded pictures of her father offering Umrah and getting on a jet, no pictures were shared of the actual meeting.
Chief Minister Shahbaz Sharif left for Saudi Arabia on 26th December 2017 in a special plane sent by the Saudi government. Later Nawaz Sharif joined him on 31st December 2017; he left Pakistan on a commercial flight – and was received at the airport by Pakistan's ambassador to Saudi Arabia; no Saudi officials received him. It has been reported that Shahbaz Sharif was received, at the airport, by a Saudi intelligence official rather than any member of the royal family.
Sharif brothers, their advisers and Senator Asif Kirmani have been summoned for the ongoing allegations of corruption against several detained Saudi princes
Speculations over the supposed purpose of this meeting
Political circles went ballistic with speculations when the news of the Sharif brothers' departure hit the mainstream media. The opposition parties accused the Sharif brothers of signing a new NRO deal with the help of their Saudi connections to get rid of corruption cases that were instituted against them, following Supreme Court decision of 28th July 2017 – that had disqualified Nawaz Sharif. 
read more: Sharif brother's Saudi trip highlights extensive foreign influence on Pakistan
However, later the media channels started reporting that Sharif brothers, their advisers and Senator Asif Kirmani have been summoned for the ongoing investigations of corruption against several detained Saudi princes, including the sons of the former King Abdullah. The Sharif family sources avoided commenting on these new items.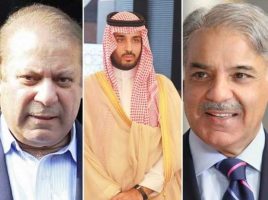 Initially, the PML-N leadership claimed that the Sharif brothers have been called to Saudi Arabia as important leaders of the Muslim world, to discuss the issues of the region. 
Columnist Habib Akram, who is known to be close to the Sharif family, claimed on a television show in Dunya News that Crown Prince Muhammad Bin Salman called the Sharif brothers to resolve the differences between them and to help with a smooth political transition in the PML-N. However, in the last 24 hours after the news appeared in television channels regarding corruption allegations, the Sharif family said that they were merely invited for Umrah and meetings, and they don't need to give an explanation for going to Saudi Arabia.
read more: What's behind the Sharifs' trip to Saudi?
Pakistani television channels, however, claimed that the detained princes, related to King Abdullah, have told the investigators that a major part of the investments, of billions of dollars from Saudi Arabia to Europe, belong to the Sharif family; and that the Saudi princes, who were friends of Sharifs, were acting as front men. TV channels also claimed that Sharif brothers have offered reimbursements to Saudi authorities on the understanding that they should not be made part of any formal investigations because it would be very devastating for their political futures.
It remains to be seen how the Sharif brothers will respond to these allegations and news items. If these allegations turned out  true then it would mean that Sharif family has laundered huge chunks of money across middle east and the EU with different names, since these accounts have not been disclosed to the authorities and the Election Commission of Pakistan (ECP). This can give rise to another political scandal around Sharif brothers.