Since ancient times, honey has been used as both a food and a medicine. It's very high in beneficial plant compounds and offers several health benefits. Honey is particularly healthy when used instead of refined sugar, which is 100% empty calories.
In its natural form, honey is produced by enzyme activity, plant matter, and live bacteria coming together to create a powerful ingredient with hundreds of practical uses.
Honey is found in almost every household and mostly used as a cough suppressant or a substitute for sugar. While those are great uses of the natural sweetener, there are some other uses that we would benefit us a lot when used in routine.
How is Honey Made?
Honey starts as flower nectar collected by bees, which gets broken down into simple sugars stored inside the honeycomb. The design of the honeycomb and constant fanning of the bees' wings causes evaporation, creating sweet liquid honey. Honey's color and flavor varies based on the nectar collected by the bees. For example, honey made from orange blossom nectar might be light in color, whereas honey from avocado or wildflowers might have a dark amber color.
Raw honey is also a natural exfoliator, which means applying it to your face takes off dry, dull skin and reveals new skin cells underneath.
Most of the honey you find in grocery stores is pasteurized. The high heat kills unwanted yeast, can improve the color and texture, removes any crystallization, and extends the shelf life. Many of the beneficial nutrients are also destroyed in the process.
If you're interested in trying raw honey, buy it from a trusted local producer.
Benefits of Using Honey
Face
Raw honey is packed with components beneficial for your skin, especially if you have acne or autoimmune skin conditions such as eczema or psoriasis. Even Candida overgrowth may be controlled by applying honey to your skin.
Raw honey helps balance the bacteria on your skin, which makes it a great product to use for acne. Manuka honey has been studied as an anti-acne product and found to be significantly more effective than other popular products.
Read more: Household treasures: Ginger, The Mighty Herb that holds secrets to health
Honey speeds up your skin cells' healing processes. If you have blemishes or an eczema outbreak, honey that's unpasteurized could speed healing and reduce inflammation. Manuka honey is so effective at healing wounds quickly that it's now used by doctors in clinical settings.
Raw honey is also a natural exfoliator, which means applying it to your face takes off dry, dull skin and reveals new skin cells underneath.
How to Use
Applying honey to your face is fairly simple, though there are different ways to do it.
Honey for Face Acne, Psoriasis, and Eczema
Honey for chronic skin conditions can be treated with a paste, spot-treated, or with a face mask that you leave on for several minutes. The most important thing about using honey to treat these conditions is to use unpasteurized honey, such as manuka honey. It's vital that the honey you use still contains its healthy bacteria to be effective. This will activate your immune system and help with inflammation and redness, as well as heal blemishes.
One way to use honey for your face is to mix it with other ingredients to create a soothing face mask treatment. Before doing this, make sure to do a patch test of the honey and any other ingredients to ensure you won't have an allergic reaction.
A mixture of raw honey and cinnamon is a powerful antioxidant and antimicrobial combination.
Honey is sometimes used to treat digestive issues such as diarrhea, though there isn't much research to show that it works.
Mix three parts honey and one part freshly ground or pure cinnamon ("true" cinnamon) and warm the mixture slightly using the microwave. Apply to your skin and leave the mixture on for 8 to 10 minutes. Rinse off completely using warm water and pat your skin dry. Don't use if you're allergic to cinnamon.
Honey for Skin Lightening and Brightening
Researchers haven't drawn a direct connection between using honey on your face and lightening dark spots. But since honey has exfoliating properties, using it on your face can eliminate dead skin cells that make your skin look dull. This can reveal brighter skin.
After washing your face with soap and water, apply manuka honey or another variety of unpasteurized, raw honey to your face. If you'd like, dilute the honey with purified water to make it less sticky and easier to remove. Leave the honey on your skin for several minutes before rinsing off.
Honey for Scar Fading
Honey helps your body's healing process, which may help fade acne scars. You can use honey as a spot treatment on scars, applying it every day or every other day as a paste at the site of your scarring.
You may also see results if you use honey face masks as a part of your beauty routine, as described above. Keep in mind that what we know about honey's healing abilities is limited, and still developing. A study found that honey may not be good for scarring caused by burns and deep cuts.
Read more: Can aloe vera help with acne?
For Healing Wounds
Manuka honey is used in medical settings to treat wounds because it's been found to be an effective germ killer and also aids in tissue regeneration.
Studies show that Manuka honey can boost healing time and reduce infection. Keep in mind that the honey used in hospital settings is medical grade, meaning it's inspected and sterile. It's not a good idea to treat cuts with honey you buy from a store.
Help for Digestive Issues
Honey is sometimes used to treat digestive issues such as diarrhea, though there isn't much research to show that it works. It's proven to be effective as a treatment for Helicobacter pylori(H. pylori) bacteria, though, a common cause of stomach ulcers.
It's also a potent prebiotic, meaning it nourishes the good bacteria that live in the intestines, which are crucial not only for digestion but overall health.
Soothe a Sore Throat
Have a cold? Try a spoonful of honey. Honey is an old sore throat remedy. Add it to hot tea with lemon when a cold virus hits you. It also works as a cough suppressant. Research has suggested that honey is as effective as dextromethorphan, a common ingredient in over-the-counter cough medication. Just take one or two teaspoonfuls, straight.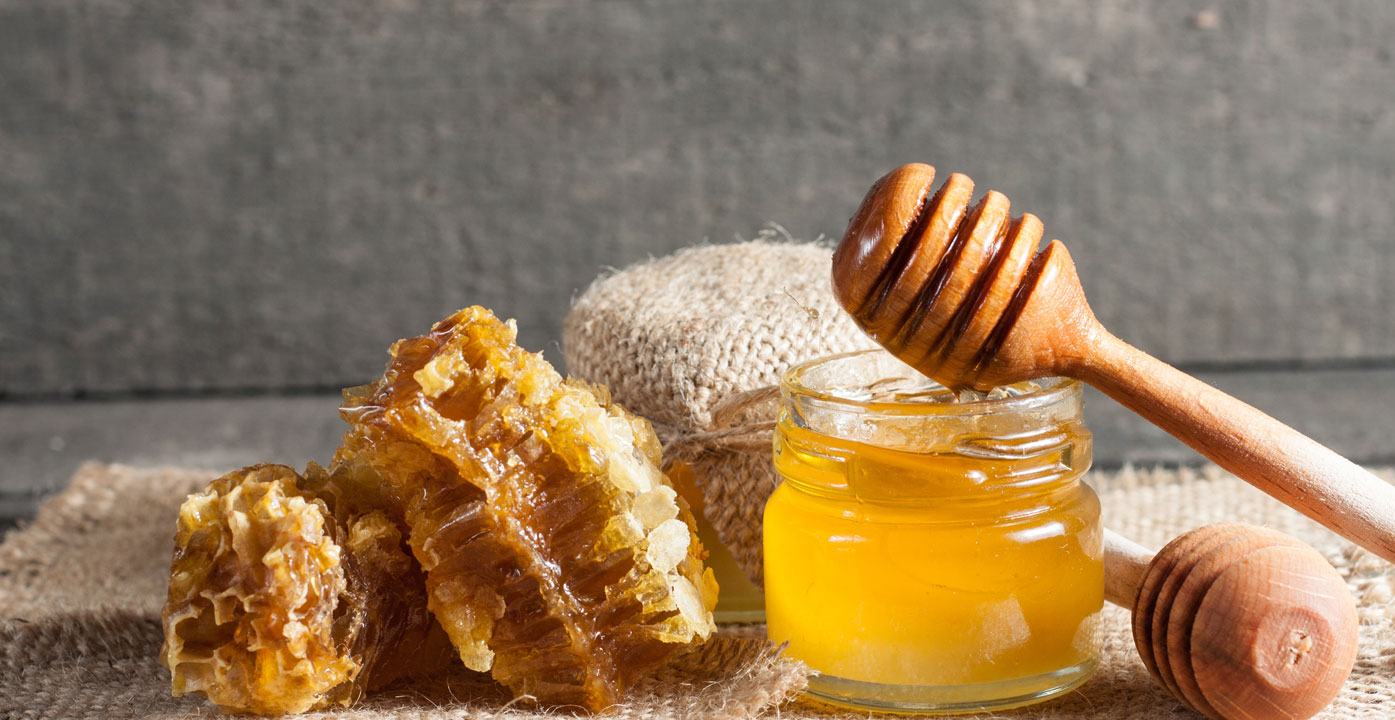 Honey Is "Less Bad" Than Sugar for Diabetics
The evidence on honey and diabetes is mixed. On one hand, it can reduce several risk factors for heart disease common in people with type 2 diabetes. For example, it may lower "bad" LDL cholesterol, triglycerides and inflammation while raising "good" HDL cholesterol.
However, some studies have found that it can also increase blood sugar levels — just not as much as refined sugar. While honey may be slightly better than refined sugar for people with diabetes, it should still be consumed with caution. In fact, people with diabetes may do best by minimizing all high-carb foods.
Keep in mind, too, that certain types of honey may be adulterated with plain syrup. Although honey adulteration is illegal in most countries, it remains a widespread problem.
Read more: Household treasures: Cinnamon, blood sugar and diabetes
Using raw honey on your face can work as a treatment for acne, scarring, and dull or dry skin. Raw honey is more expensive than other kinds of honey, but it's relatively inexpensive compared to other skin cosmetics for your face.
Researchers are working to find out more about how honey can help us remain healthy without using sugar in abundance every day. As long as you don't have an allergy, there's little reason not to give it a try.