Nestlé Pakistan commemorated Children's Day with a contest to encourage healthy eating under its Nestlé for Healthier Kids (N4HK) program at its partner institution the Trust School in Lahore. Similar activities are planned with various partner schools across Pakistan.
'Nestlé Healthy Kids Program' was launched by Nestlé Pakistan in 2010. It is now a nationwide curriculum-based program that is non-branded in nature. Nestlé Healthy Kids program is nationwide and covers schools across Punjab, Federal Capital, Sindh, Khyber Pakhtunkhwa and aspires to reach more areas. The program works in collaboration with 10 educational partners from the development, private and public sectors.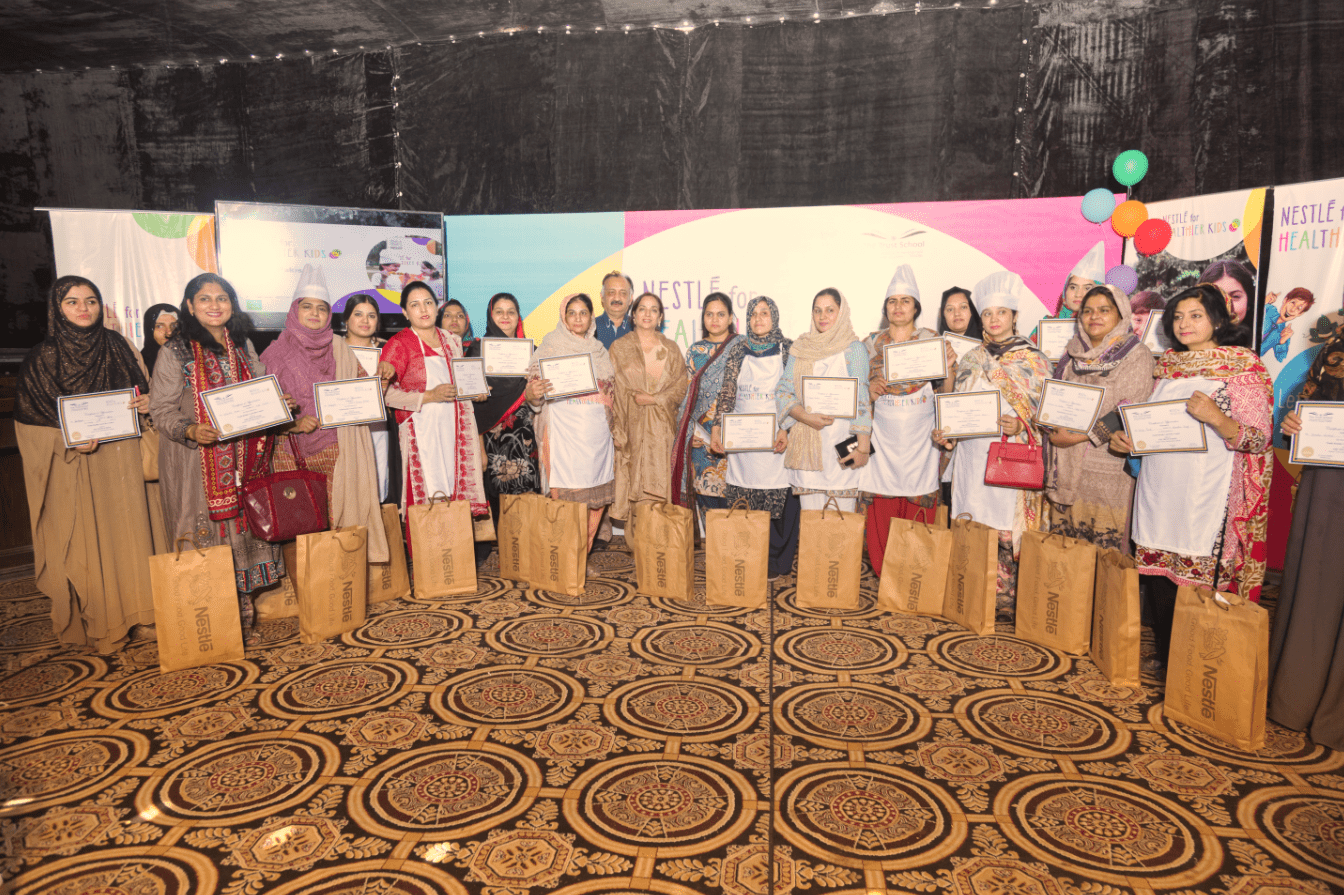 NHK is a curriculum-based program that was launched in 2010, comprising two books (in both English and Urdu) that provide the necessary knowledge on nutrition and encourage physical activity and intake of a balanced diet.
The curriculum has been developed through collaboration with Oxford University Press. The content of the program is taught as separate lessons (not core curriculum) but during school hours. In partner schools, every child must spend at least 10 hours on this curriculum over an academic year. The primary beneficiaries are school-age children.
The program empowers parents, caregivers, and educators to foster healthier eating, drinking and lifestyle habits among school-age children.
Read more: Nestle Pakistan Boasts 87 Billion Rupees In Profit
The children's day activity set participants the challenge to prepare healthy lunches to bring to school, which were assessed by culinary experts and nutritionists based on nutritional value, presentation, and taste.
Sharing his views about the activity, Mr. Tahir Yousaf, CEO of The Trust School said, "Through the years of our partnership with Nestlé for Healthier Kids Program, we have achieved significant improvement in the nutritional knowledge and practice of healthy lifestyle among children at our school.
Nestle has also committed to the cleaner greener Pakistan initiative launched by Prime Minister Imran Khan on 8thOctober 2019 which aims to plant ten billion trees in the next five years
"Lunch box content is a great activity as children learn about nutrition, food, and health as they worked on preparing their own healthy-packed lunches with the help of their mothers. Well-nourished children are much more equipped to grow and learn, act as productive members of the society," he added.
Talking about the initiative, Waqar Ahmad, Head of Corporate Affairs, Nestlé Pakistan said, "The N4HK initiative is part of our commitment to United Nations Sustainable Development Goal (SDG) 3 of Good Health and Well-Being, to ensure that children understand the value of nutrition and physical activity and continue leading healthy lives as they grow older. In Pakistan, the program has reached out to more than 180,000 kids and has trained more than 800 teachers with 10 partners nationwide."
Nestle has also committed to the cleaner greener Pakistan initiative launched by Prime Minister Imran Khan on 8th October 2019 which aims to plant ten billion trees in the next five years. Advancing the initiative, Nestlé Pakistan in partnership with Metropolitan Corporation of Islamabad (MCI) and Ministry of Climate Change kicked-off the second wave of tree plantation drive to be held across the country.
Samer Chedid from Nestlé Pakistan said, "We appreciate Prime Minister's efforts towards a Clean Green Pakistan and are fully committed towards this initiative. Since March, we have planted 25,000 trees across the country and are dedicated to achieving our target of 50,000 trees by Spring 2020 in partnership with Clean Green Pakistan."
Read more: Nestle to train young culinary minds worldwide through YOCUTA!
He added further, "As part of our Nestlé Cares initiative, our employees have been engaged in cleanup activities of public spaces in both Karachi and Lahore. We are working with the industry to form an Alliance to tackle Packaging Waste later this year. Nestlé has committed to making 100% of its packaging recyclable or reusable by 2025 and all our efforts are completely aligned with Sustainable Development Goals (SDGs) including Clean Water and Sanitation, and Life on Land."