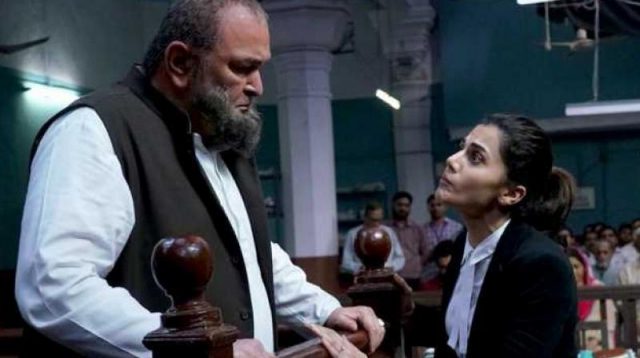 News Desk |
Ever since the first trailer of Anubhav Sinha's Mulk dropped, the film has been embroiled in controversy after controversy. The Rishi Kapoor starrer tells the story of a Muslim man whose family is ostracized from society following the aftermath of a suicide bomb. The film stars Kapoor, Tamil and Telugu actress Taapsee Pannu and Jaane Tu… Ya Jaane Na's Prateik Babbar among others.
The film drew ire from many Hindu extremists who trolled director Sinha on Twitter insisting he was working on the agenda of underground kingpin Dawood Ibrahim and trying to start propaganda by being "pro-Muslim". Just last month, the director hit back at the haters writing a lengthy article in defence of the film.
An open letter to all the trolls. Bring it on!!! pic.twitter.com/QSLMOBLmnz

— Anubhav Sinha (@anubhavsinha) July 15, 2018
He stated "Mulk… No, it is not funded by Dawood Ibrahim. You can ask him. Not even Congress. You can ask Rahul [Gandhi]. Not even the RSS. You can check with Mohan Bhagwat Ji. It is funded by Mr Deepak Mukut and his father Kamal Mukut, a veteran in this business." And then summarized his post saying "Mulk is a very nice film. It is not doing what you think it is doing. It is not about your masters."
Read more: Amitabh Bachchan, Rishi Kapoor bring a weird father-son combo on-screen
Hindus or Muslims. It is about you and it is about me and mostly it is about us." The tweet was liked more than 2000 times and retweeted by many as Indian and Pakistani fans of the director sought to condemn the trolls. But it wasn't the antimuslim Hindus the film didn't sit well with, many Muslims thought that all Mulk was doing was perpetuating stereotypes.
And it was for this very decision that the trailer for the film, when submitted to the film censor board for review was banned. What that means is that while the trailer will still be accessible to Pakistani audiences online it won't be allowed any airtime. It's important to note that prior to the Censor Board's verdict, the trailer for the film was being screened in movie theatres across Pakistan as an upcoming attraction.
Film Censor board Chairman Daniyal Gilani confirmed,  "Members of Central Board for film censors did not approve the trailer of Mulk as its content flout the Censorship of Film Code, 1980." The Sindh Board of Film Censor General Secretary Razzaq Khuhawar also revealed the film hasn't been submitted to them or to the Central Censor Board and is doubtful the film has even been picked up by a distributor yet.
Read more: Rishi Kapoor wishes to visit Pakistan before he dies
However, the news of the trailer ban infuriated Mulk's director and urged him to pen a passionate letter in which he asked the Pakistani film censor board to reconsider their decision. "I really wanted you all to see this film legally, but do watch it illegally, if you must, through our digital team at home is working hard to stop all piracy," Sinha wrote.
Although the Film Censor board has insisted that so far only the trailer has been banned. It seems very unlikely that the Mulk will be seeing the light of day in Pakistan.