Opinion |
I had the great opportunity of witnessing the historic opening of the Kartarpur border corridor on 9th Nov 2019. We traveled from Islamabad, with a group of young journalists, before the rise of the sun and reached there in little more than six hours. What we witnessed was an amazing spectacle of love and brotherhood between the visiting Sikh pilgrims and their Pakistani hosts. Before, I talk about my experiences let me write a few lines as to why this border opening meant so much for the Sikhs.
Significance for Sikhs
The total world population comprises approximately 27 million Sikhs making it the fifth-largest religion in the world. And out of 27 million, 76 percent are settled in Indian Punjab – commonly referred, in Pakistan, as "East Punjab". Guru Nanak was not only the founder of Sikhism but the first of the ten Sikh Gurus also. The two most sacred holy sites for Sikhs all around the world are both in Pakistan.
The first holiest site for Sikhs is Nankana Sahib. It is a district in Punjab of Pakistan and has been named after Guru Nanak as he was born here in 1469 and started to preach here. The gurdwara here is called Gurdwara Janam Asthan – the birthplace of Guru Nanak.
The second holiest site for Sikhs is Gurdwara Darbar Sahib Kartarpur where we were heading in the morning from Islamabad. Kartarpur is in Shakargarh Tehsil, of District Narowal in Punjab, Pakistan. Guru Nanak spent the last 18 years of his life here until his death in 1539. It is between the border of India and Pakistan. The Shrine is visible from the Indian side of the border and Sikhs before the opening of the Kartarpur corridor used to do 'Darshan' of the Shrine in Kartarpur, Pakistan through binoculars from the District Gurdaspur in India.
Experience at Kartarpur
Starting off at 3 am we reached Kartarpur at 11 am in the morning of November 9th, 2019. The whole area was alive with activity. From the parking lot, there was a shuttle service that took the pilgrims to the security checkpoint. Yatrees (pilgrims) were asked to show their IDs. After that, they were allowed inside the Gurdwara complex. Checking was strict, but I must mention that the teams checking IDs of the pilgrims were very polite and courteous.
Everyone was asked to take their shoes off and were given a token for the shoes. All the pilgrims who were without a headcover were also given a triangular piece of cloth to cover their heads.
This is a spiritual journey every Sikh longed for.

I feel blessed that by divine will of Baba Nanak I was able to join the sangat as part of the first jattha to pay obeisance at Gurudwara Sri Darbar Sahib in Sri Kartarpur. pic.twitter.com/TsQKSliLw7

— Hardeep Singh Puri (@HardeepSPuri) November 9, 2019
The first thing you would notice about the site is a white shining marble floor and a gigantic white compound built around the shrine. We soon learnt, this is now the world's biggest gurdwara. It was difficult to open eyes because of the dazzling reflection of the light but it was still beautiful – mesmerizing. Frontier Works Organization (FWO) has proved itself more than a military engineering wing; it has also created an art gallery having Sikh art, paintings of Guru Nanak and scriptures from Guru Granth Sahib. It is the holy Sikhism scripture in which Guru Nanak's words are written. A Lahore based art historian once said that the shrine still has the last and original copies of Guru Granth Sahib.
Sikh Pilgrims were very excited by the arrangements and delighted by what they saw. They said as we walk down the verandas of this complex it feels we are walking in the footsteps of Guru Nanak.
There were rooms with beds for the pilgrims to rest, there was a 'Langar' Hall. Toilets and showers were also there. Tent village was also built outside the compound for the Sikh pilgrims who are going to stay longer.
But while construction was excellent, there were some lapses in the management and administration. As you don't wear shoes in the complex, out of respect, so when you have to go to the toilet you are barefoot; there are windows near the toilets that say 'Take slippers from here while going to the toilet' but there were no shoes and nobody was there.
So, some pilgrims went to the toilets without slippers and some waited for the cleaners to lend them their slippers. It wasn't hygienic at all. The floors of the toilets were wet making it slippery and dangerous to walk on. The toilets weren't clean because of the large number of pilgrims and a very small number of cleaners/sweepers.
Read more: Baba Guru Nanak: The Enlightened Founder Of Sikhism
As Muslims, many of us have also performed Hajj and I got this great experience last year. The Saudi authorities there have established a real benchmark for cleanliness in Khana Ka'aba, Makkah. The moment something is spilled on the floor the cleaners come running, block that area and clean it within minutes and that happens in the middle of hundreds and thousands of pilgrims performing 'Tawaf'. Almost three million perform Hajj each year.
Things that Need to be Improved
While I admit that excellent construction has been done in record time and has been generously acknowledged by all visitors from India and abroad, but following issues need immediate consideration to further improve the overall facilities and image of the sacred place.
1: Shops and stores for eatables.
2: Souvenirs shops.
3: Cab service should be there for the 'Yatrees' coming from other parts of the world via Sialkot or Lahore because they'll be the ones staying for more than a day in Pakistan.
4: More cleaners/sweepers to clean the toilets and complex.
5: Automated hand dryers in the toilets.
6: Langar hall and kitchen needs to be clean and hygienic.
7: More plants and trees are needed.
I talked to several Sikhs who came there from different parts of the world like Canada, Australia, UK, and the US, some of them thought that the maintenance of the Gurdwara Darbar Sahib should be handed over to the Sikh community to better manage it. Perhaps there can be a broad-based committee that can consist of influential and resourceful Sikhs from western countries who can import expertise to further improve the facilities.
Corridor of Peace
The Kartarpur Corridor also known as 'Corridor of Peace' is 4.7 km long and the purpose of the corridor is to allow the Sikh Yatrees to visit the shrine without any visa from Gurdaspur, India.
This was an old & long-forgotten demand of the Sikh community which was approved last year by both the Government of Pakistan and India in 2018. Many say it was an example of 'Hug' diplomacy, when Navjot Singh Sidhu who is also a cricketing-buddy of Prime Minister Imran Khan attended Imran Khan's oath-taking ceremony, met and hugged Qamar Javed Bajwa, the Chief of Army Staff and requested him for the opening of Kartarpur Corridor then Gen. Bajwa assured him of the opening by the 550th Birthday of Guru Nanak.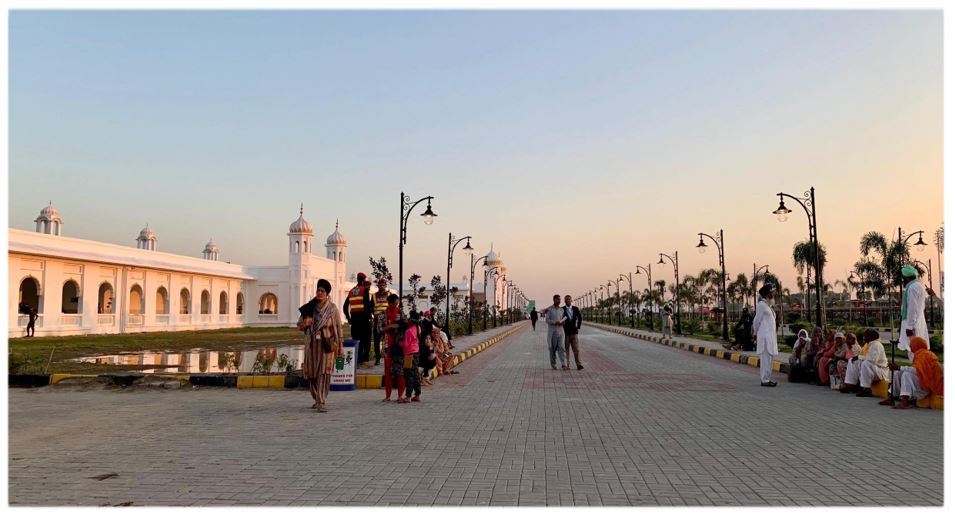 But I wonder if it was possible without the dynamism of Prime Minister, Imran Khan – because Gen. Bajwa was COAS since November 2016 and no progress could take place till the end of 2018.
Many important figures from India attended the opening ceremony of Kartarpur Corridor like Former Prime Minister of India, Manmohan Singh, Actor Sunny Deol, Cricketer turned politician Navjot Singh Sidhu, journalist Barkha Dutt, etc. About Sunny Deol, many Pakistanis visiting Kartarpur said that he has only worked in Anti-Pakistan movies. And Pakistan generously allowing him to visit Kartarpur's grand opening shows the world who among India and Pakistan is the real advocate of peace.
BJP MP, known for Pakistan bashing movies and slogans, Sunny Deol visits Kartarpur Sahib at Pakistan, hopes Kartarpur corridor brings peace between India and Pakistan https://t.co/Nb2gGKlFMw

— Hindutva Watch (@Hindutva__watch) November 11, 2019
Ironically while Pakistan welcomed Indian Sikhs with open arms, Indian Supreme Court on the same day handed over the 16th-century Babri mosque to Vishwa Hindu Parishad to build Ram Temple. The contrast between the public policy messages emerging from the two countries could not have been more stark.
Sidhu was all praises for Prime Minister Imran Khan. He said people like Imran Khan make history. He also said, "Imran Khan doesn't know how high the Sikh community will regard him."
Prime Minister Imran Khan along with his team including Shah Mehmood Qureshi, Zulfi Bukhari, Firdous Ashiq Awan, Faisal Javed Khan and guests from India and diplomatic community of Pakistan took a tour of the Gurdwara Darbar Sahib first and after that he came and sat on the floor and covered their heads out of respect for the Sikh community.
Read more: Evolution of the Kartarpur Initiative
Prime Minister Imran Khan looked very excited and his excitement was felt by all when he inaugurated the Corridor and said I never knew my team was this efficient. He again like many other occasions reiterated the importance of a dialogue between India and Pakistan to sort out the issues and gave the example of Germany and France and hostility between them but still, they worked towards restoring ties and opening borders for trade and other activities. He also showed disappointment that PM of India Narendra Modi doesn't think rationally and doesn't understand the significance of peace.
It is a great initiative towards religious tourism the corridor deal between both the countries India & Pakistan allows 5000 pilgrims to visit the shrine per day. If every pilgrim pays $20 (this fee, for now, has been waived off) per day it becomes a whopping Rs.19 Million a day and Rs. 58 Million a month.
Kartarpur Corridor is indeed a miracle of FWO to be constructed in eight month's record time. There could be no better gift to Allama Muhammad Iqbal and Pakistan on Iqbal day (9th November) than the opening of this peace corridor.
Shiffa Yousafzai is a TV presenter & producer with Hum TV. She is an International Alumni Ambassador for Manchester Metropolitan University, UK, where she studied Multimedia Journalism. Earlier, she graduated with business and marketing at Air University, Islamabad. She had been vice-president Air University Cultural Society; Shiffa could be followed on twitter @Shiffa_ZY and on facebook @ShiffaYousafzai. The views expressed in this article are author's own and do not necessarily reflect the editorial policy of Global Village Space.