News Desk |
Pakistani origin British boxer Amir Khan has stated to media that Pakistan's Prime Minister Imran Khan will attend his boxing match against Indian boxer Neeraj Goyat on July 12, in Saudi Arabia. The former light-welterweight champion will face India's no. 1 boxer at the World Boxer Asian champion in Jeddah.

The boxer stated: "In view of the on-going hostilities between India and Pakistan and especially what's going on at the border, it will be interesting. Of course, there is lots of pressure. We are professional sportsmen and it's nice that India and Pakistan should fight in the fields of cricket, boxing, and other sports. Pakistan and India will be trying to beat each other in sports and more of that needs to happen."
He explained that it is the first time a British Pakistani will fight Indian boxer Goyat, a sensation in his home country with over a billion people supporting him. Khan believes the fight between the two athletes will bring people of the two countries together.
Amir Khan has defended his choice of location for the fight. Being a Muslim, he has travelled several times to the country to perform the pilgrimage.
Neeraj Goyat, while talking to Pakistani media outlets, shared that he wishes his own Prime Minister, Narendra Modi, also come to Saudi Arabia to attend his fight against Amir Khan.
"It will be India fighting Pakistan but in a healthy way. I come from a very humble background but the love of boxing has taken me to places. I used to clean shoes for $2 a pair. This fight (is) in Saudi Arabia but I would like our future fights to be in India and Pakistan," said Goyat. Khan is reportedly being paid £7m. Apparently £3m more than he earned previously against Crawford to spearhead team Pakistan towards this event against India.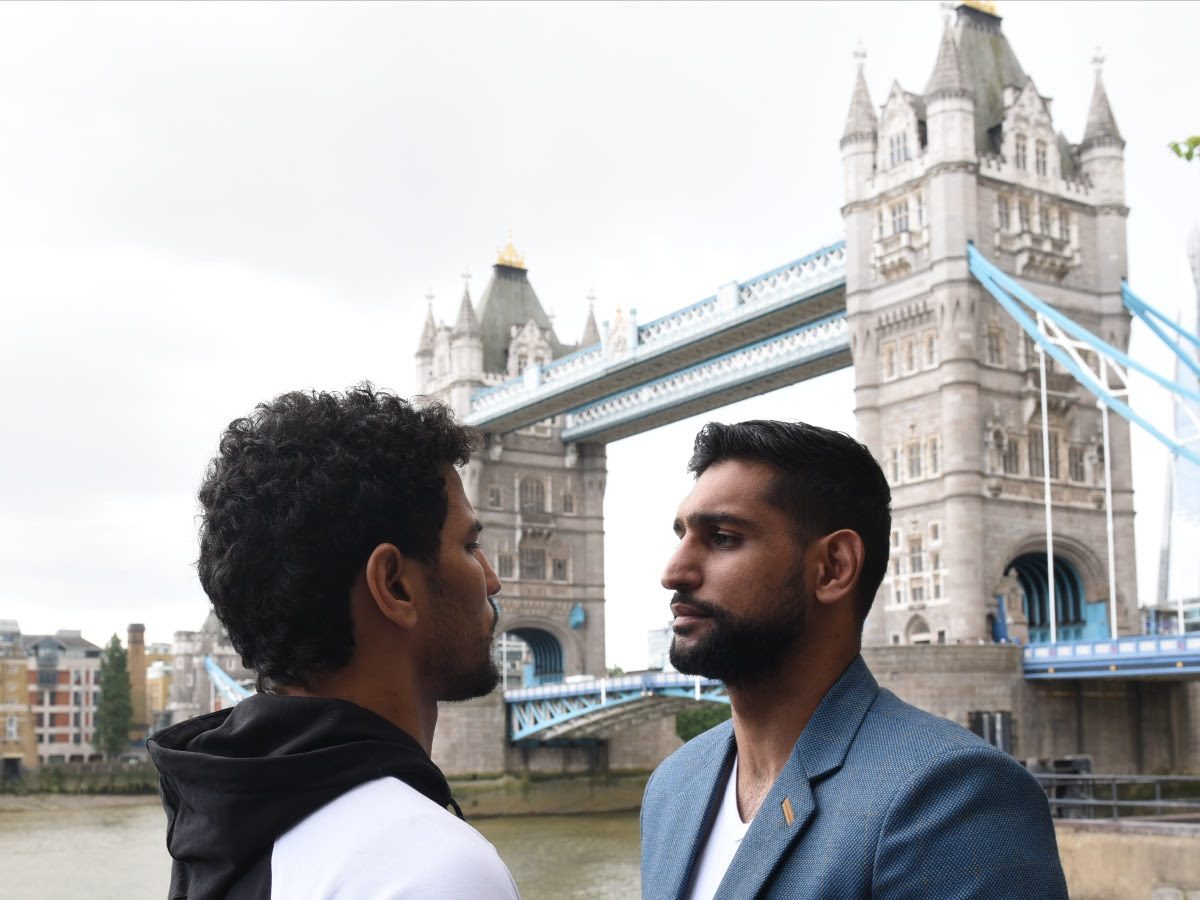 The fight has been promoted by Saudi General Sports Authority which is in line with the country's Vision 2030, launched in 2016, to modernise Saudi Arabia. Amir Khan is being criticised by media and human right organizations like Amnesty for agreeing to travel to Saudi Arabia for the fight, the country which is on the world's radar for grave violations of human rights.
Will PM Imran Khan watch the fight? 
The Prime Minister of Pakistan, Imran Khan, is expected to attend the King Abdullah Sports City bout, on July 12, where Pakistani origin British boxer, Amir Khan will face former mixed martial arts fighter Goyat, 27 from India. But as of now this is not confirmed. Imran Khan, unlike his predecessors, is a busy chief executive facing huge economic and governance challenges. Sources close to Prime Minister's office in Islamabad reveal that Khan often works for seven days a week, keeping long official meetings even on Sunday at his private residence. His official residence is the small house previously used by the military secretary. He had promised to convert Prime Minister's palatial residence into a university – though it has still not happened.
Read more: Amir Khan fears turning into a woman if he did household…
Saudi Arabia has changed: Amir Khan
Amnesty International has described the Saudi human rights record as "abysmal", adding that the nation is in the "grip of a sweeping crackdown against critics of the government", and implored Khan to travel there with his "eyes firmly open". Amir Khan has defended his choice of location for the fight. Being a Muslim, he has travelled several times to the country to perform the pilgrimage.
"When I was there last, it had all changed. I started seeing women not wearing headscarves. Women were out driving," Khan said. "They had a huge concert where everyone was dancing and enjoying themselves. I'd never seen that side of Saudi Arabia before." "Maybe now they are changing to make it that new place where people can enjoy themselves and it's fair for women. I think they're trying to change now.
"They are throwing a lot of money on to the table and at the end of the day, we are prizefighters. For me, it would be stupid to not take this opportunity."
Read more: Amir Khan splashes opponent with water at press conference
Khan, who claims he has "never shied away from a location", added: "I didn't get involved in the negotiation side. If they told me to fight on the moon…I'm one of those who will fight wherever. The offer came on to the desk and we took a look at it. It makes sense for me, especially because I want a quick turnaround between fights."