News Desk |
Amir Khan, the phenomenal actor in the Indian Film Industry is celebrating his 53rd birthday today. Just a day ahead of his birthday Amir Khan surprised his fans and followers through his Instagram debut. Amir Khan with his new Instagram account seeks to expand his outreach to his fans living in China, Turkey, Taiwan, and Russia.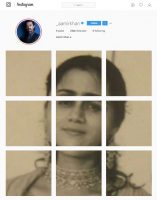 Amir Khan has selected his look from his upcoming movie 'Thugs of Hindostan' as his profile picture. His account scored 221k followers after getting verified even without any post.
"No time for tweeting, just time for posting my pictures in small boxes which represent my daily days. Good morning!" wrote Aamir on Facebook.
Amir Khan later in the day posted a photo of his mother captioned: "The person because of whom I am who I am…" The actor over a series of nine pictures uploaded a collage merging to be an image of his mother.
Read more: Faryal Makhdoom spends Valentine's Day away from Amir Khan
The 'Secret Superstar' actor already enjoys a massive fan following through his Twitter and Facebook accounts that he seeks to expand it through Instagram now. He has a following of 23 million on Twitter, while 15 million users have liked his Facebook page.
Amir Khan's recent releases 'Dangal' and 'Secret Superstar' has made him a global superstar. His movies have garnered him millions of profits from China alongside a massive following.
Amir Khan is having a busy day at work shooting for his upcoming film 'Thugs of Hindostan' that also features Katrina Kaif, Amitabh Bachchan, and Ronit Roy. The fans are speculating that Amir Khan will share his first post on his birthday today.
Amir Khan has become more experimental in his movies over the years as opposed to his counterparts in the industry Salman Khan and Shah Rukh Khan. The latter two have mostly been playing in their comfort zones as they reached maturity in their acting career. Salman Khan has restricted himself as an action hero while Shah Rukh Khan prefers to play romantic hero.
Read more: Amir Khan fears turning into a woman if he did household…
Amir Khan, however, stepped out of these conventional roles first time in 'Laggaan' movie. Since then he produced and directed movies like 'Taare Zameen Par', '3 Idiots', 'Ghajini', 'Dangal' and 'Secret Superstar'.
All these movies were in inspirational and resonated well with the emotions and life experiences of the audiences. His diverse and philanthropic approach in the movies has given him a global recognition.