Toyota is carrying on with its quest to achieve excellence in SUV making. This year it is adding a new RAV4 model to the crossover's lineup for 2021 in the form of the all-new Toyota RAV4 Prime plug-in hybrid.
The 2021 Toyota RAV4 Prime is a much more interesting and more compelling plug-in hybrid than the Prius Prime, a similar venture, ever was.
Toyota RAV4 Prime prospects in the US
The most popular Japanese automaker's hybrid model in the US is no longer the Toyota Prius. This has been replaced by the Toyota RAV4 Hybrid, which has seen sales climb by 92.3% last year. And now, it's also made in the USA.
RAV4, a crossover SUV made its debut in Japan and Europe in 1994, and in the US in 1995.
The all-new model RAV4 Prime could find a large market in the US as SUV sales have lately surged in the country.
RAV4 Hybrid production is being carried out locally in the US. Toyota might have plans to assemble the all-new 2021 RAV4 Prime in the US as well.
The 5th generation RAV4 Prime is billed as the most powerful RAV4 ever, offering an estimated 302 combined net horsepower and cutting-edge technology. The fifth-generation RAV4 was unveiled at the 2018 New York International Auto Show.
It is based on the front-wheel-drive Toyota New Global Architecture (TNGA-K) platform.
Pricing and which one to buy?
Toyota RAV4 Prime is being offered in the SE and XSE trim levels. These are Toyota's sporty grade designations that come paired with sport-tuned suspensions and more-aggressive styling details.
Read more: Toyota Harrier 2020 to hit markets in June
SE: A Weather & Moonroof Package is available for the RAV4 Prime SE, adding rain-sensing wipers, a wiper de-icer system, a heated steering wheel, heated rear seats, and a power sunroof.
XSE: A Premium Package is available for the RAV4 Prime XSE. It includes Weather & Moonroof Package contents, along with a JBL premium sound system, embedded navigation, a head-up display, and a panoramic glass roof.
More powerful, more efficient. Introducing the #RAV4 #Prime, the first-ever RAV4 plug-in hybrid electric vehicle (PHEV). Welcome to a new chapter of Toyota SUV performance: https://t.co/uekhTaulVo #LAAutoShow pic.twitter.com/Sw1ifetvkb

— Toyota USA (@Toyota) November 20, 2019
Moreover, the XSE variant of Toyota RAV4 Prime comes with ventilated front seats. This helps to keep the driver and front passenger cool on summer days, and this package also includes memory for the driver's settings, a 4-way power front passenger's seat, and passive keyless entry for all doors. The list of Premium Package contents also includes a hands-free power liftgate, a digital rearview mirror, a 360-degree surround-view camera system, front and rear parking sensors with automatic braking, and rear cross-traffic automatic braking.
In fact, the RAV4 Prime looks more sporty than sensible, even though it most definitely ticks both boxes. 2020 brings some interior changes in the RAV4 Prime. Chief among these is support for Android Auto, which joins the previously introduced Apple CarPlay and Amazon Alexa integration.
Price Range:
Toyota will release pricing closer to its arrival in dealer showrooms. RAV4 Prime is likely to cost about $36,500/29,383£ – $40,000/£ 32,201 before adding optional/additional features.
Read more: Toyota Corolla hatchback all set to be released
Exterior 
The all-new RAV4 Prime has a very sporty-style aggressive front end. it makes a statement with its dramatic headlights combined with vertical LED accent lights and a front lower spoiler.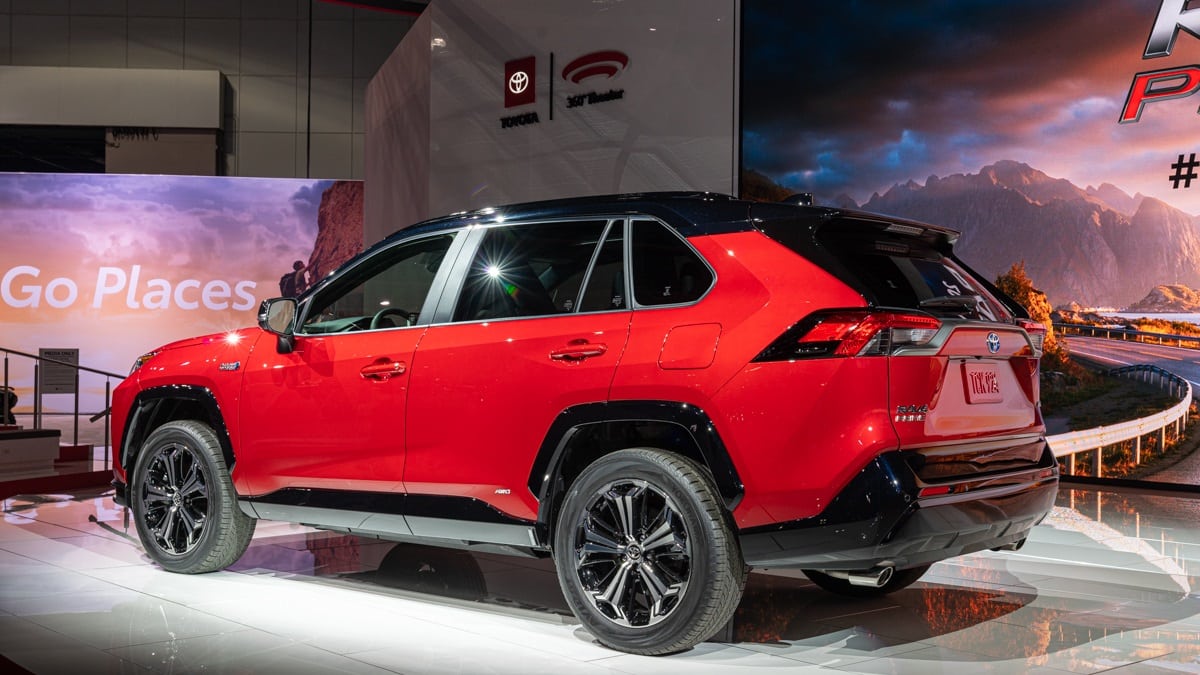 The SE and XSE front bumper treatment includes a prominent chin spoiler that gives the Prime a sporty scowl. However, this reduces its ground clearance.
RAV4 Prime being an exceptional vehicle know for its performance and style, comes equipped with two-tone 19-inches alloy wheels. Further amplifying RAV4 Prime's style are colour choices like an available two-tone roof and the new-to-model Supersonic Red colour.
Engine and performance
The 2021 Toyota RAV4 Prime SUV has a bigger battery which gives it enough electric range potential to make it truly credible as a part-time Electric Vehicle (EV). It has an estimated all-electric range of 39 miles, which is substantial. This means for your daily commutes RAV4 Prime's battery has got you covered — especially when you know you can safely run it to zero and let the gasoline engine seamlessly keep the party moving.
Additionally, the RAV4 Prime's bigger electric motors make it significantly quicker than the RAV4 Hybrid on which it's based. A hybrid vehicle which runs fast too; this is all we need.
According to Toyota the RAV4 Prime can bring 302 horses to bear, and can climb to 60 mph in just 5.8 seconds. The carmaker says this time makes the RAV4 Prime the second-quickest vehicle in its lineup of hybrid compact crossover SUVs (sport utility vehicle).
The RAV4 Prime's is an all-wheel-drive vehicle. Ideal for steep slopes and cruising on hilly areas. AWD comes in handy when accelerating on loose or snowy surfaces and to provide stabilization when traversing slippery patches.
If we talk about the battery, which is an integral part of any hybrid vehicle; its estimated zero-to-full recharge time is around two hours using 240-volt equipment.
Read more: Honda CR-V 2020 vs Toyota Harrier 2020
Fuel Economy
Toyota RAV4 Prime as a fully functioning hybrid should come close to the regular RAV4 Hybrid's rating of 40 mpg combined (41 city/38 highway). However, there might be a drop of 1 or 2 mpg coming down to 30 odd mpg, due to the added battery weight. Nevertheless, given the exceptional engine performance, fuel economy is nothing short of being one of the best.
Interior and infotainment system
RAV4 Prime's cabin is tailor-made for a comfortable and lively drive, with everything designed to help keep you in full control.

It comes packed with a 9 inches multimedia display. Its infotainment system includes advanced features like:
Amazon Alexa
Android Auto
Apple CarPlay
Maps
Head-Up-Display
Safety features include:
Bird's Eye View Monitor
Pre-Collision System with Pedestrian Detection
Full-Speed Range Dynamic Radar Cruise Control
Lane Departure Alert with Steering Assist
Potential competitors in the market
There aren't many five-passenger plug-in hybrids in the market that come close to the RAV4 Prime's 39 miles of electric range. Its impressive output of 302 hp and the massive acceleration is unmatched.
The Mitsubishi Outlander PHEV has an electric range of 22 miles. Its fuel economy is 25 mpg, which is not impressive at all for a hybrid vehicle.
Read more: 2020 BMW 2 Series Gran Coupe: Price and specifications
The other potential competitor is the Mini Cooper S E Countryman All4. This returns a mere 12-mile electric range and similarly lacklustre fuel economy of 27 mpg.
The Kia Niro Plug-In Hybrid, a two-wheel-drive wagon, which is not really an SUV, gives a range of 26 miles and an impressive 46 mpg on gasoline. Still given the exquisite design and built quality of the Toyota RAV4 prime, Kia does not compete well.
Any competition if there is, could come from the Subaru Crosstrek Hybrid, which, despite the name, is a plug-in hybrid like the Prime. However, given its meagre 17 miles of electric range and sluggish performance, Toyota RAV4 prime wins here too.
Expected release date
According to Toyota's last press release in November 2019, the all-new 2021 Toyota RAV4 Prime was to be released in Summer 2020. So far, they have not indicated any delays in this schedule due to Corona. The new model will be offered in two trim levels: SE and XSE.