While the world is still grappling with the Coronavirus, businesses everywhere are reeling from the devastating impact of the pandemic. The negative forecasts of the International Monetary Fund (IMF) and other financial institutions are a grim reminder that hard times will not be over any time soon even if the virus fades away.
The global recession triggered by the pandemic has had severe fallout on economies around the globe, but some developing nations have particularly been hit hard: large populations in these countries have been further pushed below the poverty line.
Read more: How Pakistani corporate sector survived the pandemic
Plight of landlocked Afghanistan amid the pandemic
Landlocked Afghanistan is amongst the worst affected countries. It may not have a high death rate, but the economic cost due to pandemic is unquestionably damaging. Mostly dependent on Pakistan for its export and import business, the war-ravaged country faced serious shortages of essential commodities and medicines following lockdown in Pakistan, and closure of its international borders.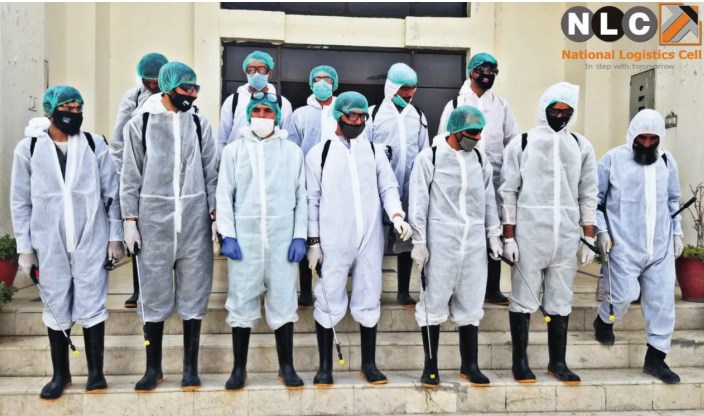 Thousands of containers got amassed at Pakistani ports due to restrictions imposed by authorities on the transport sector. Without safety protocols in place, Pakistan did not want to risk the further spread of the virus by keeping its borders open. Resultantly, the borders terminals with Afghanistan were closed by mid-March.
As the crisis started aggravating in the neighbouring country, Pakistan on the request of the Afghan government decided to allow cross border movement of goods and people but had to first ensure stringent anti-COVID measures at the borders.
Read more: Pakistan Afghan Transit Trade: New Opportunities and Challenges
NLC called in for border safety  
As Border Terminal operator, National Logistics Cell (NLC) was tasked by the Government of Pakistan to install necessary disinfection gadgets at Torkham, Chaman and Taftan Border Terminals to guard against the spread of Covid–19. For this purpose, NLC established Decontamination Centers at these crossing points.
Special vehicle bays have been set up at border terminals with sensors and automated spray machines for decontamination of vehicles. A Standard Operating Procedure (SOP) has been devised for stranded containers of Afghan Transit Trade (ATT) loaded with perishable items.
Extreme caution is being exercised as a potential cost in terms of the spread of Coronavirus may outweigh the benefits of bilateral trade. That is the reason 'Safety first' is ensured at all costs
As per SOP, ATT vehicles are being driven by Pakistani drivers up to zero line where they are handed over to Afghan drivers for unloading on Afghanistan side. Empty vehicles are returned to zero line from where Pakistani drivers drive it to NLC terminals. First, the cabin of the truck is thoroughly disinfected with manual spray machines and then it is passed through vehicle bays for complete decontamination exercise.
NLC has provided the necessary training to its workforce at these locations. The teams have been provided with Personal Protective Equipment (PPE) including suits, goggles, gloves, shoes, face masks and surgical caps etc. Sufficient quantity of sodium hypochlorite solution, Dettol, ethanol and hand sanitizers have also been made available at the crossing points. The disinfection solution is replenished. A handsome amount is being spent on anti-Covid measures by NLC.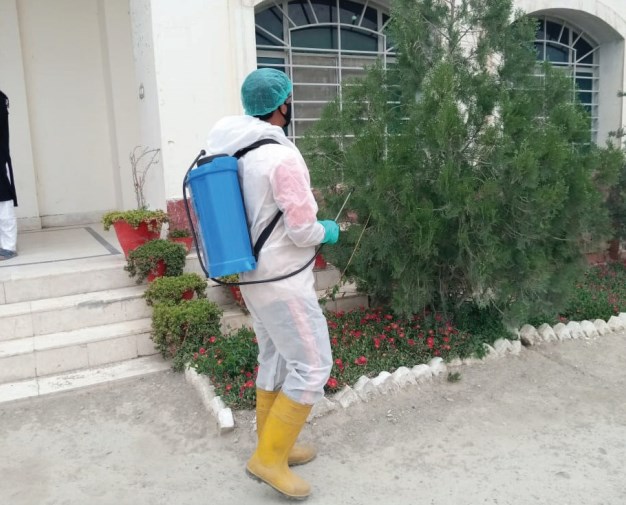 Similar arrangements are also being made in Border Terminals at Wahga, Ghulam Khan Border Terminal in North Waziristan, Kharlachi in Kurram district, Angor Adda in South Waziristan and Sost on Sino Pak border. Vehicles disinfection tunnels are being installed at these locations at close proximity to zero line. These border crossings will be opened for cargo and pedestrian traffic in the second week of July.
Read more: National Logistic Cell: Ready to embrace new challenges of Pakistan's evolving industrial and trade…
NLC, being the service provider at Border Terminals, is playing its due role in the promotion of cross border trade with neighbouring countries. Nevertheless, in doing so, extreme caution is being exercised as a potential cost in terms of the spread of Coronavirus may outweigh the benefits of bilateral trade. That is the reason 'Safety first' is ensured at all costs.
Syed Mushtaq Ahmad is a freelance contributor based in Islamabad. The views expressed in this article are the author's own and do not necessarily reflect the editorial policy of Global Village Space.