To project India to Western powers as a force on the same level with China, India, first, had to ensure Pakistan's submission. India went on a rampage against Pakistan on every possible international platform, staged false flag attacks, used threats, sought sanctions, cried of Pakistan backed terrorist activities being carried out in India and finally went on to do something that came out to be a very bad move. Attack Pakistan.
On the morning of Feb 27th, in retaliation to Indian failed attempt to violate Pakistani airspace and do real damage, Pakistan Air Force struck back and as a result Indian Air Force lost a MiG-21 while one of its pilots were stranded in Pakistan and caught by Pakistan Army.
"Alpha One"

Operation Swift Retort 1st Anniversary Special:
Abhinandan's Last Moment Before the Hit.

(Credits on photo)#PakistanZindabad pic.twitter.com/nHUd6jDDgB

— 𝚂𝙳 (@SierraDeltaPk) February 3, 2020
India has always projected itself as far superior to Pakistani forces while Pakistan Air Force do not need to cry of its superiority. The track record of Indian failures speak loads of the might and capabilities of Pakistan Air Force. The "Swift Retort" that IAF faced, fazed them off and in confusion they even shot down their own helicopter. But that's a tale for another day.
Lets have a look at what weapons did Indian Force use and in response what weapons did Pakistan use.
Operation Bandar (Monkey)
Indian authorities code named the "Balakot Operation" as "Operation Bandar" to minimize the chances of a leak out. The word "Bandar" was chosen because monkeys enjoy a sacred place in Hindu religion and this refers to a tale in the religious myths of Hinduism where Hanuman (a deity who shows resemblance to monkey) secretly entered the Lanka and burned it to ground.
This name was chosen for obvious reasons i.e. enter Pakistan secretly and burn it to ground.
List of Weapons India Used
Mikoyan Gurevich (MiG 21)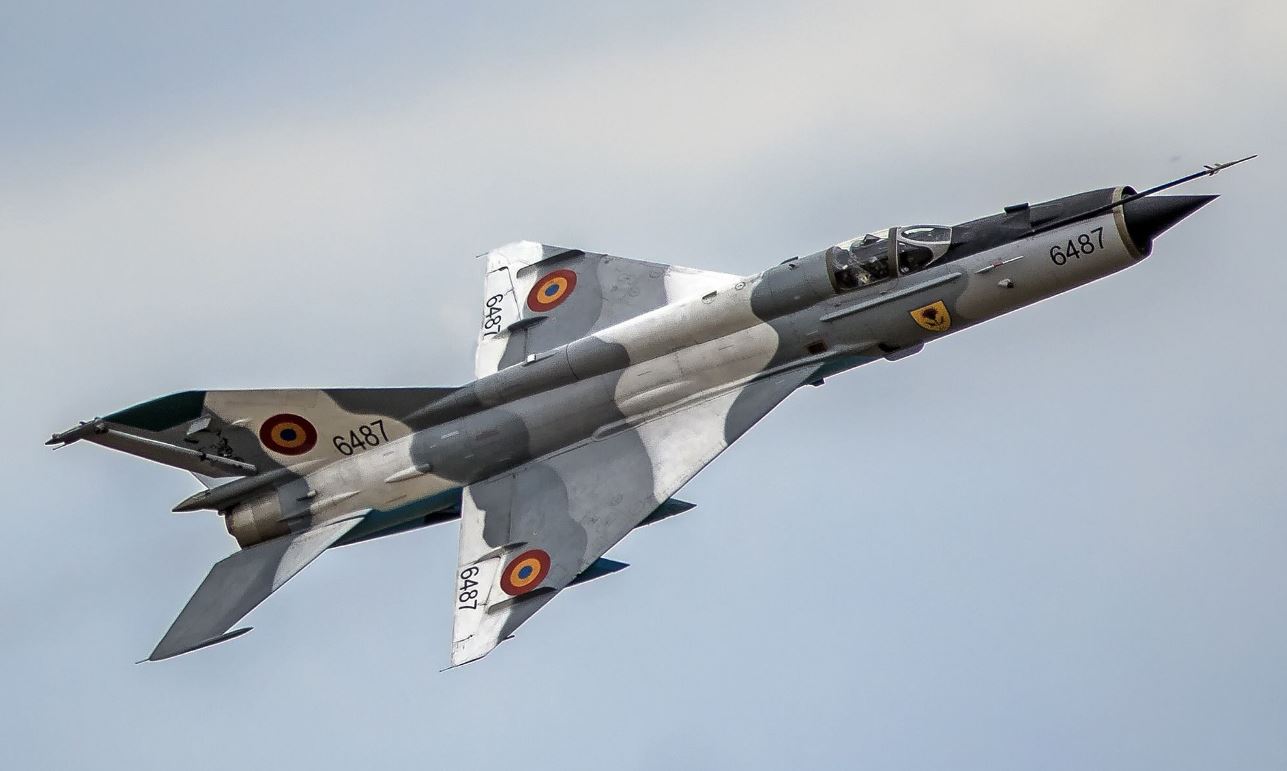 MiG 21 is a Multi-Role Fighter jet that was introduced by Russia and entered service in 1959. This is one of the most mass produced supersonic jet. This jet was designed and built by Mikoyan-Gurevich Design Bureau, Russia. It can only hold one person i.e. pilot.
The MiG-21 fighter was in service with 50 countries. It continues to serve in around 20 countries to this very day, even though it is an outdated aircraft.
The MiG-21 could carry a fair amount of armament. Located to the left of the cockpit, the twin-barreled GSh-23 23 millimeter cannon was standard with 420 rounds carried. Optional were a variety of guided air-to-air missiles (the R-3, R-13M, and R-60, for later models) and unguided bombs or rockets. A total of 2,000 kilograms of ordinance could be carried. MiG-21 can attain the maximum speed of 1300 mph.
Read more: Operation Swift Retort: PAF heroes, Hassan & Noman recall events of 27th Feb
After over fifty years of service, the MiG-21 appears to still be going strong, although it is gradually leaving the scene of active service. Many low-budget countries continue to use it, for lack of something better.
MiG 21 has also been named "Flying Coffin" because of being the most accident prone Indian aircraft. India used it in its Operation Bandar.
The cost of MiG-21 is $25.1 million.
Dassault Mirage 2000
Dassault Mirage is a Multi-Role French built fighter jet designed majorly by Dassault Aviation. Mirage 2000 possesses the all-weather, night and day bombing capability. The jet took its first flight in March, 1978.
Mirage 2000 has a single seat capacity while its variants 2000N and 2000D has two seat capacity, 1 pilot plus 1 navigation and weapons specialist. Mirage has the capability of automated terrain following at very high speed and very low altitudes.
Mirage 2000 can fly at Mach 1.2 (1100 km/h) at low altitudes while at high altitudes the jet can attain Mach 2.2 (2336 km/h).
Mirage holds some special equipment other than the conventional warfare equipment planes use.
Thomson-CSF RDI radar (pulse doppler)
Look down-shoot down capacity
Integrated electronic counter-measures
Fly-by-wire
Automatic pilot
Inertial guidance system
Icare digital map
Laser designation pod with thermal camera (PDL-CT)
Integrated countermeasures
A Mirage 2000 unit can cost you $30.6 million.
Sukhoi SU-30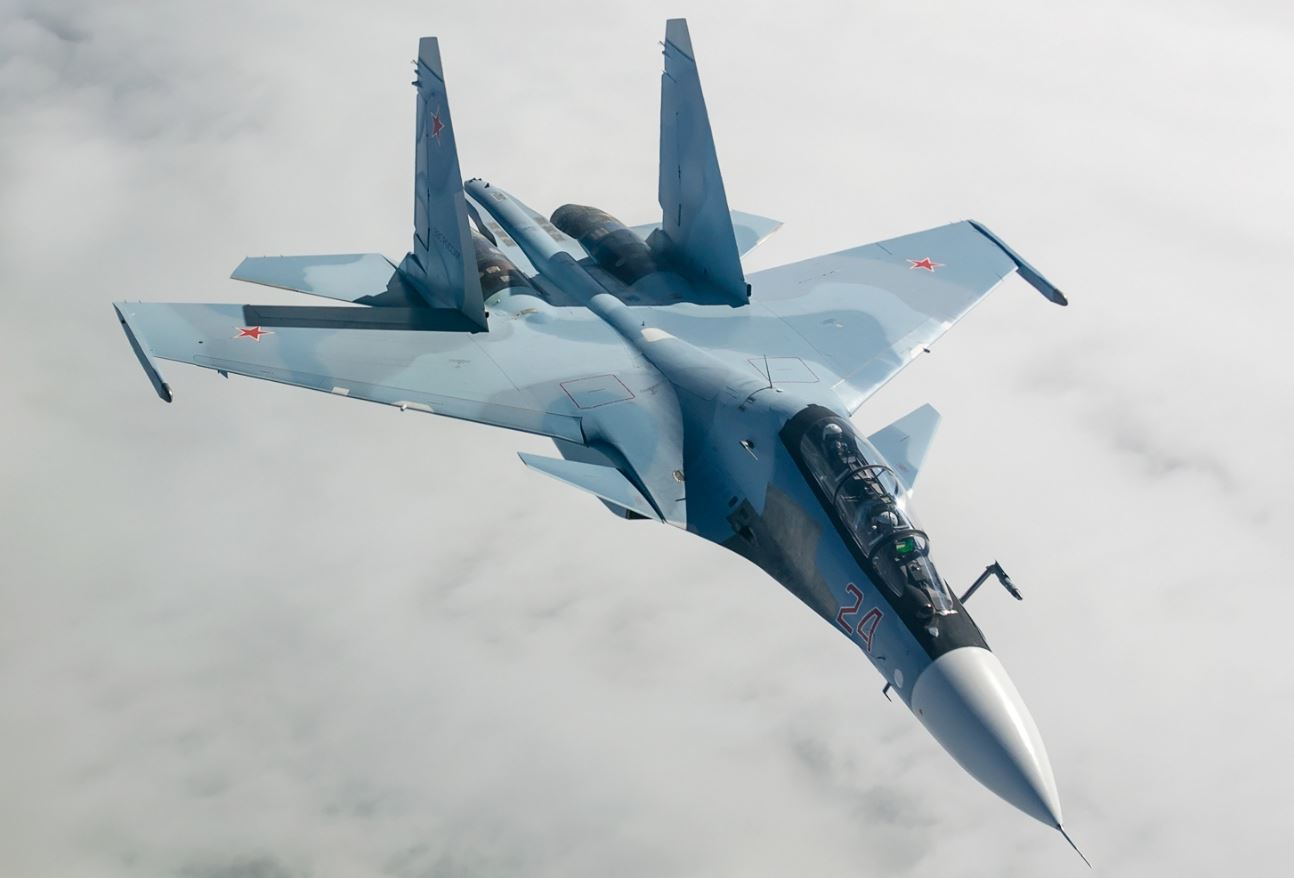 Sukhoi SU-30 is a Russian based Air Superiority fighter jet which was first introduced as the upgraded form with further modifications in the already serving Su-27 "Flanker" but ended up standing its ground against more advanced jets and earning a name of its own. The detailing on its body is inspired of SU-27 but contains further upgrades as an added seat, improved data linking and more operational endurance.
Read more: Masters of "False Surgical Strikes": India & Iran
Sukhoi SU-30 majorly is a twin-engine, two-seat super maneuverable fighter, attack aircraft. It is a multi-role fighter for all weather, air-to-air and air-to-surface deep interdiction missions. Sukhoi SU-30 took its first flight in 1989 and holds the capacity of two crew members. The fighter jet can achieve the maximum speed of 2120 km/h.
Weapon Capability
Ability to carry weapon payloads up to 2 tons
Machine guns
Several kinds of bombs
Air to air missiles
Oniks (Yakhont) supersonic anti-ship and land attack missiles
Air-to-ground missiles
1500Kr-type guided bombs
A Sukhoi SU-30's price tag is $37.5 million.
SPICE-2000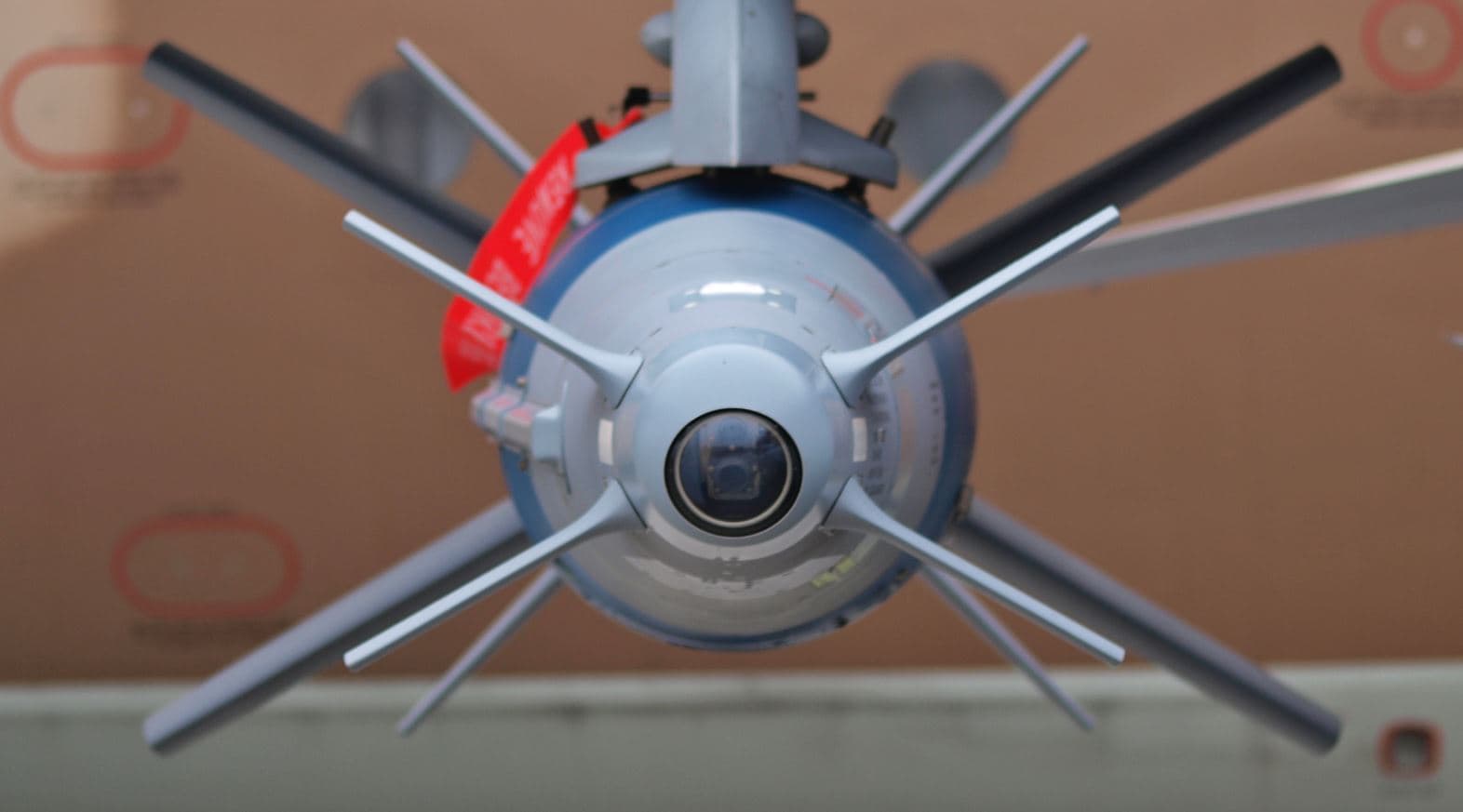 SPICE stands for Smart, Precise, Impact, Cost-Effective. SPICE system comes from a huge family of air to ground weapons system. These were made in Israel by Rafael Advanced Defense Systems.
SPICE is an Electro Optical/GPS guided guidance kit for converting air droppable unguided bombs into precision guided bombs. Indian authorities claim that Indian Mirage 2000 used missiles guided by Spice 2000 on alleged terror camps inside Pakistan, in Balakot, during mission Bandar.
SPICE 2000 has the maximum range of 60,000 meters (32.4 nautical miles) and can be launched from F-15, F-16, Panavia Tornado, Gripen, and Mirage 2000.
Pakistan's Operation Swift Retort
Pakistan Air Force conducted a successful series of strikes in Indian territory at multiple locations in response to the Indian failed attempts at surgical strikes inside Pakistan. This marks the first time since 1971 that both the countries' Air Forces crossed LoC to conduct air strikes in the opposing territories.
In a bid to capture the Pakistani planes Indian planes followed Pakistani crafts into Pakistani territory and got shot down with an Indian pilot getting captured by Pakistan security forces. Abhinandan Vathaman, the captured pilot, was handed back to Indian as a peace gesture by PM Imran Khan, a peace gesture India did not acknowledge and continued its verbal threats of a war.
PAF 'Operation Swift Retort' and the effectiveness of air power https://t.co/Okj7l35Oya

— PAF Falcons (@PAFFalconsPK) January 29, 2020
"The strikes were meant to send a message" PM Khan gave a statement as Pakistani planes were ordered to drop their payload off the target sites to avoid any human casualty.
On the same day Indian Air Force shot down its own Mil Mi-17 helicopter with SPYDER air defense system killing 6 Air Force personnel and 1 civilian in frenzy. For this, later, two officers were court martialed.
Indian authorities also claims to have shot down a Pakistani F-16 Fighting Falcon to which, even upon insistence, India provided no proof.
List of Weapons Pakistan Used
JF-17 Thunder
JF-17 Thunder jet fighter is a joint venture of China and Pakistan in the aviation sector. A squadron of JF-17 fighters is in the service of Pakistan Air Force since 2010. JF-17 block II is equipped with the KLJ-7 mechanically-steered pulse-Doppler radar. Block III variant of JF-17 just rolled out promising some amazing features and will soon be inducted in service of PAF.
This jet is a joint venture between Pakistan Aeronautical Complex & the Chengdu Aircraft Corporation, China and took its first flight in 2003. JF-17 is a single engine, multi-role fighter jet with 1 crew capacity and can attain the maximum speed of 1960 km/h. Pakistan Air Force used JF 17 in operation Swift Retort.
Read more: Pakistan Air Force vs. Indian Air Force: Complete list of Weapons they possess
JF-17 Thunder offers a wide range of weapons load.
CM-400AKG – Hyper sonic Carrier Killer
Ra'ad – Stealth Standoff Cruise Missile (Nuclear Capable)
C-802AK – Multi-role Attack Cruise Missile
SD-10A – Beyond Visual Range Air to Air Missile
MAR-1 – Anti Radiation Missile
MAA-1, AIM-9L/M, PL-05EII – Within Visual Range Air to Air Missile
CBU-100 – Anti Armor Cluster Bombs
GBU-10/12 – LT-2 – Laser Guided Smart Munitions
LS-6 – GPS Guided Direct Attack Munitions
H-4 – long ranged (120+ km) Stand of weapon
HAFR-1– Anti Runway Bomb
LS-Series – Satellite Guided Glide Munitions
Takbir Satellite Guided Standoff Munitions
JF-17 Thunder is priced at $25 million.
Mi-17 Helicopter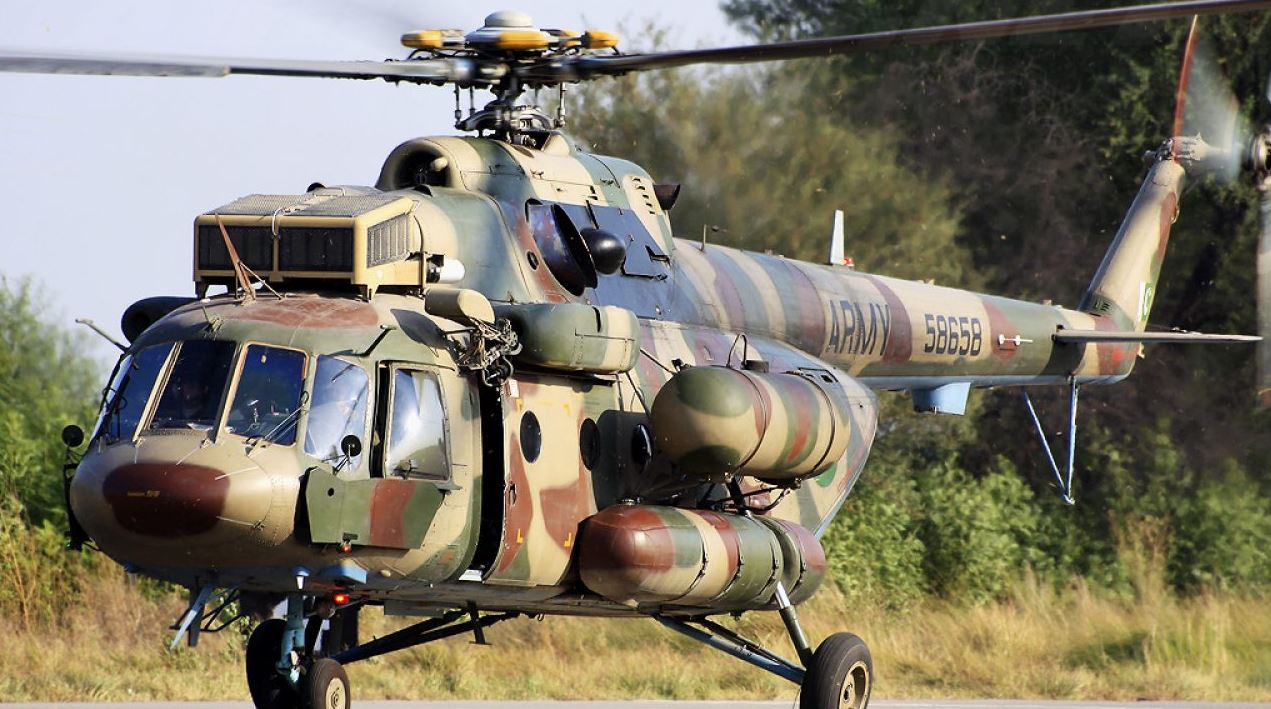 Mi-17 Helicopter is a Russian manufactured medium twin-turbine transport helicopter with armed assault capabilities used in Operation Swift Retort. The helicopter features a well-glazed cockpit offering good vision, sliding side doors access with rear loading ramp, and fixed wheeled tricycle undercarriage.
It usually performs its duties as a passenger/cargo hauler but can also be outfitted for a gun-ship role mainly through fitting multi-shot rocket pods. This helicopter has seen a fair share of combat zones all over the world.
The weapon load that can be fitted in this helicopter is
Shturm-V Missiles
S-8 Rockets
23mm Machine Gun
PKT Machine Guns
AKM Sub-Machine Guns
Per unit of Mi-17 Helicopter can cost around $1.79 million.
F-16 Fighting Falcon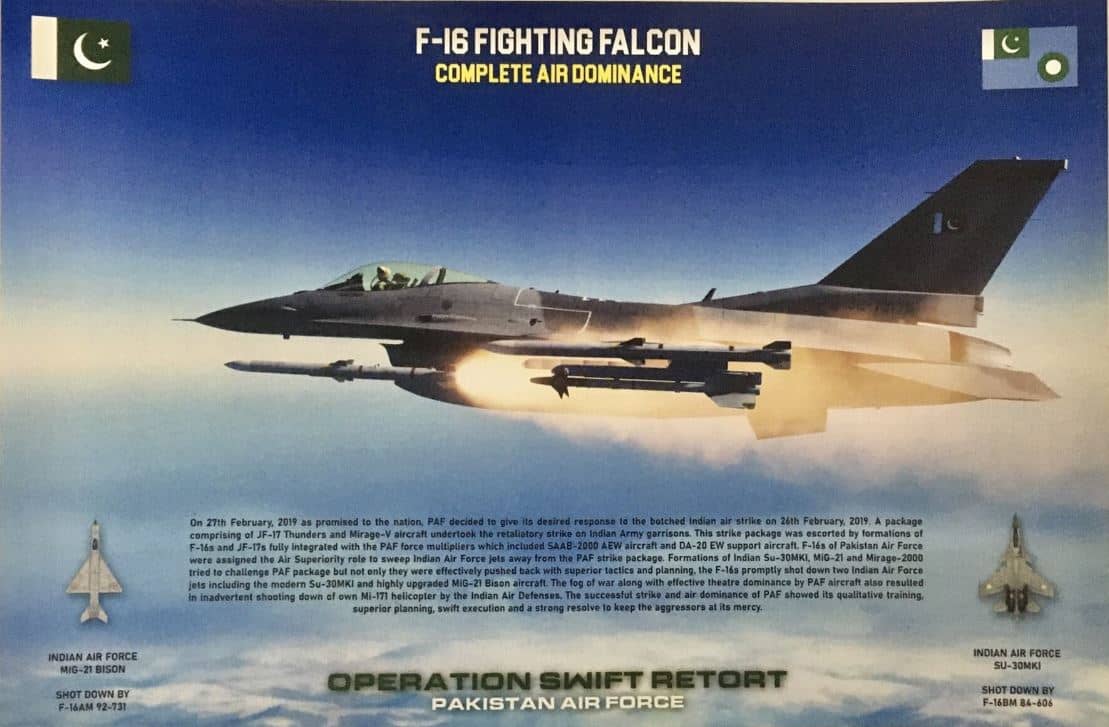 While India claims that Pakistan used F-16 during the dogfight and claims to have downed one, Pakistan denies that it even used one in operation against IAF. F-16 remains the world's most successful, combat proven multi-role fighter. Currently, almost 25000 operational F-16s are serving 25 different countries. The General Dynamics F-16 Fighting Falcon is a single-engine supersonic multi-role fighter aircraft. It is the most widely deployed 4th Generation fighter jet still serving in air arms of various nations.
F-16 features an array of modern technology
Honeywell color flat-panel liquid crystal multi function displays
Digital terrain system
Modular mission computer
Color video camera to record the pilot's view of the head-up display (HUD)
Color triple-deck video recorder and an enhanced programmable display generator
Boeing joint helmet-mounted cueing system (JHMCS)
Maximum speed of Mach 2+ (1500 mph)
Weapons System
F-16 has nine hard points for weapons payloads: one at each wing tip, three under each wing and one center line under the fuselage. The weapon load it carries is
20mm General Electric M61A1 multi-barrel cannon,
Air-to-air missiles: Raytheon AIM-9 Sidewinder, Raytheon AIM-120
AMRAAM, Raytheon Sparrow, MBDA Skyflash & ASRAAM, MBDA R550 Magic 2
Air-to-surface missiles: Maverick, HARM and Shrike missiles
Anti-ship missiles: Boeing Harpoon and Kongsberg Penguin
Per unit cost of F-16 Fighting Falcon jet is $60 million.