NAVTTC has launched the "Hunarmand Pakistan" program today. This highly ambitious but well-meaning program is the first of its kind in a country where all emphasis in the past has been on university degrees, and an increasingly large number of young men and women enter the job market without any meaningful skills. Is this about to change? GVS analyses.
PTI government is launching the "Hunarmand Pakistan" program on January 9th (today). It is being described by the official channels as the "largest-ever skill development program" in the history of Pakistan under Prime Minister's "Kamyab Jawan" initiative.
The Project titled "Hunarmand Pakistan" (Skilled Pakistan) will be executed by National Vocational & Technical Training Commission (NAVTTC), under which more than 170,000 Pakistan youth will directly benefit from skill training and certification.
NAVTTC's plan is overarching and ambitious – perhaps too ambitious given the country's past track record of performance. Along with traditional trades, training in high-tech technologies (artificial intelligence, robotics, automation, etc.) is being offered for the first time in the history of the country.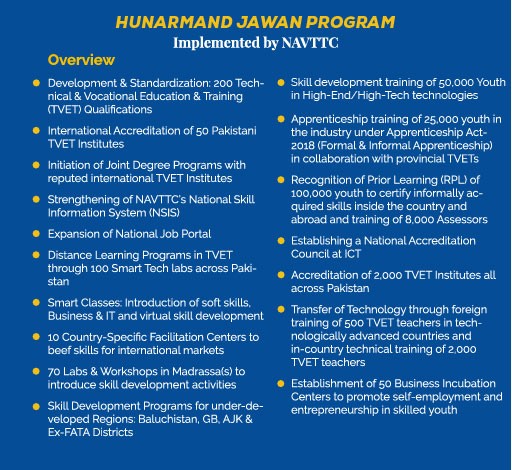 The program includes development & standardization of 200 technical & vocational education & training (TVET) qualifications (through certification) and international accreditation of 50 Pakistani TVET institutes.
Initiation of Joint Degree Programs with reputed international TVET Institutes is also being envisaged. Under the "Hunarmand Jawan" (Skilled Youth) program, smart classrooms will be established for distance learning, and technical and vocational training facilities will be created in Madrassas.
Read more: NLC Seminar: Pakistan urgently needs market driven skills
A much-needed initiative is being planned to enhance the expertise of the Pakistani workforce heading to international markets – primarily GCC countries, where around 5 million Pakistanis already work. So "Country Specific Facilitation Centers" (For example, Saudi Arabia, UAE, Qatar) are being planned.
In the initial phase, 10 such "Destination Specific" facilitation centers are being established to impart country-specific skills to maximize the export of skilled workforce.
Business Incubation Centres (BICs) will also be established to develop entrepreneurial skills in youth, and National Youth Exchange will be established to facilitate youth in accessing latest job opportunities and skills acquired in the informal (Ustaad-Shaagird – Teacher-Pupil) mode will be certified for 50,000 applicants through "Recognition of Prior Learning (RPL)" to enhance their employability.

Read more: Skills for All – A National Imperative for Pakistan where Youth is mainly Ignored
This, if successfully implemented, can be a kind of game-changer since in Indo-Pakistan (unlike contemporary west), most skills were learnt informally at the workplace from tradesman and not from technical institutes.
NAVTTC, under its Chairman Syed Javed Hassan and Executive Director, Dr. Nasir Khan are making all-out efforts to enhance the capacity, quality, and relevance of Pakistani technical and vocational training system.
The key feature of this program is its focus on enhancing the quality of technical and vocational training in Pakistan and bringing it at par with international standards.
The country in the past has seen more emphasis on university degrees and less on skill development – and in areas of technical training, the focus remained on quantity rather than quality.
Now at least the goal is to produce quality training – at par with the international standards. The government's plan makes perfect sense; multi-dimensional skill development on the scale as being envisaged can be a game-changer for Pakistan.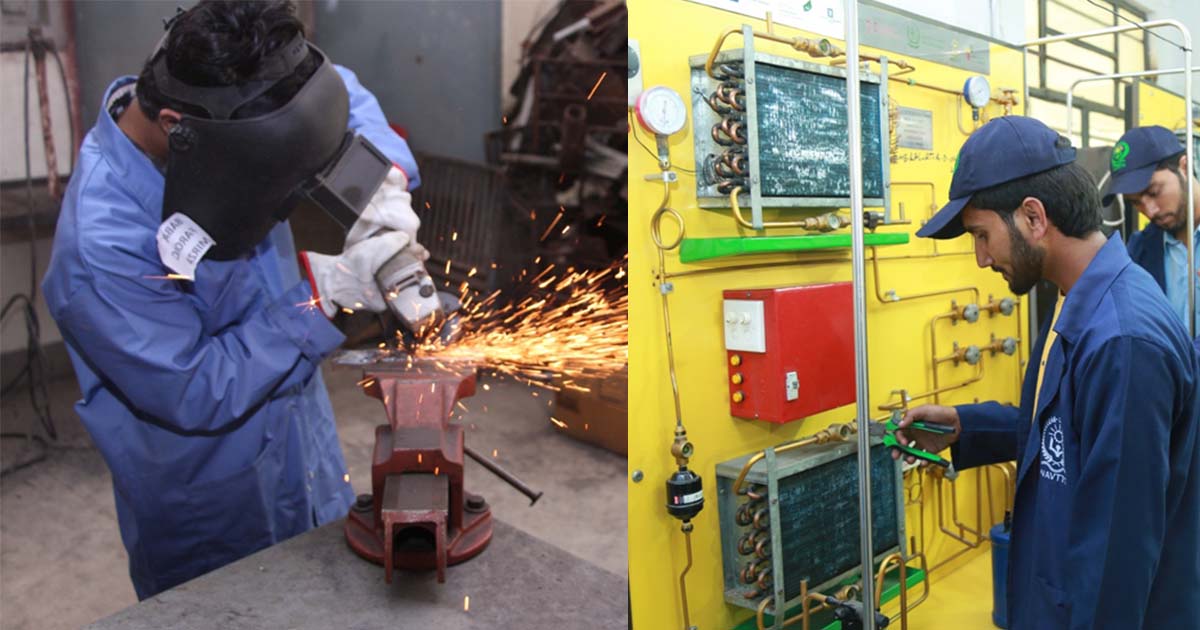 However, as mentioned above, this is a very ambitious program, and the country has no past track record of success in these areas. NAVTTC will need lots of resources both in terms of finances and management.
Apparently, less than Rs10 billion have been earmarked for NAVTTC, which will be clearly insufficient – and parallel funding from different national and international sources will be required.
Also, reaching out to small and medium businesses, media, and the public at large with exact communication will be a challenge. But then it is said: Journey of a thousand miles begins with one single step.