With progress of CPEC Phase-II, given China's declared policy of Industrial Relocation, Pakistan is working energetically on creating new Special Economic Zones (SEZs) like the AIIC, that saw grand breaking in Jan 2020. While only 9 are linked with CPEC, BOI has notified 13 new SEZs, and dozens more have been envisaged across the country – but the concept started in 1950's from Ireland; GVS team examines.
CPEC Phase II: Special Economic Zones
The influx of CPEC has brought in a new wave of industrialization in Pakistan. The initial phase of CPEC (2014-18) was dominated by infrastructure development, focused on energy projects, which required major help from the government. Now, in Phase II, CPEC is moving towards more sustainable and long-term projects, with a greater focus on industrial cooperation, development of agriculture and trade.
China also wants Pakistan to benefit from its policy of "Industrial Relocation". These plans need not only the government's help but also that of Pakistan's business community and the private sector. Hence, to facilitate CPEC phase II, Public-Private Partnership Authority (PPPA) has become proactive and wants to encourage local industry and business to become partner in this initiative.
Pakistani officials predict that CPEC will result in the creation of approximately 2.3 million jobs by 2030 and add around 2 to 2.5 percentage points to the country's annual economic growth
This Public-Private Partnership is coming to life in the form of Special Economic Zones (SEZs) like the Allama Iqbal Industrial City (AIIC) that is being managed by FIEDMC which is a partnership between Punjab government and the business community of Faisalabad.
What Is a Special Economic Zone (SEZ)?
A Special Economic Zone is an industrial area subject to unique economic regulations that differ from regulations in other regions of the country. The Special Economic Zone regulations tend to be conducive to foreign direct investment (FDI).
Conducting business in an SEZ typically implies that the company will receive tax incentives and the opportunity to pay lower tariffs. This helps businesses to develop products and services on a lower cost making these competitive.
The primary aim of Special Economic Zones is to facilitate rapid economic growth and create job opportunities by leveraging tax incentives to attract foreign investment and spark technological advancement in the nation.
Read more: CPEC: Potential Impact on Pakistan's Logistics Industry
Pakistan had legislated its SEZ Act and SEZ Rules in end 2012, however in 2016 the concessions were further improved through the SEZ Amended Act 2016 – that now allows businesses from SEZ to sell to the local markets without duties.
History of Special Economic Zones
The first modern Special Economic Zones appeared in the late 1950s in industrialized countries – primarily in Shannon Airport area in Clare, Ireland. They were designed to attract foreign investment from multinational corporations. This trend then slowly spread to Latin America and East Asia by the 1970s and then further trickled worldwide due to globalization as expected.
As of last year, over 5,400 SEZs exist around the globe, employing millions, and the number is increasing rapidly. In the initial stages of growth, Special Economic Zone (SEZ) were used as a reactive way to make up for institutional bottlenecks of the economy but, over time, governments have increasingly been using them pro-actively as a means to push industrial development in new directions.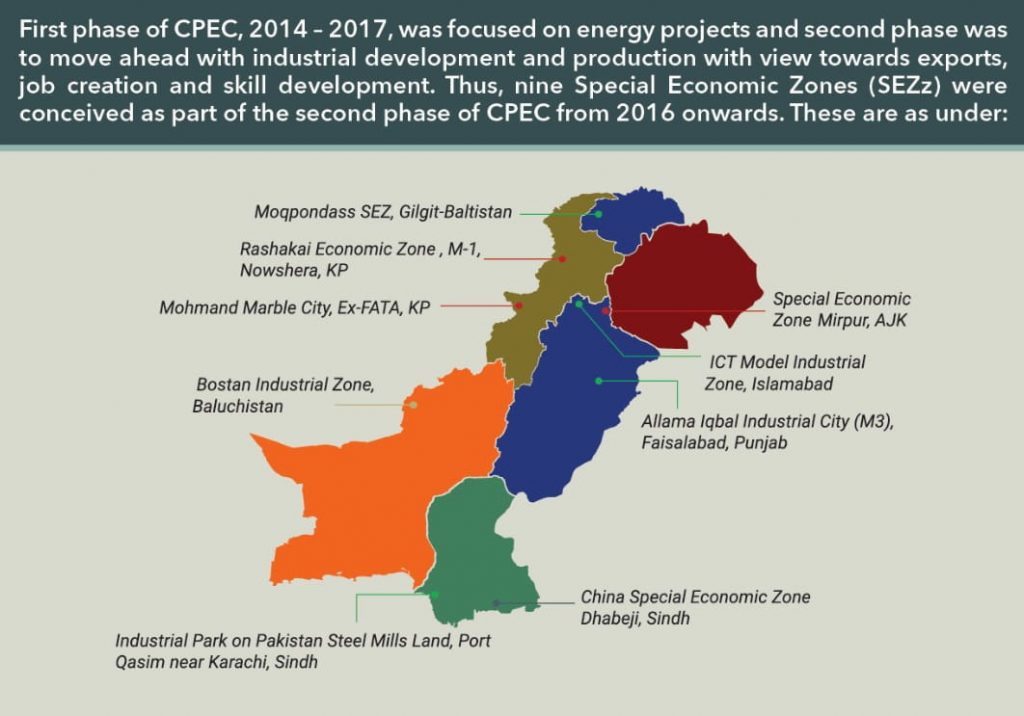 While successful countries are extending them to newer directions, not-so-successful countries are not discouraged by their failures either. They seem be resolute to take bolder measures to mirror the success of the latter countries.
Current integration of Special Economic Zones
Today, an estimated 147 countries host special zones of one kind or another, but none has taken them so firmly to the heart of their development strategy as done by China. As of last year, it was home to 2,543 zones – around half the world's total. In 1979, China built its first zone in Shenzhen, called the Shenzhen Special Economic Zone.
The success of Shenzhen and the other SEZs prompted the Chinese government to add 14 cities plus Hainan Island to the list of SEZs in 1984 – this means that China now has a whole province dedicated to industrialization and to harbor a liberal economic environment! These SEZs worked greatly in favor of China, hence they are working to spread the culture in other countries, for example in Africa and Pakistan, through different partnerships.
CPEC and SEZs in Pakistan
Pakistan made attempts to create SEZs in the past, and country has promoted industrial clusters from 1960's onwards (for instance the forgotten Kala Shah Kaku Industrial Estates, in Sheikhupura District, near Lahore) and has concentrations of particular industries in Sialkot, Gujranwala, Faisalabad.
It legislated SEZ Act 2012 and made SEZ Rules 2013, but this thinking is getting a new impetus with the advent of CPECPhase: II. CPEC is a strategic economic project to enhance economic connectivity between Pakistan and China, and since its advent, several roadway, railway and port projects have kickstarted in Pakistan, heralding a new wave of industrialization and business development.
Read more: PM Imran Khan unleashes a dream: First CPEC SEZ takes off!
China's new policy of "Industrial Relocation" is also encouraging Pakistani businesses to take a renewed interest in the idea. The China-Pakistan Economic Corridor (CPEC) is likely to create about 575,000 direct and over 1 million indirect jobs in four special economic zones (SEZs) to be set up in Pakistan's Khyber Pakhtunkhwa (KP), Punjab, Sindh and Balochistan provinces, an official from the CPEC Center of Excellence told media.
In fact, Pakistani officials predict that CPEC will result in the creation of approximately 2.3 million jobs by 2030 and add around 2 to 2.5 percentage points to the country's annual economic growth. Currently, 9 Special Economic Zones have been announced by CPEC in Pakistan.
Out of these, Allama Iqbal Industrial City – officially under FIEDMC – has already been inaugurated by the Prime Minister Imran Khan, in January 2020. This SEZ covers over 3000 acres of land in Faisalabad.