Every Friday, new films are released in cinema halls in India. In the era of multiplex films when ace directors experiment with themes, actors, format and even genres, it is common for the publicity of the film to begin reaching a crescendo about a week or so before its release.
The same happened with Pataakha, the Hindustani word for cracker, directed by Vishal Bhardwaj, a noted filmmaker, director, producer, screenwriter, producer, music composer and playback singer all rolled into one. His films include Haider, set in the turbulent 1990s in Kashmir and against the background of civilian disappearances.
An adaptation of Shakespeare's Hamlet, it was part of his trilogy based on Bard's classics – Macbeth tailored as Maqbool and Othello as Omkara. Although he may not have timed the release of Pataka — a cinematic embodiment to an almost eternal sub-continental reality, there was a tinge of heartbreaking coincidence with its release on September 28 and its build-up, because this coincided with sharp exchanges between India and Pakistan.
Like on innumerable occasions in the past, when hopes for issue-based dialogue between the two nations were raised with the exuberance of a toast, only for successive events to dampen the spirits, this time too it was no different. Like always, whatever conversation was taking place, was soon replaced by exchange of words which can shame neighbourhood street rivals.
There is a history of bones being picked in the south Asian sub-continent, especially when there is a need to withdraw from a phase of bonhomie.
It had however, begun on a completely contrasting note when Imran Khan, Pakistan's newly elected prime minister made a statement which appeared to have the capacity to alter the narrative of Indo-Pak ties: "This blame game that whatever goes wrong in Pakistan is because of India and vice versa brings us back to square one."
Shortly after this, Indian prime minister, Narendra Modi picked up the phone and after customary felicitations, told his counterpart that New Delhi too was willing to bury the hatchet and work for a new era in ties with Pakistan. He concurred with Khan that both countries have more important matters to battle with – poverty and ignorance being the primary issues which must be prioritised.
Right noises kept being made after this from both sides — a letter arrived for Modi duly signed by Khan, on the resumption of dialogue. This was followed by another from the Pakistan foreign minister and eventually, the two governments confirmed an informal meeting between Indian foreign minister, Sushma Swaraj and her counterpart Shah Mahmood Qureshi, on the sidelines of the UNGA session in New York.
Because the last meeting of the foreign secretaries, scheduled three years ago, was cancelled at the last minute, this was seen as happy augury given that Pakistan had completed its elections and a new government was in the office.
Read more: "India & Pakistan: Saas-Bahu relationship?" – Maleeha Hashmey
Yet a day later, India called off the meeting citing two reasons: Firstly, it argued that Indian security personnel had been brutally killed by "Pakistan-based entities" and secondly, it cited the release of 20 postage stamps which carried what in India's eyes were objectionable because these glorified a "terrorist and terrorism".
It paid little heed to the fact that the philatelic images which were being flagged, had been around for a while, from much before Imran Khan became prime minister and could not be thereby held responsible. But then, there is a history of bones being picked in the south Asian sub-continent, especially when there is a need to withdraw from a phase of bonhomie.
More acrimony was in store and the two foreign ministers at the UNGA provided possible the best diplomatic lessons on how not to resume dialogue. By the end of the entire episode, India and Pakistan once again resembled brawny school rivals who did little but enter into a bout of fisticuff, both verbal and physical.
At the end it was unclear who was a small man and who was not occupying a big office — what mattered was that the name calling was not taking the matter any forward and inexplicably! This is where Bharadwaj stepped in with strong parallels in his parable and viewers who thronged the multiplexes did not miss the obvious analogy, not that they would have missed this with several side characters referring to the two protagonists as being similar to India and Pakistan.
Given Modi's limited political spectrum, it is unlikely that he would venture into reopening the door, now shut to Islamabad.
The story is about two sisters growing up together in a village somewhere in the desert-like swathes of northwestern India. From the time they are young, it appears they were born to fight without a reason. They hurl the chicest abuses and epithets at each other. They slug fists at one another, pull at each other's braids, kick each other like combatants do in the sport with the same prefix and above all, pin one another down to the muddy fields while wrestling with the whole village watching.
Read more: Indian high commissioner visits Imran Khan: Will this be the beginning…
The people gather, cheer either of two, sections of the audiences have their favourite sister to root for. The film also has an ensemble of cast and it is tough not to draw parallels: there are nosy neighbours, a lusting money bag and a family friend who is less interested in brokering peace and more interested in securing his existence.
India and Pakistan like, no one knows why the sisters fight and in the act of not knowing lies the irony of the story — so much of mind space, energy is consumed wastefully by a conflict which does the sisters no good. But then, we have the advantage of either not watching the film or taking comfort in the knowledge that it will run its course in a few weeks even if it is a super-duper hit.
Such consolation is however non-existent when confronting with the reality of Indo-Pak relations. In India, the old saying that one can choose one's friends but not the neighbours, is attributed to the past two prime ministers: one from the BJP and the other from the Congress — Atal Bihari Vajpayee and Manmohan Singh — both of who made efforts in their own way to improve relations with Pakistan.
Such lofty thoughts are not attributed to the current prime minister because he appears to be going by the adage that one can do without friends and neighbours whenever one desires because the self is paramount and bringing anyone else into the equation would involve a certain amount of give and take.
Read more: India & Pakistan: Officers and Gentlemen..
Moreover, the major initiatives and narratives of the Modi regime, insofar as its Pakistan policy is concerned, has run its course and now India is heading into its own election season – first the state polls in crucial five state — in three of which the BJP is the incumbent and faces serious challenge to retaining power — and later by April-May next year.
Because India must have a new government and given Modi's limited political spectrum, it is unlikely that he would venture into reopening the door, now shut to Islamabad, the way Vajpayee did in January 2004 when he attended the SAARC Summit and after a meeting with President Pervez Musharraf, the two issued a joint statement in which they committed to resuming composite dialogue.
While Vajpayee's postures were adopted mainly by keeping Indian interests in mind, Modi's postures are aimed at consolidating his stranglehold on the Indian electorate.
They affirmed conviction that the "composite dialogue will lead to peaceful settlement of all bilateral issues, including Jammu and Kashmir, to the satisfaction of both sides." In the political atmosphere, the statement was issued, it took a considerable amount of political conviction in dialogue, for Vajpayee to resume peace talks with Pakistan when elections were so close at hand.
Although Vajpayee and Modi are from the same party, the two are poles apart especially when it comes to formulating foreign policy. While Vajpayee's postures were adopted mainly by keeping Indian interests in mind, Modi's postures are aimed at consolidating his stranglehold on the Indian electorate.
Read more: India & Pakistan: Narratives of the 'Evil Neighbor' a threat to…
Within the framework of his own foreign policy, Modi's approach to Pakistan has been marked with inconsistency and he has swung from one extreme to another — from bear hugs to cold glares. His regime has promoted the stereotypes of Pakistan and such portrayal hardly creates the social ground for improving ties.
The only time when he did not take a foreign policy initiative without looking at his domestic constituency was when with a dramatic flourish Modi invited leaders of SAARC nations to his inaugural ceremony in May 2014. At that time, Modi was flush with an unprecedented mandate and there was no need to make a fresh point with the Indian people.
However, his international image needed a makeover as this was dominated by the perception of being an intolerant sectarian leader; as a consequence of Modi's handling of the anti-Muslim riots in Gujarat in 2002 after a train carrying mainly Hindu activists was torched killing 59 people.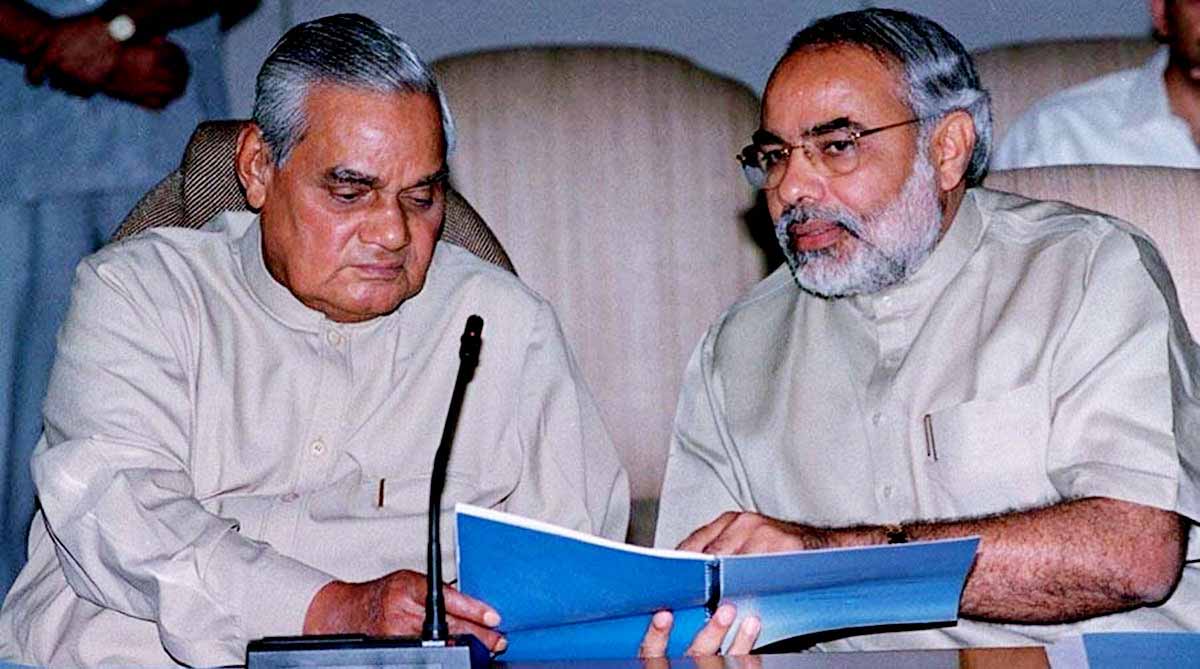 At that point of time, more than anything, Modi needed a more benign facade as he was keen to travel the length and breadth of the world and this would not have been possible unless he was able to convince world leaders that he had put his past behind. Because this could be best done by doing the least expected, he chose that path and leaders from SAARC were invited for his swearing-in.
Given his background and how Modi had mocked General Musharraf during the elections in 2002, an invite to the then Pakistan Prime Minister, Nawaz Sharif was expected to be among the last of his priorities. Yet the unthinkable was done and it conveyed to the world that Modi was a pragmatic leader who having used communal polarisation as a tactic to gain political ascendancy, was now keen to don the hat of a global statesman.
Yet, Modi left one world leader after another — beginning with American President, Barack Obama, dumbfounded with his megalomania. In his first visit to the United States in September 2014, when he performed like a rock star in New York's Madison Square Garden, it was clear that wherever he went, it was to awe Indians.
Read more: Why boundaries in music exist between India & Pakistan?
In fact, Modi used the Indian people too for seeking global acceptance. Although many countries remained sceptical about Modi's intentions and wondered if the criticism against him and continued promotion of sectarianism in India was actually valid and not the handiwork of his critics, they welcomed him with open arms purely because he headed the first single-party majority government in 30 years.
For a country of India's size and demographic might of more than 1.25 billion people, Modi was hard to ignore because no matter the extent of dislike for him, he was still the democratically elected leader of the largest democracy in the world. This sentiment has been the dominant sentiment in 86 countries that Modi has visited so far.
The major initiatives and narratives of the Modi regime, insofar as its Pakistan policy is concerned, has run its course and now India is heading into its own election season – first the state polls in crucial five state — in three of which the BJP is the incumbent and faces serious challenge to retaining power — and later by April-May next year.
But while the Indian people and their support – although his party received just 31% of popular vote — secured for him respect and acceptance abroad, the red carpet which was rolled out for him wherever he travelled, was cited back home to claim that he had enhanced Indian prestige abroad.
Initially, this was just party campaign but in time, even Modi began declaring in public speeches that the Indian passport is valued and respected more than past. Modi capitalised on the fact that dignity is a subjective concept and there is no way it can be quantified.
From this perspective, barring the odd peace bug that would bite Modi, there was little that he could gain by either courting Pakistan or by making a genuine effort to hammer out a peace settlement. The added problem is that Modi's domestic political campaign largely runs on deepening social prejudices and animosity for Indian Muslims who account for 15.2 % of the total Indian population.
Read more: Cold War new norm between India & Pakistan..?
In such a situation barring the odd act of bravado, the invitation to Sharif, the meeting in Ufa and the visit to Lahore which may have secured numerous thumbs up for the theatrical impact, there is little to gain by way of a structured dialogue with Pakistan.
As India heads into general elections to elect its new government, chances of the resumption of dialogue have receded further because Modi is already battling mounting anti-incumbency and erosion of personal popularity. It is fairly certain that unless Modi is able to construct a national narrative – like he did in 2014 when he successfully marketed hope and dream — chances of him securing a majority once again are fast diminishing.
In such a scenario, he has little option but to polarise India on communal lines and this can hardly be done while he smoking the peace pipe with Islamabad. The added obstacle to the resumption of dialogue with Pakistan is the so-called "surgical strike" that India made on Pakistan territory in September 2016.
While most reasonable security analysts and diplomacy experts believe that the claims made by the government are overhyped, it has still continued promoting the idea of Modi heading a muscular ultra-nationalistic government with moral courage and military might to strike a telling blow at Pakistan-based anti-India agencies.
For the first time, the degree of separation that existed between Indian military and the political leadership has narrowed and the current army chief has made political statements his chief public attribute. For the first time, the Indian government officially advised institutes of higher learning to celebrate surgical strikes day this year.
It has also been evident that for the first time in India, security issues and strategic options are being decided with the aim of placating Modi's ego and not after carefully analysing long-term objectives and how any particular action would enable India to reach closer to the goal.
Read more: Pakistan: No option but to hit back at India & its…
It has also become part of the BJP's campaign that Modi has given a "strong reply" to provocations from Pakistan. Modi's political imperatives clearly pose a hurdle to resumption of efforts to find ways of normalising relations with Pakistan. With the Indian government gripped with several domestic issues ranging from agitating farmers to rising fuel prices and the failure to generate jobs, Modi is heading into a political crisis.
The BJP has also mounted an aggressive political campaign linking his chief rival the Congress party headed by Rahul Gandhi as being hands in glove with foreign forces out to destabilise India and slow down its progress. He has been accused of setting up former French president Francois Hollande for his statement that the Indian government left the French with no choice regarding choosing for a partner for the Rafael deal.
Gandhi has also being accused of playing Islamabad's game in a throwback to the early 1980s when his grandmother, Indira Gandhi used to accuse the foreign hand for every crisis that gripped her government. In such a situation, improving ties with Islamabad will be the least of his priorities. On the contrary, many fear a redoubled effort on its part to escalate confrontation in the hope that would enable the BJP to consolidate its own core electoral constituency.
Nilanjan Mukhopadhyay is a Delhi-based researcher, author, columnist and political commentator. His books include: "Sikhs: The Untold Agony of 1984" and "Narendra Modi – The Man, The Times and The Demolition: India At The Crossroads" He writes columns in leading Indian papers and websites, appears as a commentator on various TV channels and is working on his next book; he tweets at: NilanjanUdwin.
The views expressed in this article are the author's own and do not necessarily reflect the editorial policy of the Global Village Space.