Pakistan Navy is the guardian of Pakistan's maritime boundaries. An ever-increasing threat of terrorism at sea, piracy and fast-changing geo-security dynamics in the Indian Ocean Region (IOR) have encouraged Pakistan Navy to embark on an ambitious modernization plan to commission new warfare assets to develop new capabilities which would enable the Navy to operate in blue waters by 2030. The list of assets being acquired or developed by them includes the following.
1: Type-54A/P Frigate
The advance Type-54A/P is a highly potent naval frigate which is currently the backbone of the Chinese naval fleet. This cutting-edge vessel has a displacement of over 4000 tons. It is equipped with an advanced radar and sensor suite, integrated mast assembly.
The main weapon of this frigate is a 32x cell vertical launch system armed with HQ-16 Surface to Air Missiles along with anti-ship cruise missiles and a sophisticated self-protection system.
Pakistan is acquiring 4 such vessels from China to replace its obsolete Amazon-class frigates, delivery is expected to start by 2021 and all are expected by 2025. When it joins service, it will be the most powerful warship in Pakistan Navy's inventory enabling the force to operate in blue waters.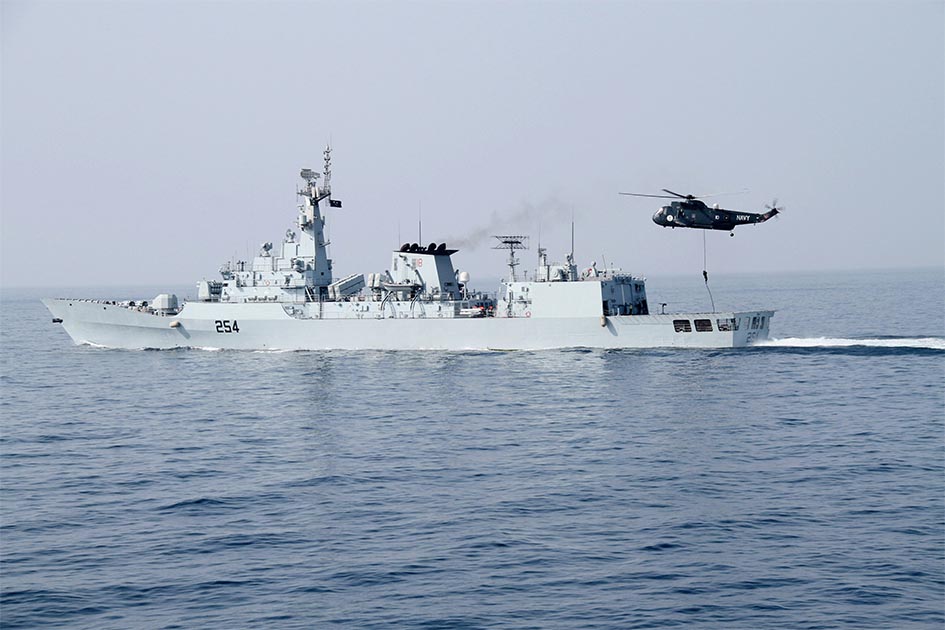 2: Hangor Class Submarine
Pakistan Navy's submarine force is more than 50 years old. Pakistan was the first operator of submarines in South Asia. Currently Pakistan Navy fields French made Agosta class submarines, some of which – the Agosta 70s are reaching towards the end of their useful life.
Therefore, Pakistan Navy has embarked upon a replacement and modernization program to overhaul the Agosta-90B submarines in Turkey to modern standards and acquire 8 new built Hangor class submarines from China, four of which will be built in Pakistan.
They are expected to be delivered between 2021-28. Not much is known about these submarines – but they are believed to be highly advanced variant of mainstay Chinese diesel-electric submarines of unspecified class.
Read more: Pakistan's Vision for Maritime Security
3: Jinnah Class Corvette
Pakistan Navy is acquiring 4 newly built Ada Class Corvettes from Turkey to boost its littoral defence capabilities. These are stealthy warships displacing 2400 tons each and are specifically designed for maintaining area sea denial. Delivery is expected by 2025. It is believed that Pakistan will seek to arm them with its domestically developed Harba anti-ship Cruise Missile system.
According to details, two of these ships will be built in Pakistan and when they join service, they will be named the Jinnah Class in the honour of Pakistan's founding father. In addition to Jinnah Class, the Navy is also planning to put its existing fleet of F-22P Frigates through a Mid Life Upgrade program to extend their life and capabilities.
4: Maritime Air Wing
In order to protect coastal installations and to attack enemy assets at sea, the Navy has started an ambitious program to develop state of the art maritime attack capability. This includes the induction of JF-17 Thunder fighters with anti-ship capabilities into the Minhas squadron based in Karachi.
Another squadron with identical capabilities will also be coming up soon. The Navy has recently inducted an ATR aircraft which was specifically upgraded in Germany for maritime strike role. The Navy is also looking for a replacement for its P3C Orion maritime attack aircraft and to induct unmanned aircraft with similar capabilities.
Read more: Worldwide Maritime Awakening: Where does Pakistan Stand?
5: Offshore Patrol Vessel
An order has been placed for 2 OPV-1800 vessels from Netherlands based firm, Damen first of which is under construction in Romania, with expected delivery in 2022. The OPV displaces at 1900 tons each and as per the MoDP, the multi-mission OPV "is especially suited for anti-surface & anti-air operations, maritime security operations, day [and] night helicopter operations, combat search and rescue, and surveillance and intelligence gathering operations."
6: Coastal Defense System
In a bid to boost its coastal defense capabilities, the Pakistan Navy has inducted the Zarb Coastal Defense System which is based on the Chinese C-602 anti-ship cruise missile system. Pakistan Navy is also believed to be interested in acquiring an anti-ship Ballistic Missile system to add more capability to its coastal defenses in the future, specifically to target the aircraft carriers being acquired by the Indian Navy.
7: Second Strike Capability
Ever since the induction of the Naval Strategic Forces Command and the successful tests of the Babur-III Submarine Launched Cruise Missile System, the Navy has been working to develop Pakistan's second strike capability. It is believed that in addition to the induction of Nuclear armed Babur-III missile, there is keen interest in the indigenous development of a nuclear-armed, nuclear-propelled submarine to consolidate Pakistan's long term Second Strike options.
Read more: Pakistan's timely approach towards Maritime Domain
8: Intelligence Assets
Intelligence gathering is an indispensable part of modern warfare, thus Pakistan navy has been actively working to induct intelligence gathering assets including Unmanned Aerial Vehicles (UAVs), a 3000-ton survey ship and by levering Air Borne Early Warning (AWACS) assets of the Pakistan Air Force, as well as ground-based sensors.
9: Logistical Assets
Pakistan Navy requires advance logistical facilities to augment its acquisition of new warships, therefore the Navy recently commissioned a 17000 ton Fleet Tanker which was built in Karachi with help from Turkey to supply fuel, water and ammunition to Pakistan Navy's combat and auxiliary units. It is also equipped with state-of-the-art medical facilities to support the Pakistan Navy during war and disaster relief missions.
10: Gwadar Base
With an expansion in assets and capabilities, the Navy requires a large new base to accommodate these assets in a safer location, far from the reach of the Indian Navy. Gwadar is where the biggest ever naval base of the country, aptly named 'Jinnah Naval Base' is being constructed.
This base will also be augmented by support facilities and a new ship manufacturing and servicing facility. This base will be capable of berthing most of Pakistan's surface warships, submarines, and aircraft in the future.
Shahid Raza is the Editor Strategic Affairs at GVS; He serves as the Director of Geopolitical Research at Command Eleven. He is also a Policy Consultant who conducts independent research and analysis for Katehon Think Tank, Sputnik Radio International, & Geopolitica Russia. He focuses on the geopolitical and security dynamics of Central and South Asia, the Middle East, and North Africa. 
The views expressed in this article are author's own and do not necessarily reflect Global Village Space's editorial policy.