Long before the staggered voting took place in the five Indian states in November-December, the common understanding was that the ruling Bharatiya Janata Party (BJP) could lose the desert state of Rajasthan and face a tough fight in the other states- Madhya Pradesh and Chattisgarh- where it has been in power for the past 15 years.
Those who know BJP better were certain that this analysis of the party doing badly in Rajasthan had emanated from quarters close to Prime Minister Narendra Modi and party President, Amit Shah, who were not fond of their lady chief minister, Vasundhara Raje, and were keen to see her gone.
The manner in which the media gave precedence to party intrigues created an impression that Modi was still popular in these states and their base was intact.
BJP Losses in State Elections not Unsurprising
On December 11, this fiction was exposed. BJP lost three of its key states of the Hindi heartland and could struggle now to return to power in 2019. The big question is what will the government of Modi do in the coming days? Will it reach out to Pakistan in a misplaced attempt to attract Muslim votes or ratchet up hostilities to consolidate BJP's hold over the majority Hindu vote?
Till these results were declared there was apprehension in the minds of the opposition parties keen on the diminution of BJP in these states, whether it would be possible to bring down Modi and Shah who were refusing to give or take a quarter. Earlier in 2017, in the Gujarat assembly elections, the BJP– where it has been in power since 2001– seemed as if it would lose the state until Modi went on a campaign blitz addressing rallies and mobilizing considerable resources to blunt the opposition challenge.
The manner in which the media gave precedence to party intrigues created an impression that Modi was still popular in these states and their base was intact.
Gujarat was the centre of massive job reservation stir and its industrial centers were devastated by the double whammy of demonetization of big currency notes in 2016 and the imposition of GST. The state seemed like a low hanging fruit for the opposition Congress, but the party failed to wrest it from the BJP.
The highest number of election petitions was filed in Gujarat that claimed tampering of Electronic Voting Machines (EVM) and a partial attitude of the district administration in favor of the BJP.
Read more: Can The Modi Government Amend It's Anti-Pakistan Policy? – Subhajit Naskar
Nothing much came out of these petitions, but the opposition parties sensed the growing vulnerability of the BJP and how its appeal to religion was not making much of an impact in an environment whereon people who were losing jobs and whose livelihoods were being challenged. The government's policies had contributed to the growing agrarian crisis compelling many debt-trapped farmers to hang themselves.
Angry farmers waving red flags had walked to Mumbai and later to Delhi to air their grievances and demanded loan write-offs from the government.  It became apparent even to the uninformed that something drastic had happened in the countryside, which could change the course of the elections.
While the government in the western Indian state of Maharashtra relented quickly to farmer's agitation, the center continued to fiddle. In Rajasthan and Madhya Pradesh, the rural distress was also quite palpable. Both these provinces had seen a trenchant standoff between farmers and the state government.
In Mandsaur, Madhya Pradesh, police fired on a peaceful farm protest killing 6 and injuring many others. The state chief minister Shivraj Chauhan realized that the anger of the farming community was spirally out of control and could consume his government. He worked hard to mollify them but the condition in the rural areas had become unbearable after demonetization.
Farmers neither had the cash to marry their children nor buy seeds to sow for the next crop. State level ruling party politicians quietly conveyed to their constituents that it was the center and the voodoo economics of PM Modi that had to be blamed for their misery- not them. In other words, the vote in these states was against Modi and not against the local chieftains who put up a good fight.
Modi's Charm a Fading Star
The defeat in these polls pointed out amply that the charisma of Modi had begun to fade. His hard Hindutva policy and the space that he gave to UP chief minister, Yogi Adityanath, to sow hatred towards the Muslims did not yield any result. His strike rate of speeches in a rally to a win fell dramatically.
Seventy percent constituencies were lost where PM had campaigned. Yogi's record was slightly better. Since 2014, Modi's strength was the use of social media to enlarge his influence. Though he has a following of 50 million on Twitter, he no longer struck a chord with his followers.
The state seemed like a low hanging fruit for the opposition Congress, but the party failed to wrest it from the BJP.
There were fewer re-tweets and diminishing engagement with his followers. In comparison to his fast dwindling impact, Congress President Rahul Gandhi showed a greater bounce. On all measures, Gandhi was seen to be doing much better.
This was quite a turn around for a person who not too long ago was painted as inadequate on every count, a person who did not have language skills to take on a very articulate PM and was even called a Pappu (an innocent boy). Slowly but surely, Gandhi managed to turn around the narrative in his favor.
Read more: Is Modi government busy creating war hysteria across India?
He targeted Modi on issues of corruption as well as indifference to the plight of farmers. He found enough gaps in the government version on the purchase of Rafael fighter aircraft from France to put the government in a spot. He managed to demolish the impression that it was only his party that was corrupt; BJP was not only corrupt but refused any inquiry.
Farmer's distress was a ripe issue already. Modi's lily-white image was getting stained and his followers in the urban areas realized that not only he failed to deliver on his promise of providing 2 crore jobs, but he failed to lock up the corrupt.
Under his watch, many businessmen scooted out of the country after failing to return big loans. Interestingly, most of those who flew the coop were Gujarati jewellers who were considered close to him and showered his party with funds during 2014 election campaign; Jewelers like Nirav who Modi had travelled with on jaunts abroad.
Though Modi and his team manage the media in a heavy-handed manner, the details of these cronies and the patronage were disseminated through WhatsApp forwards and Rahul Gandhi's campaign. Hence the cities and towns that were considered to be the strongholds of the BJP in Rajasthan and Madhya Pradesh saw a precipitous decline in their votes.
It was remarkable that the attempts of the BJP and their front organizations to raise the Pakistan bogie or the construction of the Ram Temple in Ayodhya did not really resonate with the voters. They chose to give priority to bread and butter issues and the crisis in their lives brought in by flawed economic policies– like demonetization, which according to IMF's chief economist, Gita Gopinath, may have shaved off 2 percent of the Gross Domestic Product (GDP).
Its disastrous implications– inadequately studied by the government or social scientists– are visible now in the voting behaviour of distressed farmers or unemployed workers of small and medium enterprises.
Modi's strength was the use of social media to enlarge his influence. Though he has a following of 50 million on Twitter, he no longer struck a chord with his followers.
No rejigging of GDP calculation would change the circumstances of ordinary lives on the ground, worse they may drive away the sparse funding that is available to the social sector. For the opposition parties like the Congress, the pauperization of the countryside is providing an opportunity to rise again and challenge Narendra Modi, who dreams of being in power for eternity.
Read more: Does Modi want war?
What will Modi do to Win 2019 and Does Pakistan Fit Anywhere
There is near unanimity that Narendra Modi-Amit Shah led BJP will not give up power easily. They are expected to try every trick in the business to ensure a BJP win. Pollsters have projected, based on the latest voting pattern, that the BJP will fall short on its majority by almost 65 seats; but this is based on the flawed assumption that BJP will do as well in the state of Uttar Pradesh as it did in the 2017 state elections when it won 325 seats.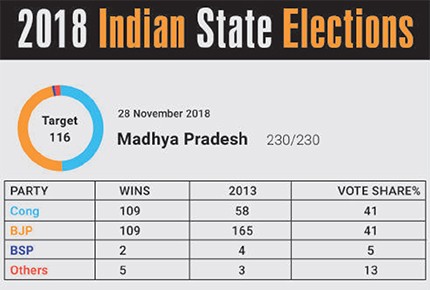 This doesn't make sense going by the disenchantment amongst the people of the state and the manner in which the Chief Minister Yogi Adityanath is giving precedence to pursuing communally divisive politics over governance; for example, in Bulandshahr district, his police were more worried about who killed a cow than a cop.
Modi's support to Yogi and his politics leave little option for the BJP to change course before the 2019 elections, that are only five months away. This means that he would not do an Atal Behari Vajpayee and restore ties with Pakistan. Vajpayee's flawed assumption for a resumption of cricket series with Pakistan was that it would dampen the anger of the Muslims towards his party after the Gujarat communal violence of 2002.
While history has been benevolent towards Vajpayee, Indian minorities thought otherwise and rallied around the Congress party enabling it to stage an electoral comeback in the 2004 parliamentary polls. Modi has a good understanding of history and he would not appease the minorities lest he drives away his core support base that wants to be tough with Pakistan.
Read more: Women not allowed to worship in Modi's India
The surgical strikes against Pakistan, though disputed by Islamabad, gave him a good heft in Uttar Pradesh assembly elections. His politics believes that war and violence yield better electoral dividends than peace. After all, he remained in power after the Gujarat riots of 2002 till 2014.
It was also his refusal to apologize for his handling of the riots, that had caused deaths of thousands of innocent members of the minority community, that endeared him to the majority community. From this standpoint – what will be his policy on Pakistan? Till now there is no coherence in Indian government's ties with Pakistan except indicating it will not show weakness when negotiating with Islamabad.
Modi had flown to Lahore to meet former PM Nawaz Sharif, but that yielded no results. Every move to improve the relationship between two neighbours has met a trenchant response from the state cultivated hawks in the media and politics- both in India and Pakistan. From this standpoint, the opening up of the Kartarpur Sahib corridor is an interesting exception.
It was remarkable that the attempts of the BJP and their front organizations to raise the Pakistan bogie or the construction of the Ram Temple in Ayodhya did not really resonate with the voters.
Here the Pakistani diplomacy seems to have got the better of the Indians, who found it difficult to turn down a proposal in which the Sikh community was so emotionally invested. Guru Nanak, the founder of the Sikh faith had spent 18 years of his life in Kartarpur Sahib.
Prime Minister Imran Khan indeed bowled a googly at the Indians and clinched the corridor to project himself as a man of peace. Fellow cricketer and Punjab Congress minister, Navjot Singh Sidhu, helped him in this diplomatic enterprise. The manner in which the BJP trolls attacked Siddhu made it amply clear that the ruling party was not in favour of a move in which it had little control.
Read more: Modi's India: All Talk and No Bite?
In the past, it had spurned Pakistan Prime Minister Imran Khan's peace overtures by raising the issue of Islamabad supporting terror groups against India. Will Kartarpur Sahib pave the way for similar corridors for religious pilgrims to travel to both the countries? It is an interesting move, but much of the engagement would be weighed down by what happens in Kashmir and Kabul.
In both these trouble-torn areas, violence is escalating. Recent civilian deaths in Pulwama, Kashmir, due to firing by the army could trigger increased civil unrest before the general elections. OIC has demanded permission to send a fact-finding mission to the valley, which has been turned down by New Delhi.
Modi supporters want Kashmiri uprising to be handled with a heavy hand, but this does not get any electoral benefits in rest of the country. Indian Muslims do not identify themselves with the Kashmiris and believe in the state's narrative. In conclusion, India-Pakistan's turbulent relationship, if it does not spin out of control due to some unforeseen extraneous reasons, will remain frozen till a new government comes to power.
If Congress gets elected to power, the relationship will yo-yo from good to bad, without going anywhere. The critical issue for India and the region would be whether BJP under Modi gets re-elected or not. If indeed he does than India's secular constitution could be challenged and that would have implications on how India deals with its neighbours and the world.
Sanjay Kapoor is a senior journalist based out of Delhi, India. He is a foreign policy specialist with a focus on India, its neighbourhood, and West Asia. Sanjay is the founder and Editor of Hardnews Magazine, a political monthly from New Delhi.
The views expressed in this article are author's own and do not necessarily reflect the editorial policy of Global Village Space.