Islamabad's never-ending gossip mill believes that a bewildered, heart-broken man sat in a huge white building on constitution avenue as Transparency International Report 2019 came out claiming that Pakistan had fallen in corruption rankings in the past one year, during PTI's government tenure.
Imran Khan, known for his strident speeches on corruption, must have felt an arrow piercing his heart. Pakistan rankings in the Transparency International's annual Corruption Perception Index dropped by three points; sliding from 117 to 120 out of 180.
And the country's raw score dropped by one point from 33 to 32 out of 100. The TI index is a leading global indicator of experts and businessmen's perceptions over public sector corruption in their country. The average score of the 180 countries is 43, with over two-thirds of the world falling below 50.
The country was experiencing bloody insurgencies in FATA, Swat valley, Baluchistan and saw unprecedented urban violence in the largest city of Karachi
Clamoring arose in the media as PML-N information secretary Marriyum Aurangzeb designated "The TI report is a certificate of failure of the Naya Pakistan project," and Dr. Firdous Ashiq Awan, Special Assistant to the Prime Minister (SAPM) on Information, thundered at a press conference "We categorically reject planted report of Transparency International which was prepared at the behest of 'corruption kings' in Pakistan."
PPP stalwarts pointed out evidence from the tussle happening in KP as senior ministers expressed their unhappiness to KP Chief Minister over the alleged corruption in the province. Three of whom were subsequently de-notified as ministers apparently on their vocal protests.
Others – businessmen – had increasingly started whispering while there may be little corruption at the top – but at the bureaucratic level – rates have exponentially gone up. Gossip mills inform us that corrupt bureaucrats explain to their clients that "look, we have more to lose now if we are caught."
Read more: FATF: Keeping Pakistan on the Edge!
In the midst of all this brouhaha, Transparency International Pakistan chairman Sohail Muzzafar issued a press statement clarifying that there is nothing in the report that mentions that corruption has increased in Pakistan and the "Lowering of Pakistan Score by one does not reflect any increase or decrease in corruption as it is within the standard margin of error which is 2.46%"; he pointed out that Denmark's score has been lowered from 88 to 87 – yet Denmark is the least corrupt country in 2018 as well as in 2019.
Furthermore, Mr. Muzaffar clarified that out of the eight sources TI used for calculating Pakistan's corruption index, three sources (WB, PRS, EIU) had given better scores to Pakistan than in the 2018 index; however, four sources (BTI, VDP, WEF, GICR) had worse scores. But dates over which their data was collected were not clarified.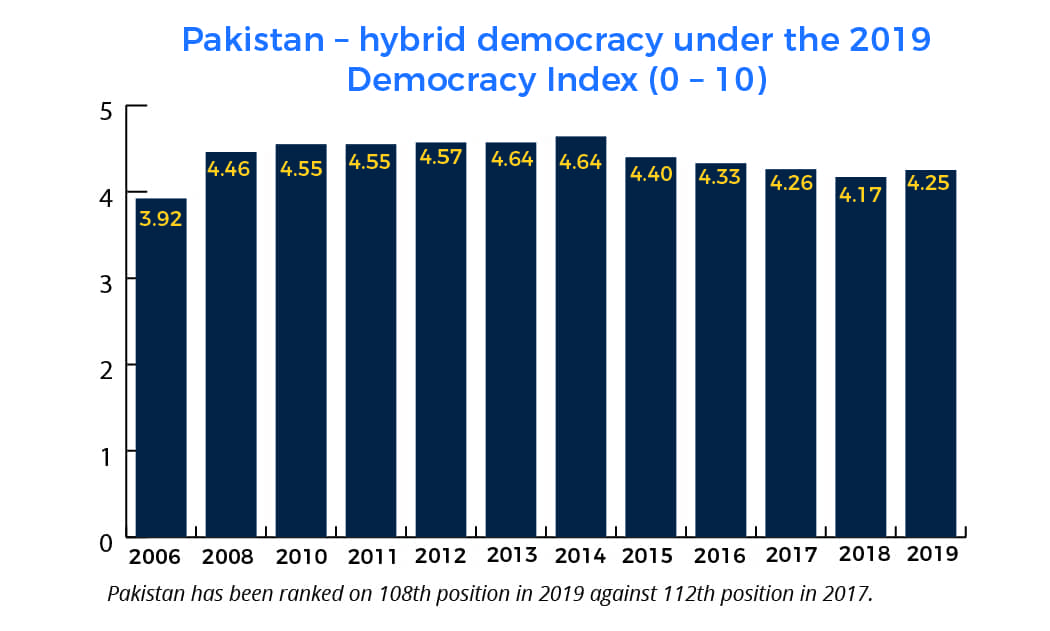 The Rule of Law Index 2019, which had a lower score by 2.4, actually collected data from May and November 2018, and RLI 2018 used data collected between May and December 2017.
So, it had used data that was either related to a period before the PTI government came into power or a period when PTI had been in government only for a couple of months.
Mr. Muzaffar also praised the increased anti-corruption efforts of the present government. Only a couple of days earlier, a leading national newspaper created a headline: "Economist Intelligence Unit's Democracy Index: Democracy in PPP, PML-N eras better than in present govt".
Read more: APS Terrorism: Pakistan's 9/11
This led Twitterati and opposition in a flutter over the annual Democracy Index done by the Economist's Intelligence Unit (EIU) that gave Pakistan a ranking of 108 out of 167 countries and declared it a 'hybrid democracy' under its criteria.
This newspaper headline was misleading by any definition, given that Pakistan had, in the actual EIU report, improved in the index from 4.17 in 2018 to 4.25 in 2019.
The survey found that 2019 saw an erosion in the global score for the democracy index around the world. The average global rating for the democracy index decreased from 5.48 in 2018 to 5.44 in 2019. The worst average global score since the index was first produced in 2006.
But how flawed these perceptions can be should be gauged from the fact that during 2009-12, Pakistan passed through a period of instability and extreme political violence against its citizens.
Read more: Pakistan's Tale of Two Deficits
The country was experiencing bloody insurgencies in FATA, Swat valley, Baluchistan and saw unprecedented urban violence in the largest city of Karachi. An unending spiral of suicide bombings, attacks on posts, schools, colleges, churches and mosques happened, leading to thousands of deaths and many more severely injured.
Attacks against political leaders, religious luminaries, minorities, social workers, media organizations and working journalists were frequent – TTP, MQM, Baloch insurgents, sectarian organizations and state agencies all were blamed. Yet somehow, the perceptions of the EIU team compare that period (2009-2012) better than the placid, quiet period of 2018-19.