Board of Directors of Punjab Industrial Estates Development & Management Company (PIEDMC) will be giving final approval to the MOU between National Highway Authority (NHA) and Frontier Works Organization (FWO) in the first week of February clearing the way towards the inauguration of work on a dedicated interchange that will connect QABP with M-2, the motorway that connects Lahore with Islamabad.
Industrial Estate (QABP) is also set to begin work on a state of art Multipurpose Complex to facilitate businesses that will operate from the estate. Quaid e Azam Business Park, connected with M2 near Sheikhupura, is being developed by Punjab Industrial Estates Development & Management Company (PIEDMC), which has previously launched nine industrial zones, including the much-celebrated Sunder Industrial Estate.
This modern industrial estate enjoys the status of a special economic zone (SEZ) and is said to have the capacity to generate two hundred and fifty thousand new jobs for skilled and unskilled workers. Apart from being an SEZ, its strategic location, size and facilities are additional attractions for local and foreign investors.
Read more: PIEDMC to supply power to its industrial estates
Located right on the M2, it promises easy access not only to human resource, but also markets of the neighboring city of Sheikhupura (population: 450,000) and large industrial towns like Gujranwala (population: 2 million), and the provincial capital Lahore (population: 11 million). The modern features it offers for manufacturing, assembling, and product selling also make it an attractive choice for the businessmen.
This large industrial estate, spread over 1536 acres of land once completed as per its envisaged master plan and business concept, is expected to attract investments of over Rs. 250 billion. Location determines the potential of an industrial estate. It should have access to many alternative transportation modes such as train stations, national highways or even ports.
The higher the number of different transportation modes, the higher the opportunity for the businesses inside an estate. The QABP is attracting many investors due to its optimal location as it is only 6 KM from the nearest railway station, 42 KM from the nearest dry port (Lahore) and 55 KM from the closest airport (Lahore).
Read more: PIEDMC approves expansion of SIE
QABP Interchange on M-2 While
QABP is located right on the M-2, it did not have a link road connecting it with the M-2 Motorway. A dedicated interchange at Monosaranwala will be constructed which will provide direct access to QABP to both Lahore and Islamabad. M-2 is one of the first motorways in Pakistan, which connected Lahore with Islamabad and was opened for traffic in 1997.
Travelling from Lahore to Islamabad, this new Monosaranwala interchange would be located before the Sheikhupura interchange. The link road would probably be 1 to 1.5 kilometers, directly connecting the industrial estate with the motorway.
This would allow heavy industrial traffic from Lahore and Rawalpindi to take the direct route to the industrial estate and will connect Quaid-e-Azam Business Park with national and international markets. National Highway Authority (NHA) is the custodian of M-2 and FWO as a concessionary is managing works and logistics.
Read more: PIEDMC to create a unique multipurpose complex at QBP
Once the inauguration takes place, the construction work would kickstart, and it is expected that the interchange and the link road will be completed within six months. The budget for this specific interchange is Rs. 1.5 billion, which PIEDMC is funding using its own resources. PIEDMC is hopeful that the construction of this interchange would start in the first week of February – once the Punjab govt gives final go-ahead.
QABP's state of art Multipurpose Complex
PIEDMC management team, under the leadership of its chairman, Syed Nabeel Hashmi, and CEO PIEDMC, Javed Ilyas, are also working to inaugurate a state of art Customer Facilitation Centre at Quaid e Azam Business Park (QABP).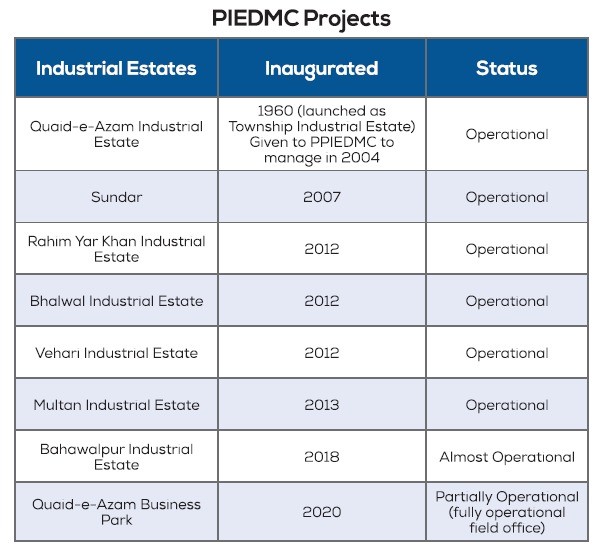 COO PIEDMC, Muazzam Ali, who is overlooking the development of QABP as its "Project In Charge", describes this multipurpose complex as 'unique and the first of its kind.' He states that 'not one industrial estate present in Pakistan at the moment has been able to develop a customer service complex of this nature,' which is being provided by QABP near Sheikhupura.
Moreover, no industrial estates that are being conceived at the moment have a multipurpose complex of this capacity that can offer so many diverse facilities. PIEDMC firmly believes in the idea of providing its industrial units with one window solutions. It believes that equal attention should be paid to both the quality of infrastructure and customer service quality.
Read more: Chairman PIEDMC explains: How will SEZ's change Pakistan's economic future?
Keeping in mind the significance of this complex it is being constructed near the main entrance of the business park. It is important to note that this Multipurpose Complex will have six storeys, and every level would have approximately 50,000 square feet of office space.
Through this complex, industrialists would have access to offices, showrooms, shops, business centers, auditorium, hotels, restaurants and food courts which are to be constructed shortly. This center would also have the offices of PIEDMC itself, and the construction of a technologically advanced medical center is also a part of the plan.
PIEDMC is also planning for customer convenience to have twenty executive apartments, two gymnasiums and coffee shops, etc. The complex would provide all kinds of resources, facilities and logistic support needed by the companies setting up in the special economic zone. Once completed, this six-storey building aims to attract the residents of QABP and the people belonging to Sheikhupura.
Read more: PIEDMC: Role Model of Public-Private Partnership
The project would cost around approximately Rs. 2 billion, which will be met by PIEDMC from its revenue. In the first phase, PIEDMC would be contributing Rs. 1 billion to develop this project. The second phase of development would start soon if the customer response is favorable.
The construction work of both the interchange and the multipurpose complex would kick off once the Punjab Government approves the inauguration dates. The complete details of these projects have been submitted to the Punjab Government. The inauguration was expected in December but got delayed due to the second wave of the pandemic. Now it is anticipated that both the projects would be launched in February 2021.
Noor Fatima, with GVS Business Desk, researched for this feature article and coordinated inputs from sources within PIEDMC, QABP, and the Punjab Govt.