The Rashtriya Swayamsevak Sangh (RSS), widely known by the acronym RSS, is a Hindu fundamentalist organization in India working for the promotion of Hindutva ideology. Under the garb of nationalism, Hindutva basically connotes, "expansionist and hegemonic Hinduism." According to the Concise Oxford Dictionary of Politics and International Relations, the term Hindutva "has fascist undertones."
Hindu fascism is what RSS has pursued, to achieve the overall national objective for a Hindu Rashtra. At least this is what liberal analysts in India have repeatedly accused the RSS of. Importantly, the Nazi salutations and Nazi symbolism have been an integral part of the RSS structure.
Interesting comparisons can be drawn between India's 'Hindu man of ideas' Savarkar's 1923 pamphlet 'Hindutva: Who is Hindu?' and Goebbels' 1926 German publication 'Der Nazi Sozi.' Keshav Baliram Hedgewar, a Hindu ideologue, established RSS in Nagpur on September 27, 1925. His aim in setting up the organization was to strengthen the Hindu identity, especially vis-a-vis the Muslims and Christians of the Subcontinent.
Thus, the prime objective of establishing a Hindu nation (Rashtra), has been foremost in the minds of the RSS leadership from the earliest days. Out of antipathy for Islam, Hedgewar sometimes described the people of the Muslim faith, as "the hissing Yavana snakes." He and his fellow activists used derogatory terms for the Dalit and Sikh communities as well.
Today, India is ruled by RSS, whose members eulogize not Gandhi but Gandhi's assassin Nathuram Godse. To presume that RSS does not have easy control over India's nuclear weapons would be a suicidal naivety.
The ruling Bharatiya Janata Party (BJP) in India has been described as the political face of RSS. In fact, RSS is to BJP what SS (Schutzstaffel) was to the Nazi party in Germany. The difference being that SS under Himmler, was subordinate to the National Socialist German Workers' Party (NSDAP) under Hitler.
By contrast, in India, BJP draws inspiration and takes instructions from the RSS. Mainly, due to reasons of history, Islam has been considered by RSS as its arch-enemy. The fundamentalist Hindus in India, have been targeting the holiest personalities of Islam, now even more than ever before.
RSS ideologues describe Islam as "an evil religion", which promotes an "evil ideology." The RSS firmly rejected the Constitution of India when it was passed on November 26, 1949. Its leadership has since been making statements critical of the national flag and the national anthem of India.
Apart from being secretive in its working, which it prefers without publicity because of reasons of strategy, RSS is also one of the most feared organizations in India. As such, crimes against humanity committed by RSS, remain undiscussed, and are mostly downplayed.
Read more: Modi 2.0 and India's regressive reverse metamorphosis
The RSS attained notoriety when one of its activists (or an ex-member, as some claim) Nathuram Godse, assassinated Mohandas Karamchand Gandhi, the Father of the Nation of India on January 30, 1948. Godse committed this act of terror to punish Gandhi for what he perceived as Gandhi's "leanings" towards the minorities, especially Muslims.
Consequently, RSS was banned by the government of the first Prime Minister of India, Jawaharlal Nehru. Earlier during the British rule, a ban was placed on RSS because of its association with the right-wing organizations in Europe, especially German Nazis. The RSS was banned again when the Emergency was imposed in India by Prime Minister Indira Gandhi in 1975-77, and later when RSS activists demolished Babri Masjid in December 1992.
Prime Minister Narendra Modi, who joined the organization when he was eight years old, is an active member of RSS. As is the case with most of his cabinet ministers and close civil and military advisers. RSS is "the mother party" of all essential Hindu fundamentalist organizations in India. It includes Vishva Hindu Parishad, Shiv Sena, and Bharatiya Jana Sangh. RSS has set up thousands of Shaakhaas (Hindu madrassas) all over the country.
It has close to 6 million members in India. By and large, silent support for RSS has always existed in sections of the Indian civil society, bureaucracy, armed forces, and especially in the security agencies of India. According to a write up posted on SAMVADA website, the first Army Chief of India, Field Marshal Carriappa, once in his remarks to the organization, underlined: "RSS is my heart's work. My dear young men, don't be disturbed by the uncharitable comments…Look ahead! Go ahead! The country is standing in need of your services."
RSS Terrorism
Understandably, RSS has rendered invaluable services to Hindutva. The following contributions are not really discussed in public:
In August 1946, a large number of Bengali Muslims were massacred in Calcutta.
More than 200,000 Muslim men, women, and children were mercilessly massacred in the State of Hyderabad in 1948. A large number of RSS workers were involved in these acts of terror. •RSS terrorists, in collaboration with security personnel of the Maharajah of Kashmir, butchered more than 200,000 Muslim men, women, and children in Kashmir in 1947-1948.
Dressed in the uniform of the Pakistan Army, widespread atrocities, especially rapes, were committed by RSS terrorists in East Pakistan in 1971.
Close to 10,000 Muslims were massacred in just three days in Gujarat in 2002 by RSS activists, on specific orders of the then Chief Minister of Gujarat, Narendra Modi.
Reports indicate that RSS activists dressed in the uniform of the Indian Army, are involved in the ongoing Indian atrocities against the Muslim populace in Indian occupied Kashmir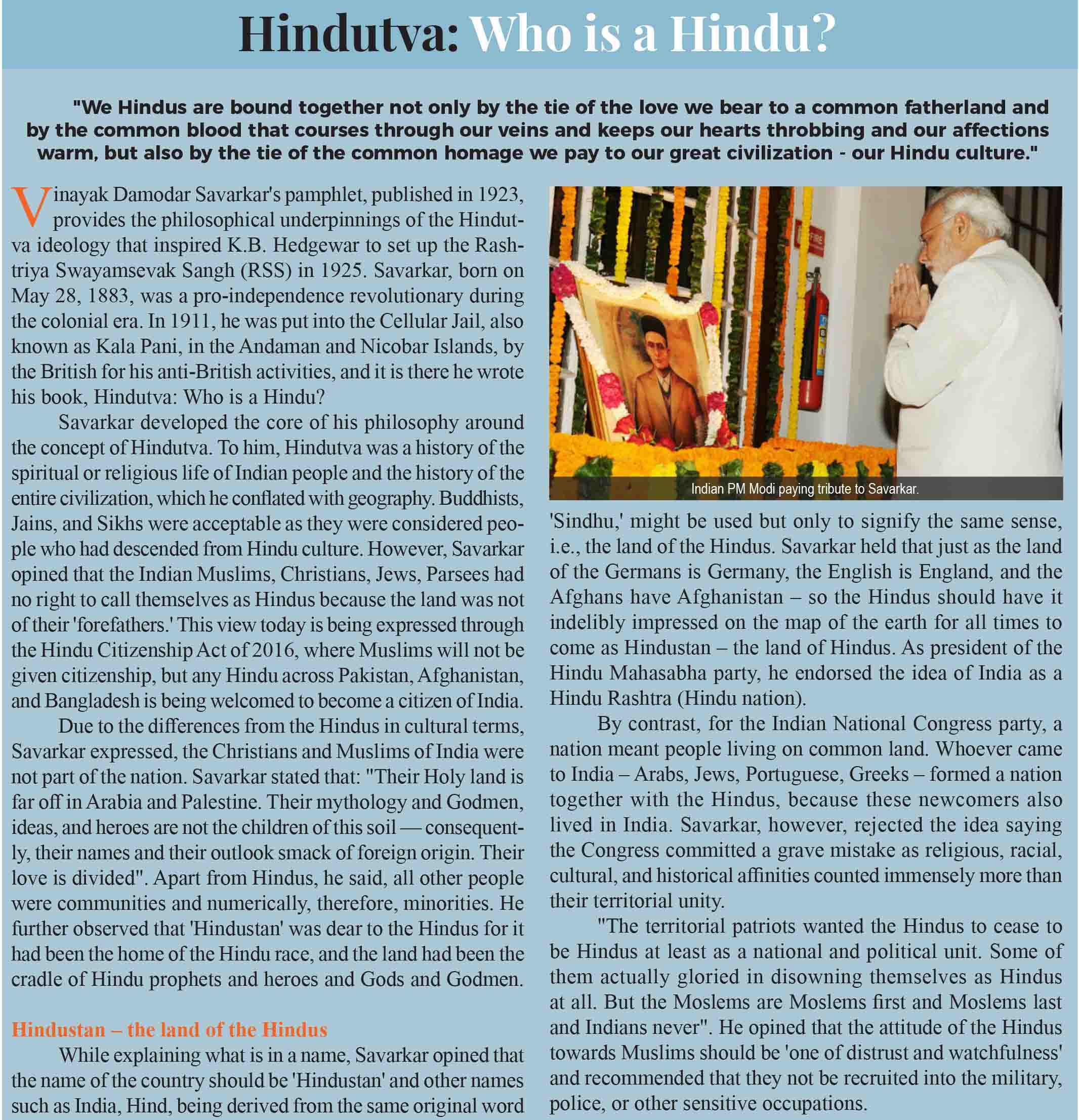 The RSS ideology has inspired many perpetrators. In a rather chilling interview in 1993 with 'Time Magazine', the RSS allied Hindu fundamentalist party Shiv Sena Supremo, Bal Thackeray, commented: "There is nothing wrong if Muslims are treated as Jews in Nazi Germany… if you take Mein Kampf and remove the word 'Jew 'and put in its place the word 'Muslim', that is what I believe in."
The Times newspaper reported in the summer of 2019 that extremist Hindu groups in India have been offering "money, food and alcohol to mobs to kill Christians and to destroy their homes." The allegations followed the British government's refusal to grant visas to the members of the Hindu radical groups, as they were "linked to the worst anti-Christian violence in India since Partition."
Earlier, Graham Stains, an Australian missionary, was burnt to death along with his two sons in Orissa, by the RSS inspired Hindu mob. While neo-Nazi websites in Europe declare Hitler as the "reincarnation" of Hindu God Vishnu, some in India, especially RSS activists, have emblazoned Adolf Hitler as "India's Swastika God." Slogans of "Hail Shree Ram; Hail Hitler", have frequently been raised at RSS gatherings.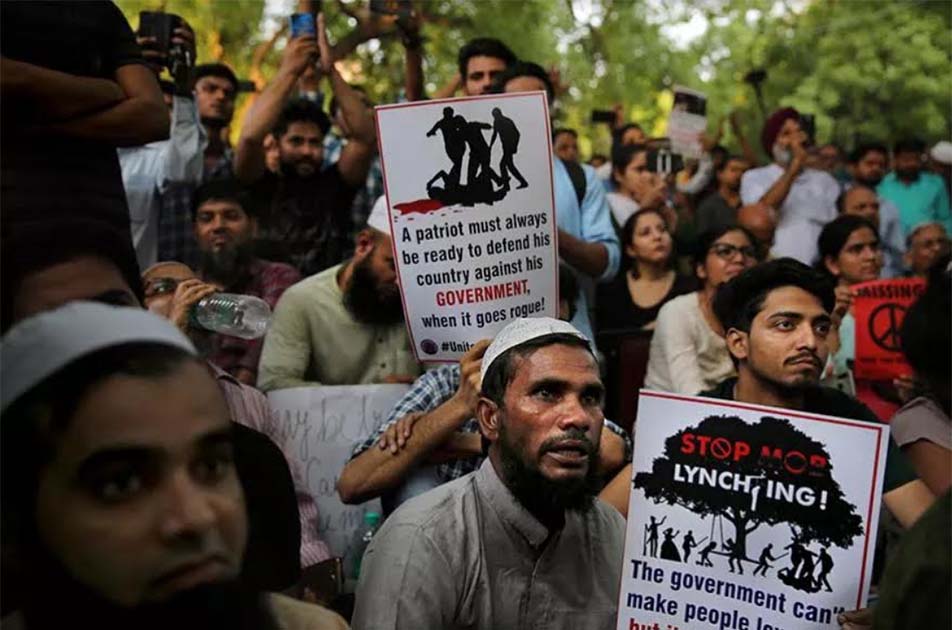 Importantly, authorities concerned have directed the relevant departments to rewrite textbooks for school children. In Gujarat, chapters have been added in social studies books with titles such as 'Hitler, the Supremo.' A section on Nazi ideology emphasizes: "Hitler gave dignity and prestige to Germany. He adopted a policy of opposition towards the Jewish people, and advocated supremacy of the German race."
According to Palash Ghosh, during World War II, Indian nationalists received "explicit support" from the German Nazis. Some even served in "Hitler's army and in the notorious SS." Ghosh adds that in a speech in Dresden (Germany) in 1943, Adolf Hitler emphasized: "I am impressed by the burning passion" with which Netaji (India's nationalist leader, Subhash Chandra Bose) seeks to liberate India "from foreign domination."
Read more: Indian extremists continue to fantasize: "No More Pakistan"
Hitler added, "Netaji's status is even greater than mine." Hitler's 'Mein Kampf' has been translated into Indian languages, including Hindi, Gujarati, Malayalam, Tamil, and Bengali. Reportedly, the English edition of the book sold more than 100,000 copies between 2003 and 2010. Muslims have always been a persecuted minority in India.
Since Narendra Modi became the Prime Minister in 2014, Muslim persecution has increased manifold. The RSS leadership has publicly announced the conversion of all Muslims and Christians in India to Hinduism. They have even set deadlines.
Indians Accusations of RSS terrorists
Significantly, within India accusations continue of RSS terrorism and of describing the organization as terrorists.
Bhimrao Ramji Ambedkar (1891-1956) is considered to be the architect of the Constitution of India. He was India's first law minister. In a statement in January 2019, his grandson Prakash Ambedkar described RSS "a terrorist organization."
In a statement in November 2018, CPI (M) leader Ramchandran Pillai equated RSS "with Taliban and Khalistan terrorists."
Senior Congress leader Digvijaya Singh said in June 2018, "All Hindu terrorists who have been caught have association with RSS in some way or the other…so, this ideology is spreading hatred; hatred breeds violence, and from violence is bred terrorism."
The then Home Minister P. Chidambaram urged India to be aware of saffron terror in an August 2010 meeting of the State Police heads in New Delhi.
In his address to the Congress party in Jaipur on January 20, 2013, Indian Home Minister Sushilkumar Shinde emphasized, "The BJP and RSS are promoting Hindu Terrorism through their training camps in India." He added, "BJP and RSS are conducting training camps to spread terrorism."
Supporting this view, Union Minister Mani Shankar Aiyar said, "I am hundred percent with Shinde on this. This is not a secret. I want to thank the Home Minister for saying what everyone knows, but does not have the courage to say."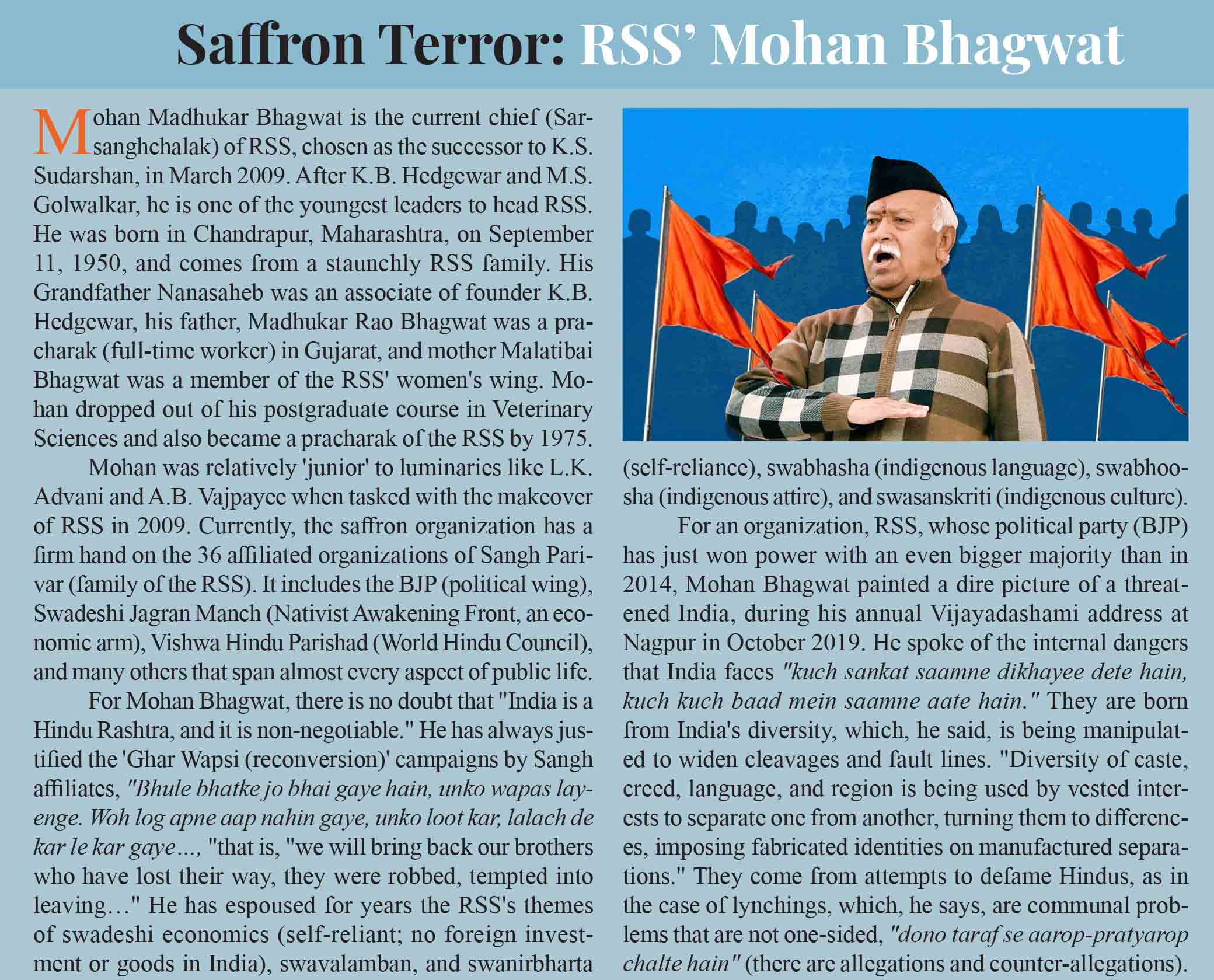 The dismemberment of Pakistan in 1971 as an RSS sympathizer once termed, was the 'Second Liberation' of India, the first in 1947 when the British left the subcontinent. According to others, "India is on the look for her third liberation by fully annexing Bangladesh into 'Mother India'; and the fourth and final liberation would be when she could completely annex the territory of existing Pakistan."
All this is in line with the RSS thinking. Indian analyst Pankaj Mishra in his article in The New York Times in early 2003, referred to his interaction with Gopal Godse, the younger brother of Nathuram Godse. According to Gopal, Nathuram had advised him to immerse his (Nathuram's) ashes in the Indus, "the holy river of India that flows through Pakistan, only when Mother India was whole again."
Is all this so easy a task, as the RSS is daydreaming! Only time will tell. Jingoism is not good. Peace is imperative. Importantly, Pakistan is the MOTHER OF INDIA. India is called India because of River Indus, which flows through Pakistan, not India. The Mahabharata was recited the first time in history in Taxila, a city located in Pakistan, not in India. Like China, India wants to be proud of its 5000 year-long history.
Read more: Hindutva- India's very own doom through self inflicted extremism
Ironically, the main sites of the Indus Valley Civilisation, Mohenjodaro and Harappa, are not located in India but Pakistan. Similarly, the land that constitutes Pakistan was no doubt the centerpiece of the Sarasvati civilization when the Vedas are said to have been written. Paradoxically, the name Sindh which is a province of Pakistan is an integral part of the national anthem of India.
The RSS considers Chanakya as one of its most celebrated scholars & diplomats. Chanakya was civilizationally a Pakistani. He was not born in Delhi or Varanasi, but in Taxila (in Pakistan). Importantly, Chanakya's first students hailed from what is today Islamabad, not Nagpur. Narendra Modi's comming into power, has once again, re-validated and re-authenticated Muhammad Ali Jinnah's Two-Nation theory.
Modi's ascent to power is bound to weaken the ideological foundations of India. Understandably, Indians are worried. The recent abrogation of the articles on Kashmir is bound to have long term repercussions. The interests of the People's Republic of China in the issue of Jammu and Kashmir, are at stake. And, Beijing knows that RSS hates China. India's 1962 humiliation has been unpalatable for the RSS.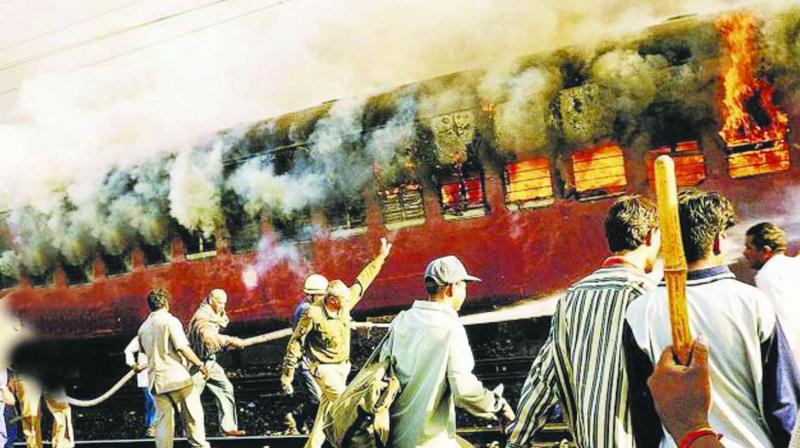 Those Kashmiris who sided with Nehru in 1947, are today regretting their gravest mistake. The long list includes Farooq Abdullah. Many term RSS as the largest "voluntary organization" in the world, while others categorize BJP as the largest "political party" in the world.
How can one ignore the view that RSS is the largest terrorist organization in the world, with its political arm BJP, relentlessly implementing the RSS agenda of Hindu fascism! As mentioned earlier, the accusations of terror against RSS have not emanated from Islamabad, but from Hindu analysts in India.
The long list of critiques of RSS includes each Prime Minister of India, minus Atal Bihari Vajpayee and Narendra Modi. Even these two would have criticized RSS, had they not been its active members. As indicated earlier, even those liberals who have been critical of RSS in India, have silently welcomed the organization's efforts to promote the broader national interests of the country, be it in Hyderabad, Kashmir, 1971, or on internal issues.
Here lies the Indian paradox! The RSS ideologues do not want to call their country India or Hindustan. They call their country Bharat. Bharata, according to them, was their ancient legendary Emperor whose name is "synonymous with power and expansionism." Indians know too well that India has never been one country in history, except during the British rule and when Alauddin Khilji ruled Hindustan.
Read more: Muslims are hissing Yavana snakes & traitors: RSS founders
The world is heading towards right-wing religiosity. Hindus believe in millions of gods. Like Islam, Judaism and Christianity believe in the ALL MERCIFUL GOD. The RSS hates all the three Abrahamic religions to the core. On September 4, 2015, Prime Minister Narendra Modi called on RSS leadership at the RSS headquarters in Nagpur.
Indian analysts emphasize that Modi went there "to present himself" before the RSS chief Mohan Bhagwat. "Almost his entire Council of Ministers was there to demonstrate their accountability to the RSS." The message Modi received in the meeting was, "No matter how big or popular you are, you cannot be bigger than the RSS." Today, India is no longer the country of Gandhi and Nehru. India has changed.
Today, India is ruled by RSS, whose members eulogize not Gandhi but Gandhi's assassin Nathuram Godse. To presume that RSS does not have easy control over India's nuclear weapons would be a suicidal naivety.
Ambassador Afrasiab Mehdi Hashmi Qureshi has served as the High Commissioner of Pakistan to Bangladesh, Bhutan, and New Zealand. During his 34-year career in the Foreign Service of Pakistan, he has mostly been dealing with matters relating to the United States, China, and South Asia. He has authored several books on subjects relevant to Pakistan's foreign policy.
The views expressed in this article are the author's own and do not necessarily reflect the editorial policy of Global Village Space.