GVS: How big is Pakistan's insurance market? What is its exact size? How does it compare with other markets?
Zeeshan Raza: It is around Rs. 80 billion per annum (approximately US $550 million). You can get the exact figures from the IAP website. Overall penetration is less than 1%, around 0.85%, to be precise. This is much low than international standards; in terms of comparison, US insurance penetration is about 30%. But this is low even as compared to the region around us; in India and Bangladesh its around 5-6%.
GVS: What could be the reason behind such low penetration in Pakistan?
Zeeshan Raza: Lack of awareness and the prevailing mindset. As I have been saying at other forums, religious mindset and belief in Almighty Allah as protector dominates thinking of common man, and we largely rely on Allah as a protector, which is a good thing for society, and it also prompted us to introduce Takaful insurance. But unfortunately, Takaful insurance is just gimmicks-a change of name, that's all. People don't believe in it.
GVS: What is Takaful insurance? Is it different from traditional western style insurance?
Zeeshan Raza: It's the same concept. The concept of insurance originated from Britain in the 1800s, and it was introduced to facilitate the marine industry and merchants who would fall prey to pirates. The same concept has inspired Takaful insurance-that all of us will pool in the premium and help our Muslim brothers in need. This is precisely what conventional insurance is. The significant difference is that we pay premiums, and in commercial banking, we obtain an interest for it, creating an interest-based income for us. In Takaful, you return the funds to the participants.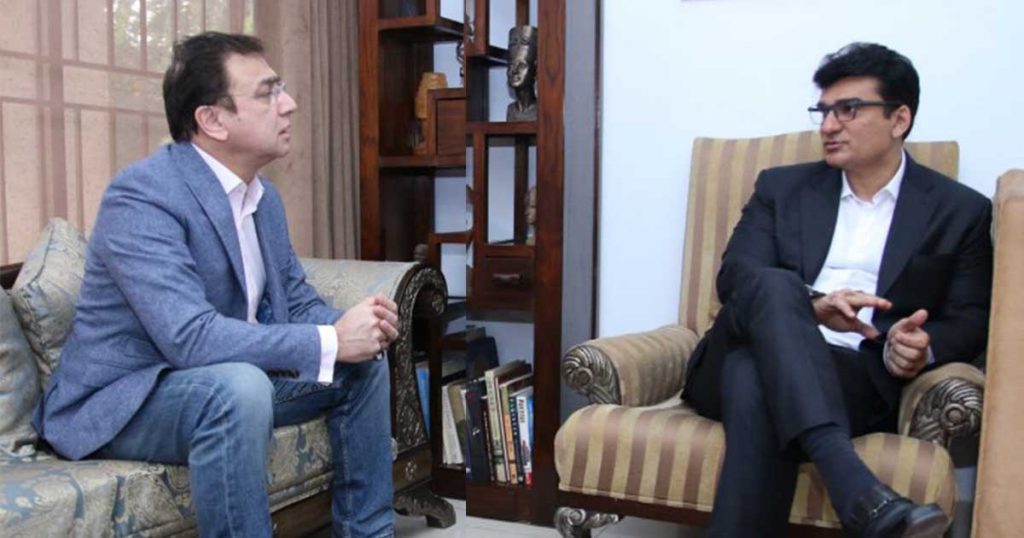 GVS: If the participants get the same funds, how is the money increased?
Zeeshan Raza: The participants continue to increase. The success of the concept depends upon the continually increasing number of participants, and that is why Takaful is very difficult in business terms.
GVS: So, doesn't Takaful then become a Ponzi scheme of sorts?
Zeeshan Raza: Well! The problem is that Takaful has started window operations here. In banks, we see a Takaful window. We have destroyed the Takaful industry because starting a window has undermined the actual concept of marketing an Islamic product. Now, the windows of Takaful opened up by conventional banks have ruined the beliefs of the public about the Islamic origins of Takaful.
GVS: Where did Takaful come from? Saudi Arabia?
Zeeshan Raza: No! not from Saudi Arabia. Sudan first introduced the concept of Takaful. Takaful insurance is the same insurance concept, but Dr. Mahathir Muhammad started it in Malaysia. Maulana Taqi Usmani studied the concept there and then promoted it here in Pakistan.
GVS: Where do the UBL insurers stand in the insurance market? How many players are positioned?
Zeeshan Raza: We are on number fifth in the market. There are about 29 players and our age is only 12 years, and our ranking, from JCR, is AA. Back when we started, our ranking was A-; then, we progressed to an A, then A+, followed by AA- and then AA.
Read more: MPCL ready to explore new Horizons: CEO Explains
GVS: So, that's excellent, given that UBL Insurers is only 12 years old?
Zeeshan Raza: Thanks to UBL accounts, our distribution channel is vast. We have 22 branches, as compared to banks, it is very, very small and thin. But as far as insurance is concerned, our 22 branches do well. If you compare us with our competitors, then AFU is a 75 years old company, while Adamjee is roughly 60 years old.
GVS: Which is the oldest?
Zeeshan Raza: Habib Insurance is the oldest, around 75 years old, and I used to work there before. The company belongs to Habib and Habib Metropolitan and Indus Motors, I was the Chief Executive of the company, and it was a pre-partition company, it originated from India. Like Habib Bank was the first bank of Pakistan, Habib Insurance was also a pioneer in its field, but after nationalization in the 1970s, its Life Insurance part was taken over by the government, and General Insurance remained with the family-owned business.
GVS: So, UBL is operating 22 branches. Are they sufficient for conducting and expanding business?
Zeeshan Raza: As I explained earlier, rural areas do not need branches because no one is willing to buy insurance there. They are not aware of what insurance is, and since they are so small, we cannot run awareness campaigns all over the country, until the government and the media drive the initiative.
GVS: Pakistan is facing a tough time in terms of economy with Rupee experiencing almost 40-45% depreciation against the US dollar; how has it affected the Insurance industry?
Zeeshan Raza: You will be surprised! But it has done well for the insurance industry. With the depreciation of Rupee against US $, valuation of marine exports and imports and all assets in hand in godowns and warehouses have gone up, and insurance premiums in nominal values have also gone up. However, the overall business in terms of new entrants remains slow.
Rural areas account for 60% of Pakistan, and awareness must be raised. For instance, in the case of their livestock, crops-they have no idea that they can get insurance to cover up for their losses and damages
GVS: With Pakistan entering CPEC Phase-II, and progress towards large SEZ's (just like the ground-breaking of Allama Iqbal Industrial City near Faisalabad) with Chinese investments coming in, there must be opportunities; how are you positioning yourself?
Zeeshan Raza: Well! Pakistani insurance companies have not, not so far, benefited from the Chinese entry into the market in any meaningful way. The reason is that Chinese companies have relied upon reinsurance through China-based large insurance companies. In the last few months, around six months or so, after Imran Khan's government took over, there is some change in the sense that local industry, including Pakistani insurance companies, have started to get some business from Chinese investors, but this is as yet a new trend. Its results have to be assessed in time.
GVS: Are Pakistani insurance companies also incurring reinsurance charges to international insurers?
Zeeshan Raza: Good question! We generally look at one aspect that the insurance industry amounts to Rs. 80-100 billion, but out of this amount, we pay approximately Rs. 60-70 billion to the international market to further buy these products for reinsurance. Our job is basically a risk transfer mechanism. So, what we do, we keep 30 billion rupees in Pakistan, and we pay 70 billion to Germany, Malaysia, and Singapore. That's called reinsurance.
The total sum insured will be around 10-12 billion. Does my company have such a capacity to bear the loss of 10 billion rupees? So, we buy insurance from German companies. Our insurance provider is the third-largest insurance company in the world. We buy reinsurance from them. We pay a premium to them, so in case of a loss, it will participate proportionately through our company.
GVS: So, you have pointed out that there is a lack of awareness. What has to be done to raise awareness about the need for insurance?
Zeeshan Raza: Rural areas account for 60% of Pakistan, and awareness must be raised. For instance, in the case of their livestock, crops-they have no idea that they can get insurance to cover up for their losses and damages. The government must drive this initiative. A few years ago, the concept of banking was far less prominent, but the government made it compulsory for banks to operate their branches in all urban and rural areas. The government can exert the same pressure in the case of insurance, urging insurance providers to conduct transactions across the country, but it is failing to do so.
Read more: The worst is over for Pakistan's economy: AKD Securities CEO Muhammad Farid Alam
GVS: What is the premium on home insurance?
Zeeshan Raza: If your belongings are worth one crore, you will have to pay around 5000 rupees. It amounts up to 0.4% of the total value. It can be against theft, fluctuation, short circuit, wear and tear, fire, and more. Even if a servant steals the money, insurance coverage can be obtained for that as well.
GVS: What products and services is UBL insurance offering in the market at the moment?
Zeeshan Raza: We are offering almost 20 products, including fire, property, motor, miscellaneous.
GVS: What is your most significant product?
Zeeshan Raza: In insurance, we call it a portfolio mix. For the year 2018, we closed at Rs. 3.8 billion, and in 2019, we are closing at Rs. 4.5 billion. Out of this portfolio mix, fire is 30%, motors make 27%, 10% is health, 9% is marine, and the rest is miscellaneous. Miscellaneous includes so many types, including cash in safe, cash in closet, home insurance, financial crime insurance, blanket bonds, etc.
GVS: So, the maximum component in fire insurance? Must be in Karachi?
Zeeshan Raza: Fire insurance and property insurance. And yes, in Karachi and Lahore, these are businesses-feed mills, seed mills, oil mills, etc.
GVS: How much exposed are you in health insurance and life insurance? Which sectors are you leading the market?
Zeeshan Raza: We don't do life insurance. In health insurance, our portfolio is around Rs. 7-8 billion per annum. We are leaders in the fire and auto sectors. The fire sector is around 30%, and the auto sector constitutes about 27% of our Rs.4.5 billion share of the market.
GVS: What are the segments where the government and media can come to your aid?
Zeeshan Raza: In fire insurance. When it comes to media's help in the corporate sector, forget about big cities like Karachi, where people are interested in insurance. We need to focus on rural areas where insurance is not a concept, and 60% of the population still resides there.
GVS: What products do you have to offer?
Zeeshan Raza: In rural areas, we see every individual with a mobile phone, motorcycles, livestock, and mud houses. Even for a mud house, there is relevant home insurance to recover financial damages in case of a flood.
GVS: What are the costs?
Zeeshan Raza: If we provide coverage for 1 lac, the maximum cost will be 100-200 rupees per annum.
GVS: Rs200 per annum, that's nothing.
Zeeshan Raza: Its nothing. Insurance is all about faith. If he or she has bad intentions, we will not do it. In Pakistani and South Asian mentality, and many other parts of the world, if people pay a premium, they think they deserve a claim, and hence, many cases emerge of broken bumpers and windows, just to make claims.
Read more: What CPEC & Takaful mean for Insurance Companies
GVS: What is the status of fraudulent claims in the industry?
Zeeshan Raza: Presently, it is quite nominal. Our procedures to examine such cases is forensic, which makes it increasingly difficult to conduct fraud with us. This does not include motor claims, but large-scale claims, such as warehouse fires, etc. We have hired third-party surveyors, who are SECP approved surveyors, known as loss adjusters. These loss adjustors conduct forensic research and findings to determine the cause of the fire, interviewing the insurance holder, and evaluating the success of the business.
GVS: What is the overall percentage of vehicles across the country or across Sindh that are currently registered?
Zeeshan Raza: In Sindh, if I am not wrong, please do re-verify this from Google, 4.6 million commercial vehicles, of which three hundred thousand have been insured.
GVS: What about private vehicles?
Zeeshan Raza: In Karachi, there are 1.6 million, of which five hundred thousand have been insured. As for the third party, there is a civic center in Karachi, where one can obtain fake insurance cards for Rs. 700-800, which can be showed to the police if needed. If we are talking about a government-level initiative, it is essential to spread awareness that one can obtain authentic insurance for the same amount. For instance, if a truck driver has an accident, he needs insurance from a verified company.
GVS: Third-party insurance covers the damages one has incurred to another individual, which is also enshrined in our law. Can the law not ensure that every individual and car is fully insured?
Zeeshan Raza: The law is there, but it has not been implemented.
GVS: But this is a massive failure of your industry.
Zeeshan Raza: This is why the industry has stopped at Rs. 80 billion, while the potential size of the industry is Rs. 800 billion. We have made multiple attempts, but none were successful. Recently PM, Imran Khan, formed a committee, of which I am a member. Shamshad Akhtar is the head of the committee, and we have put forward our recommendations. There is a need for a campaign such as the awareness campaign on calcium deficiency.
GVS: If more and more people get insured, wouldn't it drive down the costs of insurance?
Zeeshan Raza: The cost is already quite low, and it would drive low further. It would also reduce the burden on the people and the government.
I-Banking has not been promoted so much, but villagers are more actively using street banks. Insurance in Pakistan also needs to be promoted in this manner and belief
GVS: Presently, if you get your car insured, you have to give 50-60 thousand rupees per month?
Zeeshan Raza: No. If your car is worth three million, you will have to pay 50-60 thousand rupees per annum.
GVS: Prime Minister of Pakistan is orchestrating many causes, such as plantation, forestation, green Pakistan, etc. How can he support the insurance industry?
Zeeshan Raza: One speech from Imran Khan would be more than enough.
GVS: Let's hope this reaches out to PM Imran Khan; how is the health insurance doing?
Zeeshan Raza: It has been launched in KP. Now we are tying up with the government of Balochistan; the campaign is ongoing in Sindh. Due to Prime Minister Imran Khan's efforts, health insurance has been promoted to a great extent. If he promotes insurance other than health insurance, it can really facilitate the industry. The government is offering many health insurances, while many private companies and NGOs are also buying insurance. For instance, if an NGO buys a village, it takes the responsibility of health insurance. It has become a culture of charity as well.
Read more: Awareness campaigns required to develop insurance sector: Abdul Waheed
GVS: Does every truck driver and bus driver of a commercial vehicle have life insurance?
Zeeshan Raza: It's very difficult to answer that. However, the government of Sindh announced a policy in 2016, providing a personal accident cover to Sindh citizens, offering them Rs. 2-3 lac (Rs. 200-300k) for accidents and injury. This policy has not been promoted much, but it is there.
GVS: Does the individual has to pay anything for this policy?
Zeeshan Raza: No, nothing.
GVS: Let's conclude, As the CEO of UBL insurance, what is your vision for yourself, your own company, and the market?
Zeeshan Raza: Being the fifth number, our market share is around 5% of the total industry, say over 5% from the 80 billion industry. My vision is, in three years, I intend to double this share from 5% to 10%. This will increase the company's profitability; we will be able to give dividends to our stakeholders and will able to raise the quality of life of our employees.
GVS: How do you intend to do this?
Zeeshan Raza: UBL bank is supporting us a lot. Being the second-largest bank in Pakistan, UBL bank itself is our largest distribution channel. It has a large portfolio of customers, who are potential customers for us, which we couldn't tap into due to our small size. But in three years, we start producing a 20-25% growth each year. Even though the entire industry is in minus, we remain in plus due to UBL bank.
GVS: So, how does UBL Bank help?
Zeeshan Raza: UBL bank promotes its customers to get insurance, and our home company has a sister concern to promote us accordingly.
Read more: Selective implementation of axle load limit disturbs overall balance of industry players: Abbas Khan
GVS: What is your vision for market growth?
Zeeshan Raza: For the market growth, as I explained earlier about the committee headed by Shamshad Akhtar, we have put forward recommendations focused on the penetration of a market that does not believe in insurance at all. Awareness campaigns can completely alter the landscape of the market, allowing it to grow and flourish.
GVS: Have any costs been decided for this initiative? Perhaps the companies can pool in with the government, like a 50-50 transaction for awareness initiatives.
Zeeshan Raza: No costs have been decided as yet. The government needs to start exerting pressure and making suggestions. We are lodging our ideas through the IP forum, but the government needs to strengthen its initiative. The state bank has a strict governance model for banks, but our regulator, the SECP, needs to improve its regulations for insurance companies.
They are outstanding in ensuring the implementation of laws, but it lacks behind in the regulation of insurance companies. The state bank has strict instructions for opening bank branches in areas across the country, but there are no such instructions for insurance providers. I-Banking has not been promoted so much, but villagers are more actively using street banks. Insurance in Pakistan also needs to be promoted in this manner and belief.