GVS Magazine Desk |
The World Bank has been in Pakistan since 1952 – almost since the inception of the country and has seen Pakistan going through its high and low points. Many of the projects which today provide us with energy security were set up under the aegis of the World Bank such as the Mangla and Tarbela dams. Global Village Space Managing Editor Najma Minhas sat down with Patchumuthu Illango country director World Bank Pakistan to understand the institution's current focus and plans in Pakistan.
The World Bank recently launched 'Pakistan@100' report, what was your inspiration behind this project?
Mr Patchumuthu Illango: We began looking at Pakistan's economic history a couple of years ago. Our initial findings suggested that Pakistan had two distinct phases of economic growth; in the first 40 years, we saw Pakistan doing well, and in the next 30 years, the country started lagging – not performing as well as it should have been. It prompted the question: what kind of a country would Pakistan be on its 100th anniversary in 2047?
We considered how Pakistan could position itself in this region, surrounded by some of the world's fast-growing economies, asking whether Pakistan would be part of that growth momentum or whether it will fall behind. The World Bank has conducted similar long-term simulations for China and Vietnam – in 2010 we looked at China 2030, and in 2015, Vietnam 2035– which gave us the experience and expertise for Pakistan@100.
What were your findings in the report that you put together?
Mr Patchumuthu Illango: Based on our analysis, which involves over 100 research studies from the World Bank in Pakistan and globally, there are two possible scenarios for Pakistan's future in 2047. One is an aspirational outlook, where the country can achieve an upper middle-income status before 2047: Pakistan could have an estimated $2 trillion economy and a population of slightly under 300 million.
How will you create more revenue space? When you compare with other countries after deducting for debt and defense, you only have around 30% left of your fiscal space. By comparison, Bangladesh has 80%, and that difference tells you how Bangladesh has invested much more in human capital.
The second scenario is business as usual: the country continues the same path it's been on for the last 30 years, with a boom and bust cycle recurring every five years or so. You stay where you are today, but with a population of 400 million and falling median incomes. Our focus is on what Pakistan can do now, given that the youth make up two-thirds of the population today, and where they can create and find jobs to become part of a productive and sustainable economy.
Read more: Interview with Marvia Malik – Pakistan's first transgender anchorperson
What are some of the key reforms that we need to implement to achieve that $2 trillion economy you just mentioned?
Mr Patchumuthu Illango: For any reform, it is important to stay the course, while making the structural changes that need to take place. If you compare Pakistan with some of the other economies that faced similar situations, you'll see that they agreed on deeper structural reforms, and built political consensus across-the-board. This country-wide consensus has been elusive in Pakistan.
At the same time, we also think it is critical to invest in human capital much more and to ensure that the youth bulge becomes a demographic dividend. Pakistan has a serious productivity gap. Total factor productivity is only around 1 when it should be 2 or more, and this is what Pakistan needs to invest in. If you take current spending in health and education, it is about 3% of GDP, which is wholly inadequate for the size of Pakistan or its development aspirations.
There are more than 30 other countries in the world that have less water per capita than Pakistan, but have much more efficient and larger economies.
Peer countries are double that amount, so what can Pakistan do to boost spending further? Pakistan is also dealing with very low tax collection. How will you create more revenue space? When you compare with other countries after deducting for debt and defense, you only have around 30% left of your fiscal space. By comparison, Bangladesh has 80%, and that difference tells you how Bangladesh has invested much more in human capital.

Another aspect of structural transformation is women's economic empowerment. You still have many women in Pakistan who are qualified but not in the workforce for a variety of reasons – social or cultural influences, work-place safety, mobility from home to work and back, and so on. All these are constraints. If you can create an environment in which more women are able to join the workforce instead of the 25-26% you have today, Pakistan's growth rates can go up.
If Pakistan is growing at 6%, just by closing the gap, the economy can grow at 8%. One critical issue is environment sustainability and climate change. Water availability per capita has been declining. However, is it water availability or water use that is the bigger issue? Inefficiency in the water sector is enormous. Nearly 90% of Pakistan's water use is in agriculture and irrigation.
The most critical challenge, in Pakistan and other South Asian countries, is governance and the quality of institutions. Here, transparency and accountability are vital.
This is mostly divided amongst the four major crops (wheat, sugar, rice, and cotton) which consume 80% of the water but produce only 5% of the GDP. There are more than 30 other countries in the world that have less water per capita than Pakistan, but have much more efficient and larger economies.
Equity is also a key focus in our analysis. Pakistan has done well on poverty reduction but inequality is high, especially between urban and rural areas, and other lagging regions including northern Sindh, southern Punjab, parts of KP and Balochistan.
Pakistan needs to consider how it can help the poorer and more vulnerable and ensure that they are part of the development story. Another key reform would be to support higher investment by the private sector. Historically, Pakistan has had a low savings rate at about 15%, which is half of South Asia's average.
High fertility rates create more dependency. More dependency leads to lower savings, therefore, less investment. So, how can we spur investment in the country? Finally, and the most critical challenge, in Pakistan and other South Asian countries, is governance and the quality of institutions. Here, transparency and accountability are vital.
Read more: Muslim World unable to speak with one Voice? – Interview Amr…
What are the low-hanging fruits – things we can do immediately to make an impact?
Mr Patchumuthu Illango: Efficient business procedures are low-hanging fruit. In the ease of doing business, Pakistan has done well in the last year and moved up from 147 to 136 in the global ranking of countries – but given Pakistan's potential, it should be in the top 100 in a couple of years, and we need to continue pursuing this. Our preliminary analysis suggests that if you are a company in the service sector, you need to follow 1,500 requirements, regulations, licenses and permits, administered by 40 different entities.
What we are advocating for the 23 to 24 million out-of-school youth in Pakistan – you put them back into school and teach them skills they can use.
I don't think that the people are going to have the kind of patience to go through these steps. Countries like Kenya, Turkey, Mexico, and Korea have slashed the number of requirements by half – either through elimination or simplification. The government has started to take some steps on this and is discussing a mechanism to simplify these sorts of regulations.
There is much to achieve, given Pakistan's sizeable undocumented economy, and one of the reasons why people don't document their businesses is the hassle involved. So, I think this is something helpful. However, at the end of it, winning a few low-hanging fruits is only the beginning, and you can't consider yourself done and dusted there. Structural reforms have a critical part to play in taking progress forward.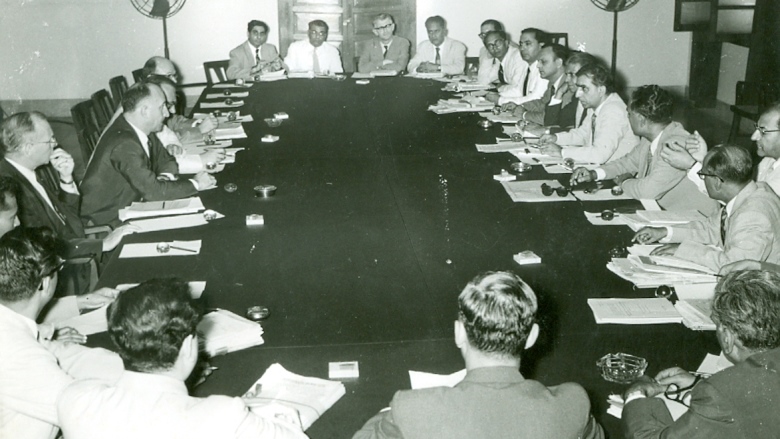 The World Bank talks of 'Elite Capture'? What is this and is Pakistan very different from the region in terms of elite capture?
Mr Patchumuthu Illango: Elite Capture is something you see across the region, but I think it's fairly challenging in Pakistan if you look at various areas of the economy. For example, Pakistan spends around 0.8% of its budget on health but spends double that amount on subsidizing about 185+ state-owned enterprises.
So, who benefits from loss-making state-owned enterprises? Similarly, take the case of agriculture and water use. Since water-pricing here isn't determined based on water use, the way it works is: if you are at the headwaters then you get more water, but if you are at the tail-end, then you don't get much.
Because of this, poorer small farmers end up not getting enough water. In education, if you take the Islamabad schooling system, they are top-notch, but Balochistan does not have good schools. This comes back to the report's focus on equity – how can we get the balance right across the country?
Read more: Set on a Journey of Undefeated Dreams – Interview with APS…
How have other countries in the region addressed these issues?
Mr Patchumuthu Illango: These issues exist in many countries. Firstly, you need to ensure that your policies and regulations put in place not only benefit a few in the population, but they should also provide broad-based benefits flowing from the legislation. What I call a 'behavior shift' is needed, secondly, within the bureaucracy, leadership, the private sector, and so on, where all believe that a large number of people working together can benefit a country more than a few. There is a need for a big change in mindsets, and here you can see to what extent the private sector can become more significant.
How do you create that mindset change? If I am benefiting from something, why would I ever want to give it up?
Mr Patchumuthu Illango: Education, interest, and awareness all play a big part. If you look at Pakistan's education outcomes, it tells you why there is an issue of over 25 million youth out of schools – and it primarily stems from lack of opportunity. Transparency is essential: who gets what subsidy and why? Which groups or companies are the biggest beneficiaries of a subsidy?
In tax administration, for example, 2% of taxes are lost on concessions and incentives given to businesses. Now that's a lot in a country which is struggling to get its tax to GDP ratio up to 13%. Just imagine, 2% could be turned into more available resources for spending in health and education – it's going to benefit millions more.

You mentioned that in the first thirty years, Pakistan was one of the most successful countries in the region. What went wrong?
Mr Patchumuthu Illango: I think the focus likely shifted away from the core developmental objectives – the developmental outlook did not continue. Reforms needed to continue to take place, and I think the policies of nationalization that created the large state-owned enterprises began sapping some of the resources. The overall quality of governance and institutions started declining.
Moreover, I think the overall resolve and political will to keep up sustained economic reforms began to diminish for a number of reasons. Also, the private sector was not investing sufficiently enough. If you look at other countries, the big driver of job creation is the private sector. Here, what you saw was either a flight of capital leaving the country or investments in real estate, which to me is not a very productive way of expanding an economy.
Read more: GVS exclusive interview with Imran Khan; his vision and his priorities
In terms of human skills development, where does Pakistan stand? What are the interventions it needs to take to improve Human skills in Pakistan?
Mr Patchumuthu Illango: The first step is teaching skills through a lifecycle approach and throughout the education system. Most importantly, human skills start with a focus on early child development and then primary education. It is not something you can build through tertiary education in adulthood. I say that because Pakistan has high stunting rates, and the best way to address stunting is ensuring a healthy start to a child's life, in the first 1000 days from conception onwards.
Our preliminary analysis suggests that if you are a company in the service sector, you need to follow 1,500 requirements, regulations, licenses and permits, administered by 40 different entities. I don't think that the people are going to have the kind of patience to go through these steps.
A stronger early childhood leads to a healthier child. Then we need to focus on primary education; only after this can we focus on secondary, tertiary and higher education. I think one has to look at the whole education system much more robustly and strategically. People believe that it is enough to try and skill up in tertiary education, but if they don't have the basic numeracy and literacy skills, whatever you are going to teach them at age 17 will not be as effective.
The second is what I call the demand and supply in the skill cycle where a mismatch exists. Today, TVETs in Pakistan largely aren't benefiting from industry consultation to ensure their programs align with the market needs in terms of skills. The Punjab Skills Development Fund is an excellent example of building consortium arrangements. Globally, there are many examples of private sector entities themselves setting up vocational training with partnerships, where people become operators, electricians, carpenters, etc.
The third aspect is that Pakistan sends many of its people to the Middle East for employment and that's a big earner in terms of remittances. However, Pakistan is still at the lower end of these skill sets and employment chains, in comparison with the Philippines, for example, which is moving up the value chain. I think Pakistan can help work towards breaking these people out of the lower end of the job chain.
Read more: Explaining Pakistan's media: GVS exclusive interview with Yousaf Baig Mirza
You just suggested that there is no point in focusing only on technical skills because you have to start at 5. So, someone who is now 25, do I focus on him or do I focus on his children instead?
Mr Patchumuthu Illango: For someone who is at a later stage of skills development, I think we have to look at a second chance program. What we are advocating for the 23 to 24 million out-of-school youth in Pakistan – you put them back into school and teach them skills they can use. Very recently, when I was in Karachi, I met with an educational startup run by an entrepreneurial Pakistani woman.
She focuses on how to take digitized learning to out-of-school youth and enable easy access to basic education from literacy to numeracy. She was telling me that you still see 14-year-olds who find it difficult to count. The assumption may be that a year of schooling equals to a year of learning, but that isn't accurate – sometimes you might be in school, but you are not learning.
So, the focus should be on how to bridge the gap between learning and schooling, and that is a big part of scaling up the future workforce.

The World Bank has been in Pakistan since 1952, what are some of the significant achievements that you accredit to yourself?
Mr Patchumuthu Illango: I think in the early stages, the World Bank was involved in the Mangla and Tarbela hydropower projects, which in a way became the backbone of energy security in the country. It fueled and drove the economy in the early stages. We are still continuing to finance the expansion of Tarbela and now taking on other hydropower investments as well. The second I would say is the policy and the knowledge sets we have offered during the last few decades our support, technical assistance, and capacity building has helped the country as a whole.
Some may disagree with me about the success of these. The third is our involvement in the social sector, health and education, as we continue to play a big role. The challenges are much more significant than what our financing alone can address. However, I think our evidence-based studies and others have helped the government to come up with policies that have addressed issues in this area.
Read more: 'Pakistan sixth largest country in the world cannot be ignored by…
It seems the World Bank has moved away from infrastructure and is spending more on technical assistance and budgetary support, at least in Pakistan. Is that a general policy that the World Bank has made on a global level?
Mr Patchumuthu Illango: In the mid-nineties, we took up a much more focused effort on poverty reduction globally. In the years before that, infrastructure spending was significant; we had many hydropower projects as I mentioned before. There were concerns about whether the hydropower projects were being established in an environmentally and socially sustainable way. The big emphasis had become poverty reduction.
I would say, for a good 5-10 years till the mid-2000s, globally we were focused on interventions and efforts that could reduce poverty not only income poverty but also how you can bring about qualitative improvements in education and health outcomes and bringing in safety nets. That's how we became engaged with the Benazir Income Support Program. At the same time, the private sector was also showing much interest in taking up infrastructure financing.
You could see that PPPs (public-private partnerships) came into vogue and a lot of PPPs have been in Pakistan itself, from which the power sector benefited. In the last 7-8 years, we have ramped up on infrastructure financing again in Pakistan. We have the Tarbela projects IV and V, Dasu, and have financed the Khyber Pass Economic Corridor which connects Peshawar to Afghanistan and Central Asia. We are now looking at infrastructure development in Karachi and looking at water-related irrigation investments in Sindh, Punjab, Balochistan, and KPK.
How much are you currently spending in Pakistan?
Mr Patchumuthu Illango: Currently, in our books, there are 39 projects of over $7 billion, of which nearly $3 billion is for the power sector. Pakistan uses a mix of the Bank's concessional financing and its market window, IBRD. On average, we do about $1.5 to $2 billion worth of new financing every year. We are financing around $800m in water, including agriculture.
We are also financing interventions in health and education, including school infrastructure along with capacity building for curriculum and teacher training. We also provide conditional cash transfers for children to stay in schools, especially from low-income families, and we are working on skills development in Punjab and Sindh.
Read more: GVS exclusive interview with Fereeha Idrees
What is the one project that you particularly like that the World Bank is working on and feels close to your heart?
Mr Patchumuthu Illango: There are a few. One is the effort we are making across the country on nutrition, to reduce stunting and improving early childhood development. It's a challenging area, but I believe if we stay the course with the federal and provincial governments, the results are going to be dramatic because it is the heart of better human capital. The second is the upcoming Karachi infrastructure and housing projects we are involved in.
Karachi is one-fifth of the economy and Pakistan could never become a middle-income country unless Karachi gets its infrastructure to work Karachi can attract a lot of investment. Globally, we have seen how port cities have done very well. Housing is a fabulous area for growth, and I say that because in Pakistan it takes a person about twenty years to own a house, but internationally, it takes five years.
Often I ask myself the question, what are the two or three areas that can take Pakistan out of its business-as-usual approach. For me, tourism is right on top. My travels in Pakistan have shown me that the country has everything the whole world offers as tourist attractions Northern Pakistan, the deserts, the hilly parts of Punjab and KPK, etc. There is a lot Pakistan can offer.
I am glad to see the new visa program, and I hope that it attracts more tourists. The World Bank itself is involved with Punjab in a project to support the Punjab government to boost its tourism prospects. We are now beginning another project for tourism with KPK, and hopefully, we can get that finalized in the coming months.
What are you doing in the two provinces in light of these projects?
Mr Patchumuthu Illango: In Punjab, we are mainly working on heritage sites, and they currently don't have the right access roads. Beyond that, there is a focus is to tell the world that they exist, communicating and popularizing them. Similarly, in KPK we are looking at destination management plans on various locations. How to finance infrastructure, how to involve the private sector, how to attract world-famous hotel chains to set up shop in both provinces.
Read more: I am already a part of politics, just not electoral politics:…
Are you helping them leverage the World Bank into persuading these global brands into coming here?
Mr Patchumuthu Illango: I think all of this will happen in stages. Previously, one of the most significant constraints was Pakistan's visa regime. Now, the e-visas and online relaxations will start sending positive signals. In our conversations with the government, we have also talked about setting up dynamic marketing and communication strategies similar to what other countries have done. Then with the infrastructure coming in place, I am sure things will pick up. Pakistanis are entrepreneurial by nature, and I'm sure they can attract international chains.
You mentioned two major focuses of the World Bank the housing industry and tourism sector – these nicely align with the current government priorities. Is there one more thing that you would ask the government to focus on?
Mr Patchumuthu Illango: Technology is another big opportunity. If you look at how other countries have successfully used technology to create many jobs, it is not only jobs in technology startups, but digital solutions for tourism, housing, trade, manufacturing, and almost everywhere. I think technology can play a big role. In the SME sector, if you start looking at how you can move towards digital payment systems, you will see e-commerce flourish in this country. That is when job creation will come up from micro-entrepreneurs to mega-entrepreneurs if you have a seamless digital payment system in Pakistan.
Do you see a strategic focus of Pakistani governments on technology?
Mr Patchumuthu Illango: It is emerging, but a lot more can be done in making technology a crucial part of Pakistan's future growth. At the moment, regulatory burdens are slowing down the service sector. By creating a smart regulatory system, Pakistan can be better equipped for a digital future.